Closed borders could spell trouble at our ports, with fresh food left to rot and buyers going elsewhere
When Britain leaves the EU single market, the reimposition of Customs checks at border crossings could cause chaos. While Customs officers try to familiarise themselves with a process that hasn't been practised for 20 years, vast consignments of fresh produce could be left to rot in their shipping containers. Understandably, the prospect is alarming the industry, whether buyer or supplier.

"A subscriber told me his Portuguese client was sitting on the fence over future supply contracts as a result of Brexit," says Nicholas Tate, MD of import/export consultancy Tate Freight Forms. The same client is quietly seeking alternative EU suppliers on the basis of supply and price risk. Another, a food vendor that supplies the EU, has started looking for a warehouse on the Continent as a precaution.

The Food Storage & Distribution Federation is trying to head off the threat by leading discussions with government departments. In the last month, CEO Chris Sturman met with the Department for Transport, the Department for the Environment, Food & Rural Affairs and the Department for Business, Energy and Industrial Strategy. "The purpose was to share our expertise to help the government in its Brexit negotiations rather than gain assurances at this stage," says Sturman. "We can't really comment on the future as there is still so much uncertainty."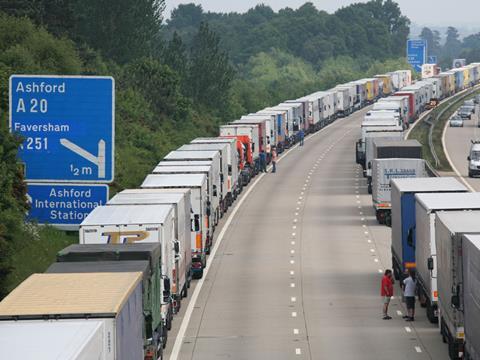 If Brexit negotiations result in border crossings between the EU and UK remaining 'open', then some of the concerns discussed will have been addressed. But if they return to being closed, the food logistics industry faces enormous challenges.
According to the FSDF, around 30% of food imports come from the EU and a fifth of food and drink exports head to Ireland. At least 40% of the UK's international trade, by value, enters and leaves the country on ferries or the Channel Tunnel, which collectively handle four million trailer movements a year. Other Channel and North Sea ports process over two million freight vehicles, while another 850,000 go back and forth through the Northern Irish sea ports, according to the UK Chamber of Shipping.

A large percentage of this cargo is perishable products travelling on driver-accompanied vehicles, and these ports have physical and geographical limitations that make it impossible for lorries to be accommodated during a delay. The Turn Up and Go service at Dover works on the basis that trucks are booked on the first available sailing and spend as little time in the port as possible. All ports that run on this roll on roll off basis only have space to accommodate one shipload of vehicles per berth and frequently have no overspill area, which is why any delay at Calais or Dover results in Operation Stack, where lorries are stacked for miles along the M20.

Crucially, the smooth transit in and out of the docks depends on the absence of any Customs formalities for goods coming from or going to EU member states. In November 2016 the Port of Dover reported its busiest day ever for freight traffic, with 10,558 freight vehicles moving across the border either way. Despite running at peak capacity, this can be handled because only a small percentage are from outside the EU and only exceptional vehicles are singled out for intelligence-led physical checks.
Be prepared
1: Rival suppliers from the EU will be using the uncertainty to poach your business. You need to step up your relationship management efforts, says Richard Walters, a food and drink specialist for LCP Consulting, which advises supermarket groups on procurement
2: Make sure you are all over any new regulations. Inappropriate documentation costs money, but the time delays could be fatally expensive. Appoint a fully qualified shipping compliance officer, says Sue Wright, MD of Exporter Services
3: Assess your options for internal markets, whether sourcing alternatives to your EU suppliers or finding new clients in the UK, says Walters at LCP
4: Lobby your MP, ministers and your trade association about your need for clarity over Customs, says John McCann, founder of Willowbrook Foods
5: Start a marketing campaign to counter all the Project Fear-style scaremongering that will be aimed at unsettling your customers, says Walters
An extra complication is that many trucks handle multiple shipments from different shippers. The complexity of Customs inspection is multiplied by the 'groupage' traffickers, considerably increasing the potential for delays. One badly documented shipment can delay an entire vehicle and all the contents belonging to other suppliers whose goods are on the same lorry.

So no matter how efficiently Brexit is litigated over, the importance of getting the shipping documentation exactly in order will be crucial for produce suppliers, says Sue Wright, managing director of Exporter Services, which trains companies on compliance to export regulations. "Many businesses don't consider international trade movements important until they all fall over," says Wright. Customs complications make those fatal delays increasingly likely for the 'just in time' suppliers.

Wright advises suppliers to get qualifications to combat the threat. New technologies are emerging to cover the eventuality of increasingly complicated paperwork, with instant classification systems, such as Tarifftell, promising to end the misery of choosing the right options. But to add to the complications, the HMRC is introducing a new system, the Customs Declaration Service (CDS), which was designed to cope with volumes of trade based on the UK's continued membership of the single market.

Many members of the FSDF fear the CDS won't cope with such a significant post-Brexit increase in transaction volume. Worse, CDS won't even be ready until six months after the UK leaves the EU. "If it is not up and running correctly and consistently, there is a major risk that a substantial part of the UK food supply will grind to a halt," says Sturman.
Prime concern
It is reasonable to assume that future Customs practice will be closely modelled on current EU Customs code and associated regulations that businesses are already subject to when importing from outside the Customs Union, according to Shanker Singham, director of economic policy and prosperity studies at international think tank the Legatum Institute.
However, the UK border with Ireland is particularly complicated, with more than 200 known road crossings between Northern Ireland and the Republic. "I am concerned about the level of uncertainty that has been created around Brexit on a number of levels," says John McCann, founder of Willowbrook Foods in Netownards, Northern Ireland. The fresh food producer fears his company's rapid recent expansion is threatened by uncertainty over both trading and the status of his 350 employees - many EU citizens - and the EU border trade is of prime concern. "Clarity on this issue would provide the right conditions for our continued growth," says McCann. At this stage, Willowbrook is not seeing a significant impact on its business operations, but being unable to predict the future makes planning difficult.

There's also an argument that the rest of Europe will be less inclined to assist in ensuring that migrants don't try to climb aboard UK lorries, warns Sian Edmunds, head of the food and drink team at independent UK law firm Burges Salmon. This could result in lengthier checks being carried out for freight coming into the UK, resulting in more backlogs and lorry parks, which might make the UK authorities refuse to allow ships to disembark while those backlogs are dealt with.

Common sense is likely to prevail, according to Singham and Edmunds. "I suspect once the politicians on both sides of the Channel stop posturing, they will realise it is in all parties' best interests to find a workable solution to these practical problems," says Edmunds. "However, I don't rule out the possibility of a political falling out."

And if there is, it's going to cause one hell of a mess.