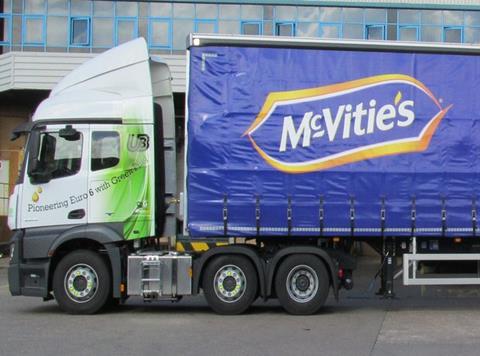 United Biscuits has added a further six lorries that run on recycled cooking oil to its fleet after a successful trial project in 2012.

The business now has 16 vehicles running on Ultra Biofuel, which uses waste cooking oil to power the trucks and saves up to 97% of carbon emissions - the equivalent of removing 1.5 million truck miles from the road each year.

The 44-tonne vehicles have been converted to operate a dual fuel system with waste oil being 85% of total fuel consumed. "The success of our Biofuel project has been inspiring for all those involved, demonstrating the huge potential of power from waste," said UB head of distribution Rob Wright.

UB has also introduced 62 longer trailers to the delivery fleet, which operates under an extended Department for Transport trial.

The new trailers are two metres longer and carry 15% more pallets, reducing road miles by 450,000 per year.