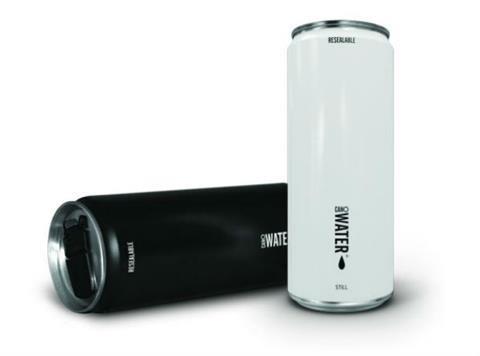 Bidfood has launched a plastic-free range of up to 150 products, with the rollout set to be completed over the next two months.

New plastic-free products include paper straws, a reusable cup and spring water in a recyclable aluminium can with a resealable lid.

New packaging includes plastic alternatives made from compostable materials such as paper, wood, bagasse (made from sugarcane fibre) and PLA (a bioplastic made from renewable resources). New products include eight fully recyclable plates and bowls, with compostable ones made from bagasse.

The company is introducing CanO Water, an alternative to bottled water using aluminium cans with a resealable lid.

Bidfood is also switching to a more sustainable bottle made out of 50% recycled plastic for own brand water Springbourne next month, which will be the first own-label product to have its packaging overhauled. It comes as the company embarks on a review of its wider own-label packaging range.

"We have pulled together a plastic-free range incorporating the best of both current and new products, including paper and PLA straws and a reusable Eco To Go Cup," said Bidfood category manager Michaela Bateman.

"This range has been designed with customers in mind, to provide choice to those who are keen to move towards more sustainable products."

Bidfood currently sells more than 13,000 products, including branded lines.

The latest move is part of a wider sustainability push by the company, which saw it remove all disposable plastic cups and takeaway coffee cups from its business support centre in Slough to boost reusable cup use. It's set to ditch single-use cups across all of its sites.

Rival Brakes is also pushing sustainability, with a commitment to overhaul 400 lines with black plastic packaging by 2020. Brakes launched its Zero 2 20 campaign on 5 June this year.

Other steps by Bidfood include its catering supplies team collaborating with Wrap and key customers and suppliers within the food-to-go market to produce a 'Food 2 Go' recycling guide.

The leaflet outlines the environmental impact of each material at the end of its life cycle, and identifies which materials can be recycled or composted to ensure correct disposal.

The foodservice operator is also exploring alternatives to shrink wrap currently used within the warehouse, and developing an on-site food and composting machine to turn waste product into composting pellets.

In January, Iceland committed to eradicating all own label plastic within five years, replacing it with paper alternatives.

Last month Tesco told suppliers it would ban all non recyclable packaging from next year.