Carrier bags litter the country, kill wildlife, and loiter in landfill for centuries. Eco-aggressive in an eco-friendly world, they have been attacked by green campaigners for years. In 2013, Defra joined in, branding them "an iconic symbol of waste" that cost taxpayers £10m a year to clean up. And now the government has bought out a big gun.

Next week it will slap a tax - of sorts - on single-use plastic carrier bags in England, ostensibly to encourage shoppers to take reusable bags to the shops. Shoppers will need to pay a mandatory minimum of 5p per bag from 5 October, completing a UK rollout that began in 2011 in Wales, followed by Northern Ireland in 2013 and Scotland in 2014.

Launching in England is more significant than the rest of the UK because proportionally, shoppers in England use far more bags than the rest of the UK. Some 90% of the 8.5 billion bags used by UK shoppers in 2014 were filled in England. So adding England to the mix means a big boost for UK charities. And green campaigners are chuffed because many more shoppers will be steered towards habitually using a bag for life. But not everyone is thrilled.

In the build up to B-day, the government's plan to collect VAT from every bag (0.83p from every 5p) sold has seen it accused of raiding charity coffers. It also lends weight to the theory the carrier bag charge is a cipher tax. Meanwhile, the official guidelines released for retailers to help guide them through the new rules have been lampooned as complicated and confusing. Carrier bag chaos has been predicted at the checkouts.

It's certainly a lot of controversy for the unremarkable carrier bag to find itself in. What's really going on? Should English supermarkets steel themselves for a dual tussle with bewildering bureaucracy and indignant customers? How will the government ensure supermarkets comply when billions of bags pass through checkouts every year? How do they justify snatching cash from charity coffers? And ultimately, will the whole plan succeed?

Popular plastic

Carrier bags weren't always outcasts. They arrived in the UK in 1965, invented by a Swedish engineer Sten Thulin, who worked for Celloplast, a plastics company.

Thulin didn't just invent the process to create the bag. He also had the bright idea of adding handles to a disposable grocery bag for the first time.

As well as being easier to carry than a standard paper sack, Thulin's newfangled bag was lightweight and strong. It was also cheap to manufacture, making it cheap for retailers to buy. It piggybacked on the supermarket boom. And the UK fell in love.

So did the rest of the world. And despite the negativity swirling around plastic bags, the relationship remains strong 50 years on. A bag for life may have gained currency, but the bog standard classic endures: the world uses "one trillion single-use plastic carrier bags" every year, according to the Earth Policy Institute. That equates to "two million every minute". It's a guesstimate, but it's probably not far off.

For the UK, more robust statistics are available from Wrap, which collates figures direct from Asda, The Co-op Group, Marks & Spencer, Morrisons, Sainsbury's, Tesco and Waitrose. Wrap started tracking bags in 2006, by which time the ecological damage caused by bags on land and sea was widely accepted. At that time, the number of carrier bags used by UK shoppers stood at 12.2 billion a year.

Since then, it's steadily declined, with minor fluctuations, settling at 8.5 billion in 2014 (that's 130 per person, or one for everyone in the world with a couple of billion to spare). So demonstrable progress in the form of a 30% reduction has been achieved. It's not enough, says Defra.

Although it concedes progress has been made, the unsustainable nature of the plastic bag - ironically its deceptive strength has become its very weakness - means Defra wants an 80% reduction (a spokesman says it's "not a target as such"), which would cut that 8.5 billion figure to less than two.

Considering the negative eco-impact of a bag designed to be used just once - for an average of 20 minutes - a drive towards extinction is a fitting end for this ecological scourge. And the supermarkets are at the heart of the government's plan to achieve it.

Complex and confusing

Supermarkets are responsible for all 8.5 billion of the bags recorded by Wrap. On 5 October they have to be ready to reduce that total. And they have a controversial list of dos and don'ts from Defra to help them do it.

The guidelines, which essentially brief retailers on how to avoid being fined, were issued on 23 March. It's thorough, though at 1,700 words it's hardly a long read. It's also largely broken down into bullet points, a format that delivers clear and comprehensive guidance rather than impenetrable or over-prescriptive waffle.

Yet The Times called the guidance "baffling" and "so complicated". The Daily Mail said "civil servants have turned a simple law into a bureaucratic nightmare". And the BRC went all out, with director of food & sustainability Andrew Opie saying the government had produced an "unnecessarily complex system" that leaves retailers with "complex messages to communicate to shoppers".

All the criticism is given short shrift by Defra.

"There hasn't been widespread panic and confusion in Wales and Scotland, so don't expect the level of confusion those articles have suggested," says a spokesman. "Most people are pleased and it has reduced plastic bag use enormously. The guidance fully explains the small differences in exemptions and the only key difference is that retailers in England with less than 250 staff are exempt. Otherwise it's fundamentally the same. We have sent a lot of material to supermarkets so everyone in store should know what they are talking about if they are asked."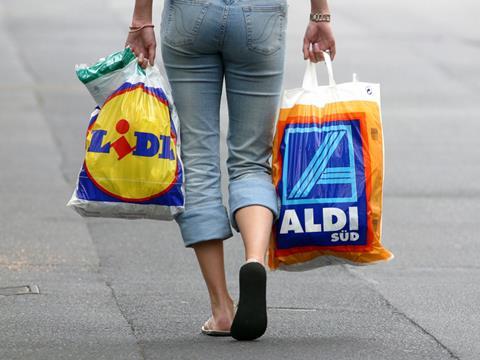 Confident

The supermarkets themselves say they are perfectly ready to implement the charge. And it's easy to believe them seeing as they have enjoyed a four-year soft launch. "We've already done this in Wales, Northern Ireland and Scotland so we're confident we're ready for it," says a spokesman for Asda.

Sainsbury's is equally sanguine, and it has more reason to be than most. Its no-nonsense approach simply culled single-use bags from affected stores and it will do the same in England. Reusable bags costing 5p will be available instead despite the fact reusable bags are exempt from the charge. Profits will be donated to local charities. When the bags wear out they can be exchanged for new ones for free.

A spokeswoman accepts Sainsbury's "can't pre-empt how customers will respond" to being charged for something that was free the day before, but removing them from the equation means customers won't be in a position to grab a handful of carrier bags let alone grumble about paying for them. Individual bags will be handed to customers one by one.

As for Tesco - the biggest bag revenue generator of all - it's also ready for the charge, it says: "Checkout assistants will ask the customer if they require bags at the start of the transaction and then charge them for the amount they have used at the end."

Morrisons is also ready to go. "Our store teams have been provided with guidance," says a spokeswoman. "If shoppers haven't brought their own bags they will be offered a choice, bag for life or single-use carrier, and advised of the cost at the start of the transaction."

However, as much as chaos seems unlikely, there are bound to be isolated incidents of indignant customers or double-bagging controversies. And any supermarket expecting checkout assistants to start pushing bags for life may be disappointed. Grocer 33 Mystery Shopper data for the past year shows only 17 checkout assistants from any of the 265 supermarkets visited by our mystery shoppers offered a bag for life. Just 6.4%.

Spot fines

A further complication is self-service tills, which notoriously attract their fair share of chancers. How will supermarkets ensure self-checkout customers own up to the number of bags used?

"A prompt will be added to the transaction for people to input the number," says Morrisons. "In the event a customer forgets the additional charge, a colleague will be on hand to offer some assistance. And if needed, a reminder."

Firm sanctions are in place to hammer any English supermarket that fails to remind its customers hard enough. If they receive a tip-off, local authorities can deploy undercover inspectors to sneak into stores and investigate. Any store caught out could be singled out and punished. Punitive measures will range from spot fines of £100 to a sharp £20,000 for misleading local authorities. There is also the option of forcing retailers to issue a public mea culpa in the press.

However, in another indication that everything stands a fine chance of progressing smoothly, a Defra spokesman confirms zero retailers have been sanctioned in any way, shape or form since the charge was introduced in 2011. So it's reasonable to assume the vast majority of revenue will come from charging for bags.

And it could be lucrative. Estimates over the next decade range from the £730m predicted by the Treasury to the £1.5bn, or £67 per household, predicted by The Taxpayers' Alliance.

Either way, it's "a lot of community money" says Andrew Thornton, whose Budgens store in Crouch End was the first UK supermarket (if you discount the discounters) to start charging for bags in 2006. "When we started we used 35,000 bags a week, now we use 5,700, so an 84% reduction," he adds. "Over four years we have given away £125k to 43 local community projects. A lot have been able to get off the ground because of us. £2,000 can make a big difference to a bunch of volunteers. But Tesco may be in a position to put millions into the local communities, which will be fantastic."

But as fantastic as it undoubtedly is, controversy also dogs the charitable side of the equation. The Treasury plans to skim VAT off the top of every 5p bag (0.83p). When asked about accusations that it's diverting money away from good causes by taking VAT, or whether taking VAT proves the carrier bag charge is - at least partly - a tax, a spokeswoman for HMT declined to comment other than to reiterate its existing line: that "the government keeps the impact of all taxes under review, including VAT, and already provides extensive support for charities primarily through over £4bn a year in tax reliefs. The charities sector also currently receives £300m a year in a range of reliefs from VAT."

Success

Regardless, local charities will welcome billions of 4.17p units more than billions of nothing. And, according to Wrap, the environmental aspect will also succeed. It says usage has plunged by 78% in Wales, 81% in Northern Ireland, and 13% in Scotland, despite figures only covering the last three months of 2014.

"Great progress has been made," says a spokeswoman for Wrap. "Evidence suggests the bag levies have resulted in significant reductions."

Adding England into the mix will deliver "savings of £60m in litter clean-up costs and £13m in carbon savings", resource minister Rory Stewart points out.

So everyone's a winner. Although there is one dissonant aspect of the carrier bag charge: the more successful the scheme is on an environmental basis, the less effectively it will perform as a charitable one, because as carrier bag usage plunges, so will the revenue raised for local charities. Does that represent success?

"Usage will go down, but some people will continue to use them, so there will still be more money given away now than there was," says Thornton. "And when I think about what 'green' means, it's about people and the community as well as the environment. From 5 October, three things will happen. Supermarkets will engage positively with the local community. The community will receive a boost. And there will be an environmental benefit. So when it comes to being green, the carrier bag charge covers it all."
Aldi and Lidl have always charged for carrier bags, so how will they react to seeing this revenue wiped out? Double the charge for bags to maintain the revenue stream? Or take the hit?
Aldi has been charging 3p for bags for 25 years, but bumped that up to 5p in July and began donating the revenue to the RSPB.
It expects to donate more than £2m to the charity by 2018 and has "no further plans" to charge more for bags.
Lidl is still working out what to do as the deadline approaches.
A spokeswoman says it has been "closely considering" any impact the 5p levy may have on future carrier bag sales. "We are in the process of defining a consistent, national approach that meets both our business and environmental objectives."
As for M&S, which has always donated bag revenue to charity, a spokesman says "it's business as usual" though it will start charging for carrier bags for clothing.
Five things retailers need to know…
The official guidance from Defra has been ridiculed as complex and confusing. So here is a stripped-down version
1. From 5 October, retailers need to charge customers a minimum of 5p per carrier bag
2. There are some logical exceptions. For instance, retailers don't need to charge when a bag is in effect used as wrapping, for example when a raw fish is placed into a plastic bag. Just use your common sense and try not to panic
3. Retailers must record the number of bags supplied, their costs, revenue raised and where they donated it
4. These records must be kept for three years and sent to Defra by 31 May each year
5. Failure to charge for bags or provide accurate reports to Defra could result in a fine of up to £20,000
Biodegradable bags anyone? What role is there for innovation?
High up in the dusty Sardinian hills, something futuristic is taking place. On the North west coast, in the middle of a rundown industrial site, more than £140m has been spent creating the vast Matrìca biochemistry complex, which has developed a pioneering method to make plastic out of local scrubland crops, like thistles. The joint venture, between petrochemical company Versalis and bioplastics specialist Novamont, is working on several applications for the plastic, including compostable carrier bags (which are currently used in more than 600 Co-op stores). The carrier bag charge currently makes no exemptions for eco-friendly bags like these, though Defra is considering an exemption to encourage development of a "new, genuinely biodegradable, more environmentally friendly bag" that could be exempt from the charge at a later date.