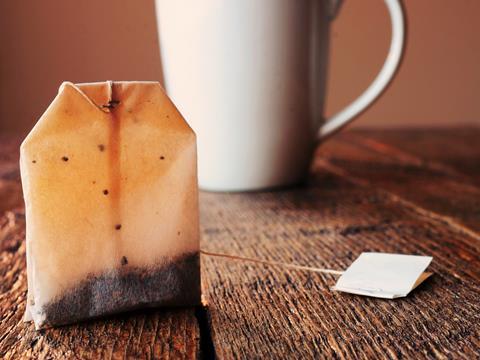 The Co-op hopes to stir the entire grocery sector into action to tackle a plastic waste issue most consumers will not realise exists - tea bags.

Tea bags contain polypropylene - used industry-wide to protect the integrity of the bag so the tea does not spill out.

The society claims it has found a solution to the problem, which it will start testing next month, initially for its own-brand 99 tea.

Through a tie-up with its tea supplier Typhoo and Ahlstron-Munksjö, specialist in sustainable fibre solutions, a method of heat-sealing bags has been developed.

The tea bags could be on shelves later this year with a view to rollout across its entire own-label standard tea range.

A society spokeswoman said it hoped the initiative would "stir others into action".

The Co-op sells about 4.6 million boxes of tea a year - equivalent to about 367 million tea bags.

It estimates its move could save nine tonnes of plastic every year from being dumped into household rubbish and compost collections.

The initiative forms part of the Co-op's long-term ambition for all its product packaging to be recyclable. It has an interim target of 80% by 2020.

"Many tea drinkers are blissfully unaware that the teabag from their daily cuppa is sealed using plastic," said Co-op Food chief executive Jo Whitfield. "Even though it's a relatively small amount, when you consider the six billion cups of tea brewed every year in the UK, we are looking at around 150 tonnes of polypropylene.

"That was an enormous amount of accumulated plastic waste that was either contaminating food waste compost collections or simply going to landfill.

"A cup of tea is part of our national psyche, so we felt it was imperative that we fix the problem as soon as possible. We're absolutely committed to reducing plastic in our packaging and want to ensure that tea lovers can enjoy a guilt-free brew."

Bill Gorman, chairman of the UK Tea & Herbal Infusions Association, said the wider industry was experimenting with several scientific solutions.

The challenges were finding a fully organic biodegradable material that would function successfully in boiling water, and re-engineering machines with new sealing processes.

"It is a trade-off between costly technological advances and keeping the price competitive," he said, adding that retail prices of tea had "hardly moved" in the past 10 years.

"Any significant price increase in the cost of tea bags will be passed on to consumers and negatively affect volumes," he added.

"If we are buying less tea it has a negative effect on farmers in some of the poorest parts of the world."

Gorman said there were several brands in the market that did not use polypropylene to seal but they were typically small brands and short-run items.

He added that everyone in the tea industry was "desperately seeking to find a sustainable, cost-effective solution".