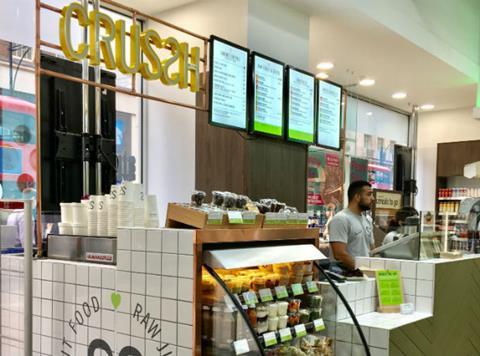 Crussh has launched a reusable cup discount as part of a wider sustainability drive.

Customers who bring in reusable coffee cups will receive 25p off their hot drink, and a free coffee if they use Crussh's reusable Ecoffee cup sold for £8 in-store.

Ecoffee cups will be available to buy at all Crussh stores except Sainsbury's Pimlico, alongside its £3 reusable water bottles.

This comes after Crussh's announcement last month that it will remove all plastic straws from in-store by Easter, replacing them with a compostable alternative.

Crussh has also pledged to trial compostable cutlery in selected stores by Easter. The healthy food and juice retailer also plans to source a sustainable and recyclable disposable coffee cup and to minimise waste sent to landfill by the end of the year.

"We're delighted to introduce a discount on all hot drinks to customers bringing in reusable coffee cups," said Crussh fit food & juice bar head of marketing Helen Jones.

"This is just one of the initiatives we're working on this year to help reduce our waste."

Several of Crussh's packaging items such as napkings and coffee sleeves are already made from recycled materials and are 100% biodegradable, while 99% of its plastics are widely recyclable.

Crussh has 30 stores across London and is known for its juices, smoothies and health pots.