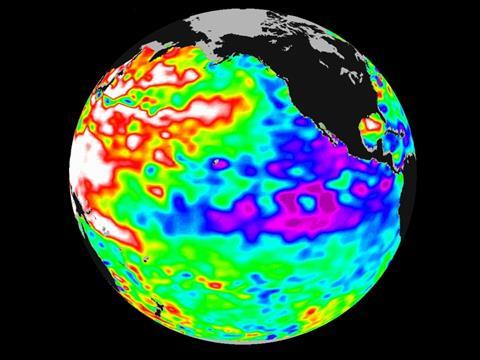 Brace yourselves: El Niño looks like it's on its way back. The Central Pacific climate phenomenon, which usually starts to develop between April and June, causes floods, droughts and changes in wind patterns and latest forecasts indicate a 70% probability of El Niño in 2014.

Wet weather caused by El Niño can affect Southern Brazil, Uruguay and Argentina during spring and early summer. Not that this is necessarily bad news. It could benefit the Brazilian coffee plantations, which have been hit by very dry conditions, causing Arabica prices to shoot up. And in Colombia, drier and hotter weather could help the coffee crop, which has been hit by frost and coffee leaf rust.

Elsewhere, the impact is not always so benign. In the US, El Niño usually increases the possibility of wet and warm conditions in the grain-producing Midwest, which can lead to a fall in yields and an increase in pest problems. However, US farmers might welcome wet weather this year, as increased rain could mitigate losses in the Californian dairy and wine sectors caused by a three-year long drought and alleviate the parched conditions across the US "bread basket" of Kansas, Texas and Oklahoma.

The prognosis doesn't look so good in other regions. In Australia, El Niño can cause very dry weather that damages grain. That pushes up feed costs for livestock producers, which in turn can lead to higher slaughtering, lowering meat prices in the short term.

In India, El Niño can create windier conditions that disperse monsoon rains, potentially adversely affecting rice, sugar cane and tea, while in Indonesia dry conditions could lead to a fall in cocoa bean yields, already in deficit, further pushing up prices.
Commodity prices: Ukraine instability still affecting price of grain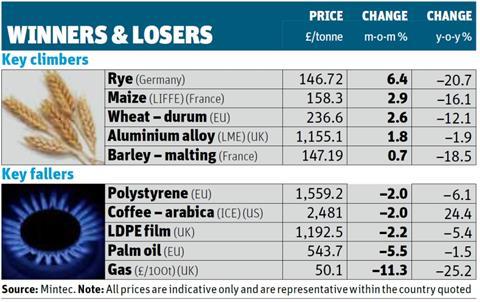 Fears over instability in Ukraine continue to take their toll on grains. Ukraine accounts for 6% of the world's wheat exports, and the recent unrest has pushed durum prices in the EU up by nearly 3% over the past month, though prices remain down year on year.
Unfavourable weather is also causing barley prices to rise month on month, though prices remain down on a year-on-year basis because global production for 2013/14 is expected to increase by 12%.
Gas prices in the UK are coming down thanks to the recent good weather, which has reduced demand, while lower demand from China is weighing on palm oil prices, which are currently down 5.5% on last month and down 1.5% year on year.
Prices Digest
Ag commodity prices: Goldman Sachs is predicting prices of agricultural commodities will decline this year despite pressures caused by unrest in Ukraine and concerns about weather in some key growing areas. The bank said it expected prices to come down by 10%, having previously forecast a 9% drop.
Orange juice: Prices have risen in response to new forecasts predicting a smaller orange harvest in Florida this year. The USDA said it expected the state to produce just 110 million boxes of oranges in 2013/14, down from its March forecast of 114 million boxes.
Potatoes: Roughly 40,000ha of the UK's potato crop had been planted as of 12 April, according to the Potato Council's grower panel planting survey. This is up 21,000ha on 2013 but down 20,000ha on 2012.
Coffee: Prices have rallied further amid concerns about dry weather in Brazil. The International Coffee Organisation warned damage to crops could get even worse in 2015/16.