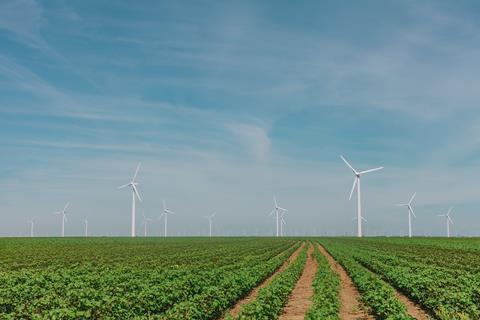 The world is growing at an alarming rate, with some 75 million extra people joining the global population each year. As the demand for food to cater for this growing population increases, so too does the challenge we face in delivering it.
The Defra Agriculture Bill consultation closed recently. It sets out how, in future, farmers and land managers will be paid for "public goods", such as better air and water quality, improved soil health, higher animal welfare standards, public access to the countryside and measures to reduce flooding.
In Defra's opinion, food is not a public good.
Speaking at the 2019 City Food Lecture, I challenged this position, and asked the audience to consider whether food is indeed a public good, and if so, how would that influence our actions?
I believe food should be considered as a public good and would like to highlight statistics and figures gathered by Defra that strengthen that view.
£113bn is the agri-food sector's contribution to national gross value added in 2016.
3.9 million people were employed in the agri-food sector in Q1 2018 – 13% of GB employment.
Food and non-alcoholic beverage prices fell in real terms of 3.4% from 2008 to July 2018.
£219bn – total consumer expenditure on food, drink and catering in 2017.
£22bn – the value of food and drink exports in 2017.
One of the most worrying figures is our trade deficit in food, feed and drink – which increased in 2017 to a new record high of £24.2bn, up from £22.8bn in 2016.
The UK's ability to feed itself has declined by almost 25% since 1988. Surely this cannot be allowed to continue.
Public Health England says the overall cost of obesity to wider UK society is estimated at £27bn. Annual spend on the treatment of obesity and diabetes is greater than the amount spent on the police, the fire service and the judicial system combined.
In the UK, we are throwing away £13bn worth of food a year.
If we, the 'eating ecosystem', were allowed to develop strategies to encourage growth of the industry, a greater respect for food as a valuable resource, a healthier consumption of our food and, of course, a healthy environment in which to produce our food, we could add billions to our economy – not least through improving the health of our society.
The European Union view is that "while food is a private good, it is also true that markets do not ensure the availability of food at any time in any place. Deliberate action is needed, therefore, to secure food supply in the long term at the European or global level. Retaining the capacity to produce food sustainably into the future, through appropriate husbandry of land and other resources and the maintenance of the necessary skills, is critical for achieving this."
It is simply not possible to remove a 'leg' from the conceptual three-legged stool that is sustainable and economical food production, environmental sustainability and rural society sustainability.
Some claim purchasing from overseas reduces our CO2 footprint. In my view, this is disingenuous at best. Simply moving the problems we create to another part of the planet will come back to bite us, as history has shown. Food is a major public good and one that our government should be proud to support.
Unfortunately, our government does not understand food because it hasn't had to think about it for 43 years – Europe has been doing the thinking for us. It is now time to rethink our attitude towards how we protect and preserve this sector.
Brexit has thrown our nation into uncertain times and has created much disagreement and discontent, but it is crucial that we don't lose sight of the fundamental, vital resources that underpin the fabric of our society. Like many others in the industry, I am passionate about agriculture and delivering food with integrity. Integrity in relation to food production can mean a commitment to positive environmental impact, ensuring high standards of animal welfare, minimising waste, utilising responsible packaging, eliminating child labour, and prioritising quality over cost. Throughout these areas, the UK is leading the way and we should be proud of that.
We can point towards the regional food sectors in Northern Ireland, Scotland and Wales as great examples of how to develop and maintain thriving, sustainable food sectors. The UK as a whole must now do the same.
There is no more fundamental and essential definition of national security than food.