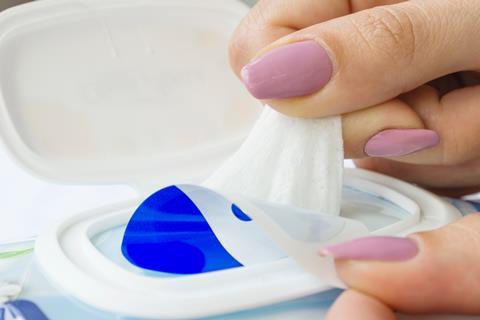 Holland & Barrett will become the first major high street store to stop selling wet wipes by the end of September 2019, and is calling on its fellow retailers to follow suit.

It plans to replace them with environmentally-friendly and sustainable alternatives across its 800 stores, such as double-sided cotton cloths, unbleached cotton muslin cloths, cotton pads and exfoliating mitts.

Holland & Barrett is making the change as part of its Clean and Conscious pledge to become a more sustainable business. This has already seen it become the first high street retailer to ban both plastic bags and microplastics.

The retailer cited a study from the Earth Watch Institute and Plastic Oceans UK, which found 9.3 million wipes are still flushed down toilets in the UK every day.
"The impact of single-use plastic on the earth is very evident, and so moving forward we will look to make our beauty offering as clean and conscious as possible," said Holland & Barrett head of beauty Joanne Cooke. "These wipes still use the world's precious resources to manufacture, still come in plastic packaging, and still get flushed down the loo or thrown in the bin, eventually ending in landfill. We want to encourage our customers to think about what they currently throw away and encourage them to swap to more sustainable alternatives. The quickest way for us all to make a positive impact on the world we live in is to choose to spend our money on more sustainable products."
Holland & Barrett is also in the process of updating its beauty range to focus on recyclable, refillable and waterless products, and making a commitment to "buy into beauty that doesn't cost the earth", Cooke said.

Plastic Oceans Foundation founder Jo Ruxton added: "Single-use plastic items represent a major part of this problem and this destruction will soon be irreversible if the world doesn't make a change. We are delighted that Holland & Barrett is taking a clear lead on sustainability by banning one of the problem products we see in our rivers and oceans - single-use, disposable wet wipes - which use the world's precious resources to manufacture, still come in plastic packaging, and still get flushed down the loo or thrown in the bin. We hope other large retailers will join Holland & Barrett on its mission to make the high street a more environmentally-conscious place."