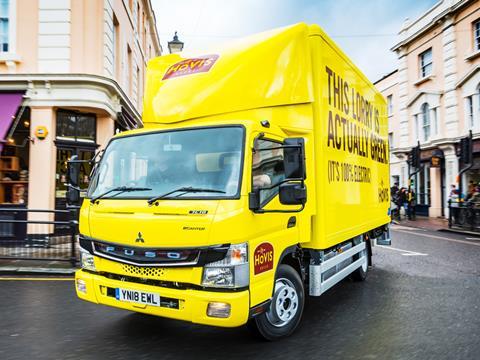 Bakery brand Hovis has moved further down the road to taking its fleet all-electric in a continuation of its efforts to potentially get rid of polluting fuels permanently.

It has deployed two Fuso eCanter vehicles for an initial two years to help it achieve its greener ambitions. The new Daimler vehicles are part of the third generation of what Hovis said were the world's first fully electric-powered light lorries.

It would initially use the vehicles to deliver across London and surrounding areas, where levels of air pollution were considerable.

It claimed the Fuso eCanter's local zero-emission drive would reduce both the impact of exhaust and noise emissions on city centres.

The business had already removed more than two million road miles as a result of improved vehicle routing and load fill as part of its effort to become a more sustainable, energy-efficient business.

It also employed a replacement policy to introduce the latest emission-friendly vehicles to its fleet, it added.

"We are proud to be the first fmcg business in the UK to deploy all-electric vehicles as part of our fleet," said Hovis boss Nish Kankiwala.