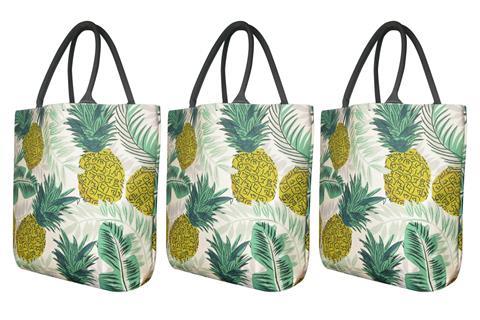 John Lewis has launched a reusable shopping bag made entirely from recycled plastic bottles, as part of its push to become more environmentally friendly.

Each eco-friendly bag has been created in partnership with Jutexpo, by turning seven plastic bottles into a soft, durable fabric called recycled polyethylene terephthalate.

The bags have a tropical pineapple design created by stationery and gift designer Caroline Gardener, and have been designed to be practical and durable enough to be wiped clean.

They are available online and in John Lewis stores for £8.
"The bag is a perfect way to care for the environment by reusing time and time again. It has a durable finish with a colourful design, and is perfect for all shopping missions," said John Lewis assistant buyer for cards, gift wrap and seasonal events Lizzie Batchelar. "The bottles used in the design are recycled from post-consumer waste, putting to use plastic bottles that would have otherwise been thrown into waste streams."
Jutexpo director Robbie McGregor added: "We are delighted to be supplying these wonderfully designed bags that are encouraging shoppers to reduce their plastic bag use and help the environment. By recycling post-consumer bottles to create innovative reusable bags, we are adding purpose to what would have otherwise been discarded as uncontrollable waste."