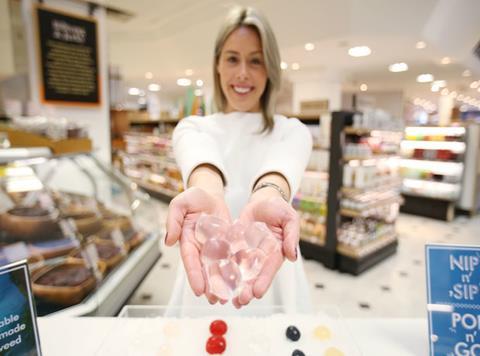 Selfridges has launched Ooho!, the world's first entirely edible water bottle in a move to reduce its use of plastic.

The fully-biodegradable spheres are made from seaweed, and filled with filtered London tap water. The product has five times less CO2 than other water options, and is being marketed as a sustainable, disposable alternative to other water and juice containers sold in the grocery market, such as single-use plastic bottles.

The 'bubbles' of water were created with a focus on creating a product that disappears as quickly as natural food waste, and can be treated in the same way as food disposed of in food waste bins. Should Ooho! end up in general waste bins, or landfill further down the line, the material will degrade to its original elements.

Ooho! is available at Selfridges' London store in blackcurrant, charcoal & lime juice, plain water and strawberry & rose flavours. They are priced at £1 or £1.50, depending on size and flavour.

"As part of our continued efforts to raise awareness of plastic pollution and the damaging effects on the ocean, Ohoo! is a radical new way to help reduce the amount of plastic we use," said Selfridges' food and restaurants director Bruce Langlands.

The new drinks were launched last week to mark World Water Day on 22 March.