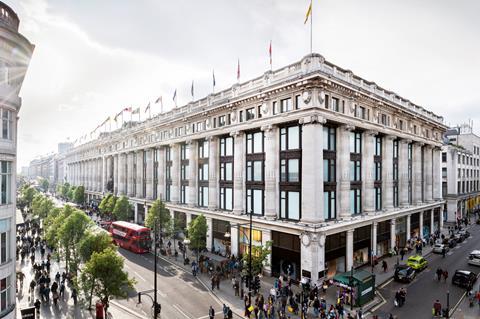 Selfridges has made its own-label Selection range palm oil-free, nine months ahead of its original target.

The 280-strong range, which includes biscuits, chocolates and Christmas SKUs, has had palm oil replaced by alternatives made from rapeseed, soybean and sunflowers.

The luxury department store has achieved the step ahead of schedule as part of its long-term sustainability strategy, Buying Better, Inspiring Change. This aims to make 50% of products more ethically-sourced by 2022.

Its push to be more sustainable has already seen it remove single-use plastic from carbonated drinks last year, and end use of plastic straws in food halls, concessions and restaurants in 2017. The retailer also installed a public water fountain outside its London branch last June, and introduced the world's first edible drink packaging in March 2018, both in a bid to reduce plastic use.

Selfridges said use of palm oil in food items contributed to huge deforestation of irreplaceable rainforests in Indonesia and Malaysia, where 85% of the world's palm oil is produced, adding that the element is currently found in half of all supermarket products.
It said it was going palm oil-free to "help protect the world's rainforests".

"We're committed to buying better to inspire change. The removal of palm oil from our Selfridges Selection range is the latest demonstration of this approach in action," said Selfridges MD Simon Forster. "We believe that until certified palm oil guarantees zero deforestation our customers should be given the option to buy palm oil-free products. We're delighted to be able to offer this through our own label. Our expectation is that all brands we work with are aware of and actively engaging with the issues surrounding palm oil and deforestation."

Greenpeace UK executive director John Sauven added: "Growing demand for palm oil for use in food products, cosmetics and biodiesel is devastating tropical rainforests across South East Asia. In Indonesia and Malaysia, where expanding palm oil and pulp plantations are the biggest driver of deforestation, many species are being threatened with extinction, including the Sumatran elephant and rhinoceros. It's also leading to huge emissions causing climate change from burning forests and draining peatlands for plantations. This war against nature has to stop. Selfridges has sent a shot across the bow of an industry that needs urgently to change if it wants to remain in business