The UK might see itself as a world leader in driving environmental goals but its performance in the 2017 Sustainability Index shows it is lagging behind as catastrophe looms on global scale. What needs to be done, and when, to stop the bomb going off?
The apocalypse is coming. Or so warned a group of international experts back in 2015. Led by Professor Johan Rockström, director of the Stockholm Resilience Centre, research by these renowned experts warned we have already crossed four out of the nine 'planetary boundaries' within which humanity can develop and thrive. By transgressing these boundaries, they say, we risk triggering irreversible environmental change, which would drive the Earth into a "much less hospitable state", leading to the deterioration of human wellbeing across the world. And the single biggest contributor to this excess? Agriculture.
Not only is food production responsible for a third of global greenhouse gas emissions and 70% of global freshwater use, it's also driving devastating biodiversity and habitat loss around the world. Getting food and farming right is, Rockström insists, the key to the future of our planet and its people.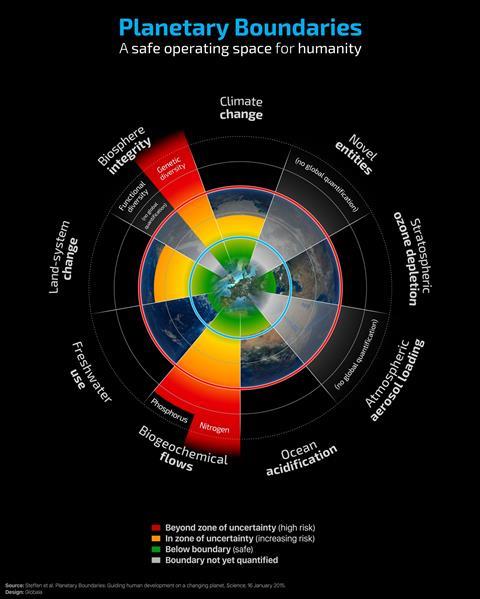 So the UK's pitiful performance in the 2017 Food Sustainability Index (FSI) is no laughing matter. Despite our self-proclaimed world leadership on environmental, social and economic issues, the UK ranked just 10th out of 34 countries on the index, which was presented by the Barilla Center for Food & Nutrition Foundation (BCFN) at the World Economic Forum in Davos in January. When it came to sustainable agriculture - one of the three areas in the FSI - the UK was placed a miserable 20th - behind countries like Ethiopia, Russia, Turkey, Jordan, Argentina and Colombia.

So, what is the UK getting so wrong on sustainability? And how can we get better?

This is the second intonation of the FSI. First published in 2016 it was developed by the Economist Intelligence Unit and BCFN Foundation, which wanted to provide a tool for "assessing the status of food systems at the national level, while fostering dialogue, collaboration and knowledge sharing between different stakeholders" says Marta Antonelli, research programme manager at the BCFN Foundation. Last year, the UK came in a much more respectable fifth place, though that was out of a smaller cohort of 25 countries. This year, the index was expanded and strengthened to compare the sustainability performance of 34 countries accounting for 85% of global GDP and over two thirds of the world's population.

The 2017 index scores countries on three main areas - Food Loss and Waste, Sustainable Agriculture, and Nutritional Challenges - using 35 indicators, and over 55 sub-indicators across the social, economic and environmental domain. With an overall score of 68.03 out of 100, the UK was eighth out of the 10 European countries in this year's index. On some indicators, including childhood obesity rates and climate change action and healthy life expectancy, it performed very badly indeed.

"We are not performing as well as we think we are," says Dan Crossley, executive director of the Food Ethics Council. "There is a slight arrogance in the UK that we are the best on a lot of issues, and indexes like this show we aren't."
'A lot further'
The UK's best performance in the FSI was on food loss and waste, where it came seventh with a respectable score of 74.74 out of 100, having done well across most indicators, with the exception of distribution-level losses incurred around the quality of road infrastructure and investment in transport. It still lagged behind five other countries though, including France, which scored 84.99 out of 100 in the category, helping it into a triumphant first place overall.

"The UK is held up as being in the leading pack on tackling food loss and waste globally, and that is fair, with some companies that are doing great things in this space," says Crossley. "But there is definitely a lot further we can go. Countries like France have a mandate to educate children about waste from a young age, for example, and that sort of education is something we arguably don't do very well in this country."
Who is doing best on food sustainability and how?
France : leading the world on food loss and waste policies
France came out on top for the second year running with an overall score of 74.79 out of 100 in the 2017 Food Sustainability Index.
It scored particularly highly on food loss and waste, where it led the pack with a score of 84.89 out of 100, putting it significantly ahead of the next best country, Germany, which achieved 77.66 out of 100 in the category.
"France has adopted several policies and initiatives to limit waste both at production and at consumer level," says BCFN Foundation researcher Ludovica Principato.
"The country's legislation prohibits supermarkets from throwing away food surplus, and requires donation to charities."
France also ranked third place on Sustainable Agriculture for 2017, and came in at fourth place on Nutritional Challenges thanks to its strong policy response to the obesity problem.
Japan : healthy diets and long life expectancy
Japan took second place overall in the 2017 index after performing particularly strongly in the Nutritional Challenges category, with a score of 72.99 out of 100.
"Only 14% of children and adolescents and 27% of adults are overweight. Nutritional education is included in the national school curriculum and is effectively implemented," says Katarzyna Dembska, a researcher at BCFN.
Japan's average life expectancy of 84 years is also the highest out of any of the countries in the index and "more importantly, long lives are lived in good health, with a healthy life expectancy of 75 years," adds Dembska.
The country also came in sixth place on Sustainable Agriculture, reflecting good scores across indicators including the sustainability of its fisheries, biodiversity and climate change mitigation.
There are also a few issues around food waste that the index doesn't pick up on, he adds, such as the fact the UK is still importing food from countries that score badly on food waste, such as India and Brazil. "We need to be mindful the food we are eating in the UK has a global footprint, and whilst we are getting better at tackling food waste, there are still big losses and a lot of waste going on in supply chains in the global south," Crossley says.

Carina Millstone, executive director of food waste campaign group Feedback, agrees - pointing out the trading practices of UK supermarkets can have as much impact on, say, Peruvian onion producers as they do on UK apple growers.

"Feedback's research on waste in global supply chains found overseas suppliers are sometimes especially vulnerable to unfair trading practices that cause waste, such as sudden order cancellations or excessively stringent cosmetic specifications on fresh produce, because producers may be smaller scale, and thus suffer more from power imbalances in the global supply chain, with a small number of importers and supermarkets controlling the supply chain," she says.

While the UK has made some "incredible" progress on food waste over the past decade, the "scale of action is totally insufficient to the scale of the global environmental crisis we face" Millstone adds.

"Much of the focus of action on food waste in the UK so far has been on redistributing surplus to charity networks. While, of course, no food that could feed people should be wasted, we need to look closely at why so much waste is being generated in the first place and what can be done to end the systemic overproduction that is the hallmark of the supermarket age and the root cause of waste in the first place," she says.

The UK was also among the 10 best-performing countries on nutritional challenges, although a score of 65.26 out of 100 put us in eighth place behind Japan, South Korea, France, Portugal, Sweden and Greece - which is hardly a position of world leadership.

Although points were won for the low levels of malnourishment and deficiencies, as well as the relatively good average life expectancy in this country, the UK's overall nutritional score was dragged down by the prevalence of obesity among both adults and kids, as well as the number of fast food restaurants on our high streets.

"Obesity is alarmingly high in the UK: 64% of adults and 31% of children and adolescents suffer from the condition," says Katarzyna Dembska, a researcher at the BCFN Foundation. "This can be partially attributed to unhealthy lifestyles: the country scores 21st for sugar % in diets (11%) and 27th for saturated fat consumption. Only 60% of the population reaches the recommended physical activity levels."

It was on Sustainable Agriculture, however, that the UK really fell down - with a score of 64.08 out of 100 putting us in the bottom third of the countries in the index.

While the UK achieved the highest score for animal welfare and some respectable marks for water sustainability and the environmental impact of farming on the land, points were lost for poor agricultural diversity, with 71% of production dedicated to three top crops, says Francesca Allievi, who is also a researcher at the BCFN Foundation. "Moreover, the quality of agricultural subsidies is rather low and only a few small cities present initiatives for sustainable urban farming, putting increasing pressure on environmental resources."

The impact of the UK's food and farming on the atmosphere was an even bigger concern. "Animal and fertiliser emissions go as high as 45014 Gg CO2 eq and are not properly compensated by initiatives for climate change mitigation and adaptation," says Allievi.

In fact, the BCFN found the UK so lacking on "initiatives of agricultural techniques for climate change mitigation and adaptation" that it was one of just seven countries in the index to score zero out of 100 for that indicator. "Essentially they are saying that as a nation we aren't taking climate change seriously enough, and I would agree with that," says Crossley.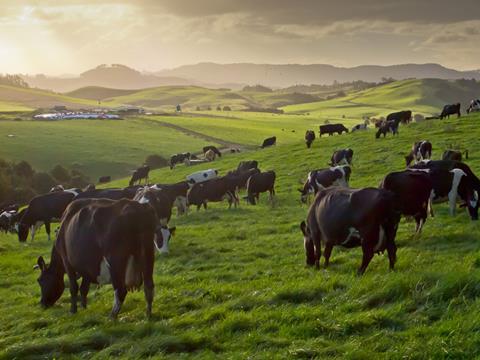 Sustainable farming: an alternative view
Vegan campaigners have long argued that giving up meat and dairy is better for both the environment and animal welfare, but the shift away from these components in UK diets could end up actually hindering efforts to make our food systems more sustainable, warns Sustainable Food Trust CEO Patrick Holden.
With chemical fertilisers causing untold damage to the nutritional value of our soils and leading to nitrogen pollution of our waterways, British farmers must return to mixed farming if they want to improve the sustainability of their operations, he argues.
"The inconvenient truth, if you are a specialist commodity producer, is that you cannot switch to a farming system that restores soil fertility in the form of carbon or organic matter without going into a crop rotation, which includes a fertility building phase," he says.
"That is likely to be clover and grass, and it could account for 40% or even 60% of the total time in the rotation. To turn clover and grass into money, you need another enterprise, namely grass-fed ruminants."
Mixed farming not only restores soil fertility without relying on chemical fertilisers, but improves biodiversity, Holden argues. Many UK arable farmers are growing concerned about the decline in their quality of their soils and looking to switch to more sustainable mixed farming methods, he claims, but they can't make the shift unless there is sufficient demand for good quality grass-fed British beef, lamb and dairy products in the UK.
"A whole generation of young people are thinking that the right thing to do is give up animal products, and by doing so they are making it impossible for the arable farmers to switch to mixed farming," Holden adds. "You can't have a farming enterprise of which 40%-60% is producing a product for which there is no market, or a market below cost of production."
Holden knows ruminants emit methane, but argues emissions are "more or less" cancelled out by soil carbon retention. "The methane cycle is an ancient cycle. There used to be a hundred million bison in the US and that's how all the soils of the great plains were built," he adds. "The new sources of methane release are the ones we have to worry about."
Rather than giving it up altogether, eating less but better meat and dairy might be the answer to a truly sustainable diet in the UK.
It isn't the first time Theresa May's government has been accused of failing to take climate change seriously enough. Its move to abolish the Department of Energy & Climate Change (DECC) in 2016, folding it into an expanded Department for Business, Energy & Industrial Strategy, caused outrage among environmental groups and was branded "plain stupid" by Ed Miliband, the former energy and climate secretary under Labour.

It means the government doesn't have a "clear enough, bold enough national strategy on climate change" says Crossley, especially when it comes to agriculture. "The UK Committee on Climate Change has avoided food and farming until recently because it says the data from the sector isn't robust enough to include in carbon budgets," he says.

The UK agriculture industry is trying to measure its carbon impact, as well as its performance on other sustainability measures, but it's being hampered by the sheer number of assessment tools in use across the food industry, says Sustainable Food Trust CEO Patrick Holden. "We are starting with a huge amount of confusion, duplication and overlap, bureaucracy, cost and time for farmers and everyone else involved, all of which makes the situation worse not better," he says. "There is a pressing need for the emergence of a common sustainability assessment framework."

The lack of any coherent sustainability framework is perhaps not surprising given the coalition government scrapped the Sustainable Development Commission, the UK's official adviser and auditor, in 2011. It's a move Professor Tim Lang, director of food policy at City University London - who sat on the Commission - blames for the UK's poor overall performance in the FSI. "We've had eight years of no direction on sustainability, we are drifting. And here's where it shows up."

Brexit is threatening to make matters worse, with Defra confirming in January it will not publish its long-anticipated 25-year food and farming plan - which was due to include targets for agriculture and the environment - because it needs to focus on more "immediate and critical issues" of negotiating Brexit.

The government's recently published 25-year environment plan, while welcome, is "unambitious" and lacks the specific focus on food and agriculture needed to boost sustainability in the sector, adds Crossley. "Having an environment strategy is great, but we need a food and farming plan that genuinely looks at the links between food, nutrition, farming and the countryside," he adds.

The lack of any official guidance for the food and agriculture industry is particularly worrying given the impact Brexit could have on the UK's already fragile food security, Lang warns. "We should really be trying to sustainable-proof the British food system and we are not doing it - it's a catastrophe."

Having set no long-term targets for food and farming, the UK government is arguably failing to meet its obligations under the UN Sustainable Development Goals, which were adopted worldwide in 2015. In total, there are 17 goals with specific targets to be met by 2030, and food and farming is relevant to all of them in some way, but specifically to goal two, which is about ending hunger, achieving food security and improved nutrition and promoting sustainable agriculture, says Crossley.

"Unless there is lots of work going on behind the scenes I am not aware of, the government is not taking the SDGs seriously enough. Achieving the SDGs should be integrated into all aspects of government policy, but as far as I understand that is not happening."

Achieving the SDGs isn't just down to government, it will also require industry and civil society to "do their part", says the UN. However, while most food businesses have "bought into the idea of what the SDGs are trying to achieve", the lack of a government-led strategy means many remain confused about exactly what they should be doing, Crossley adds.
Inspiring voluntary action
Which isn't to say the UK food industry is standing still on sustainability. Some food businesses have been taking action independently, having seen the benefits that can be reaped from improving the sustainability of their operations, says Steve Malkin, CEO of Planet First and founder of the Planet Mark - a sustainability certification programme to help businesses contribute to the SDGs.

Businesses can not only boost profitability by improving the efficiency and sustainability of their operations, but they will also gain a competitive edge - particularly as awareness of environmental and social issues grows, he adds. "Regulation and legislation help, but the best thing is to show them a solid business case and then they will do it voluntarily," he says. "We are seeing businesses going way beyond compliance and delivering so far in advance of government targets it is unbelievable."

Planet Mark, which counts Bidfood among its clients, isn't the only certification programme that can help food businesses improve their sustainability performance. Danone Dairies UK recently became the first British dairy business to achieve B Corp certification, alongside the likes of Rebel Kitchen, Divine Chocolate and Ella's Kitchen.
While individual businesses are doing commendable work, however, improving the UK's overall performance on food sustainability will require a more comprehensive, country-wide approach, insists Holden. "Companies like Unilever and Nestlé are trying to do the right thing, but they are finding it very difficult because purchasing more sustainable commodities confines their product to a niche," he adds. "Unless we make our food system sustainable, not just in niche markets such as organic, unless we transition all our food systems to methods that operate within our planetary boundaries, we'll be facing irreversible climate change and other ecological breakdowns by 2050."

Brexit could present the opportunity for such a transition, though. "This is a unique moment for food and farming organisations here in the UK to reimagine what a better food system may look like - and to make the case to policy makers that secure, nutritious food must go hand in hand with healthy ecosystems, and especially soil health," says Millstone.

Environmentalists have already welcomed Michael Gove's proposed move to replace direct payments under the CAP with a new system of "public money for public goods" - with farmers rewarded for work to enhance the environment, and potentially for other things like improving animal welfare, investing in new technology and providing public access to the countryside. "If Defra implements these policies, it could drive the biggest shift in agricultural practice for half a century and arguably since the beginning of the industrialisation of agriculture," Holden says.

However, Brexit also brings the threat of UK food standards being undermined by free trade deals with countries that perform even worse on sustainability than the UK. "There is a tension in government around whether we'll have a race to the top or a race to the bottom on food standards," says Crossley. "Michael Gove says the UK will pride itself on high standards for environment and welfare, but there is the risk that Liam Fox will be so desperate to secure trade deals that we'll end up having to let in cheap food from countries like the US, where standards are often lower," he warns.

That's a sobering thought when you consider the US ranked 21st out of 34 countries overall on the FSI, and an embarrassing 31st place on sustainable agriculture, ahead of only Tunisia, India and the UAE. And, as the FSI reflects, sustainable food systems are not just about minimising impacts on the environment. They are also about ensuring everyone has access to healthy, safe, affordable food - something Defra's proposed new farming policy fails to address, warns Lang. "It is not dealing with what the food industry knows needs to be addressed. It is not providing the framework," he adds.

As our performance last year proved, the UK might think it's a global leader on sustainability, but there is a long way to go. If we don't want to slip further down the ratings in the future - and risk hastening the apocalypse - we better make sure Brexit is a turning point for the better, not the worse.