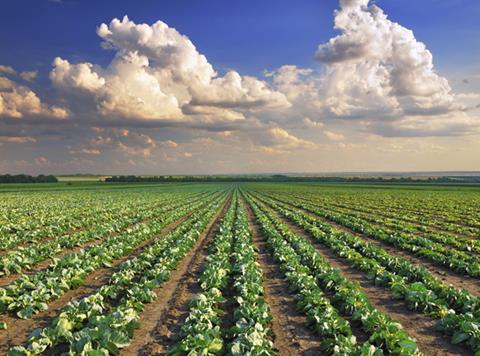 The UK is still performing "very poorly" on sustainable agriculture, highlighting the "urgent" need for a comprehensive strategy on food, experts have warned.

Overall, the UK ranked 24th out of 67 countries in the 2018 Food Sustainability Index, published today by the Economist Intelligence Unit (EIU) and the Barilla Center for Food & Nutrition Foundation.

However, on sustainable agriculture it ranked 55th overall in this year's expanded FSI, behind countries such as Brazil, Egypt, India and Sierra Leone.

Despite scoring 100 out of 100 for climate change mitigation this year, the UK lost points for a lack of opportunities to invest in sustainable agriculture, as well as for poor productivity and the water impacts of imported food.

It also performed poorly on some key nutritional metrics in this year's FSI as a result of high obesity levels and the prevalence of fast food restaurants across the country.
The UK performed better on food waste, ranking 11th out of 67 countries after scoring 100 out of 100 for its policy response to food loss.
However, its overall performance was "disappointing at best" said Food Ethics Council executive director Dan Crossley, particularly when compared with other high-income nations in the index.

Overall, it scored 16th out of the 28 EU countries in the FSI, but it slipped down to 24th place for sustainable agriculture and was in the bottom half of EU countries for important metrics like greenhouse gas emissions from agriculture, youth participation in farming and working conditions in the food chain.

"If the UK aspires to be a global leader on food sustainability, it must step up to the plate and lead by example," Crossley added. "The UK's poor performance in the 2018 FSI shows this is not yet happening."

While the FSI was not a perfect measure of sustainability, it did offer "conclusive evidence" that the UK government needed to develop its long-promised integrated food strategy to tie together its Agriculture Bill, Environment Plan and obesity strategy, Crossley said.
"It's not good enough to simply lump together separate plans and bills and to call that a strategy. We need a strategy that genuinely joins the dots, with good food and farming contributing to public health, environmental concerns being tackled hand in hand with animal welfare concerns, and resources being shared fairly so everyone can access good food."

The 2018 FSI was expanded to include 67 countries (from 34 last year) representing 90% of the world's GDP and over four-fifths of the global population.

Its methodology was also aligned more closely with the UN's Sustainable Development Goals, and it assessed country performance on 89 indicators, from food waste per head to childhood obesity, from sustainability of fish stocks to working conditions in food and farming.

France was once again the top performing country overall in the FSI, after scoring highly across the three pillars: sustainable agriculture, nutrition and food loss and waste. Rwanda was the highest scoring low-income country, while Columbia was the highest scoring middle-income country.