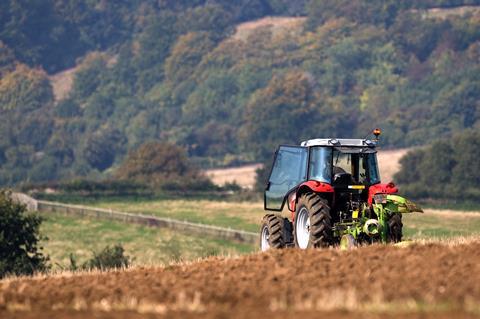 COP26 is around the corner. It's time to demonstrate your support for addressing the climate emergency. Set bold targets. Act, experiment, learn.
A total 324 out of 350 of the world's most influential food and agriculture companies don't have science-based targets for reducing greenhouse gas emissions, according to a report from the World Benchmarking Alliance. Put another way, only 7% have targets and reporting aligned with a 1.5˚C trajectory, while over half of businesses in the benchmark have no climate target at all. That's beyond careless – it's irresponsible. It's hugely damaging to their and the sector's long-term reputations and prospects – and to the future of the planet and its inhabitants.
There is growing recognition of the huge positive and negative impacts food and farming can have, but these aren't reflected at COP26, where food barely features. Calls for food and farming to be taken seriously will ring hollow unless they are backed up by hard commitments and action by those in the food sector itself. Kudos to those food businesses leading the way.
Patrick Holden, farmer and CEO of the Sustainable Food Trust, spoke at our #FoodTalks on 'Good COP: bad COP'. He described the ideal COP26 as one that becomes known as the 'COP for food' where "international leaders recognise the power of farming and food, not only to (significantly) reduce emissions, but also to sequester CO2 out of the atmosphere… in the world's second largest carbon bank, the soil".
Bold targets and action by individual food businesses are desperately required. Plus, we need collaborative efforts and an ambitious overarching strategy that shakes up the status quo. That's why I hope the white paper team at Defra responding to the National Food Strategy for England – plus governments in the devolved nations – heed the warning of shocks we're experiencing at the moment. We need a long-term plan and we need decisive action, now.
What does that mean? For starters, all food businesses should, as an absolute minimum, set science-based targets before the end of this year.
We need action on climate at COP26 in Glasgow and on biodiversity at another COP: COP15, the UN Biodiversity Conference. No more food inaction. Let's make bold progress on just and sustainable food systems.
Boris Johnson talks of the need for climate action on "coal, cars, cash and trees". Can the prime minister's advisors add to that soundbite – but with less sound and more 'bite'? How about a new slogan: plates, waste, soil and bees?