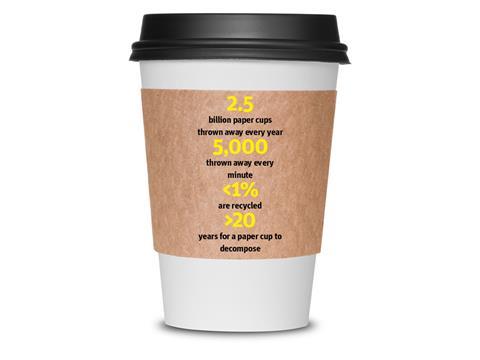 Thanks to the nation's addiction to skinny frothy lattes to go, a staggering 2.5 billion coffee cups are thrown away in the UK every year - that's 5,000 a minute. To make matters worse, less than 1% are recycled. It's a figure that stunned Hugh Fearnley-Whittingstall in his recent War on Waste programme.

As he explained, the problem is down to the composition of the cups. Although technically recyclable, it's not easy - there are only two pulping facilities in the UK that can separate the paper from the plastic lining.

Fearnley-Whittingstall is now on a warpath to create a cup that can be more readily recycled. And he has called on coffee purveyors to join him. "Only by changing to a cup that is properly recyclable in the public waste disposal system, or by massively investing in new specialised facilities, can they justify the bold environmental claims they are making."

Retailers have taken note. Waitrose, which offers free tea and coffee to MyWaitrose cardholders, is on the hunt for a cup that fits the bill. It has also, along with 32 other companies including M&S, Starbucks and Greggs, signed up to the Paper Cup Recycling Manifesto, which seeks to increase recovery and recycling of containers.
It seems an admirable goal. But making these 2.5 billion coffee cups fully recyclable might require tougher action.
Simply Cups, which describes itself as the UK's only cup recycling scheme, claims to have come up with a fully recyclable cup by creating a polymer from the plastic and paper that can be used to create new products. But this is only part of the answer, says Simply Cups' co-director Peter Goodwin. "Whether the product is recyclable or compostable has no bearing on whether it actually is recycled or composted. The issue is matching the product design to a system."

Collection is a major hurdle. The on-the-go nature of the products means consumers will often throw them in the nearest available bin rather than seeking out recycling facilities.

Standard recycling won't do

And a standard recycling bin won't do. The mixture of paper and plastic means even the best designed cups must be separated from other recyclables. Councils would need to invest in new on-the-go recycling bins, which, as Goodwin argues, may not be an entirely silly idea. "Cups are filling up council bins very quickly and they're probably being littered more than anything else," he says.

But critics believe recycling is not worth the energy, water, cleaning chemicals, transport and - perhaps most importantly - money required, given that cups only make up a minute proportion of the UK's waste. "We should focus on easily recycled large items and leave small dirty ones to be treated with residual waste where at least 20% will be used to generate energy which will reduce the UK's reliance on imported energy," argues Jane Bickerstaffe, director of INCPEN.

Another idea is to steer people towards resuable cups. "It is behaviour that needs to change," says David McLagen, founder of Ecoffee Cup. He points to the government's plastic bag tax as a successful example of how "little thingscan make a big difference".

The 5p levy has slashed bag use by billions in six months. But Defra indicates this is unlikely to be on the cards for paper cups - it has "no plans" for a tax despite acknowledging "more needs to be done".

So it is perhaps up to retailers to change behaviour.

Starbucks rewards customers who bring in reusable cups with a 25p discount on its drinks and upped this to 50p between April and June (amid pressure from War on Waste).

Although it has come under criticism for not publicising this scheme, it is a step in the right direction. And more such steps could begin to tackle the waste from the UK's coffee habit.