COP26 saw a raft of climate commitments. But will businesses see them through in tough times?
With hindsight, the COP26 climate talks in Glasgow last year were a high water mark for the food industry's net zero pledges. "The clock is ticking," said Sainsbury's CEO Simon Roberts at the time as he announced the supermarket would be accelerating its net zero target. "Climate targets matter – but action to deliver them matters more."
Co-op had released a 16-step plan to cutting carbon a few days earlier, while Tesco, Sainsbury's, Waitrose, Co-op and M&S waited until the event itself to announce they would be setting out to halve the environmental impact of a weekly food shop by the end of the decade. The public mood was high.
"Investors wanted action. Consumers demanded it. And even the government was threatening to push us," explains Susan Thomas, senior director for sustainability at Asda. "We had momentum."
Today, however, it's a very different picture as retailers tackle a cost of living crisis, rising inflation and political upheaval. Some observers are worried that just weeks before COP27, their promises could already be turning into empty words. "The question 'do we have to do net-zero now?' is a live topic of conversation," says one senior source at a major retailer.
At Aldi, labour shortages plus spikes in energy prices and fertiliser costs "mean that there is less investment in the innovations that are necessary to reduce carbon emissions", a spokesman confirmed.
But while there is some "tactical realignment", most businesses haven't started running for the hills as they would have a few years ago, says Mike Barry, former director of sustainable business at Marks & Spencer and now an independent consultant. "I think most in the food sector accept the inevitability of change."
The problem is that setting a goal is often much easier than achieving it. "I think some net zero commitments have been made in good faith with a desire to achieve that goal but without a really robust view of what it was going to take to deliver it," says Asda's Thomas. "I believe a lot of businesses are now getting into the detail of the 'how'."
Confidence in meeting climate targets is low. Recent research by Alix Partners, a consultancy, showed 31% of food and beverage retailers in EMEA and the US are confident of making their Scope 1 and 2 targets in their operations but just 4% said the same thing about Scope 3, covering the rest of the supply chain.
There is a realisation that this is the "scary stuff" says Kate Cawley, founder of Veris Strategies, who adds that business models need to fundamentally change if it is to be done. Food and beverage companies are responsible for around one third of all emissions and what's massively underestimated here is mindset, she says. "This has to start from the top."
Most supermarkets are therefore only at the foothills of the mountain facing them on the steep path to net zero. An assessment of the public-facing commitments made by 10 of the largest grocery chains by The Grocer shows that while some impressive steps have been made in some areas, there is a notable lack of information when it comes to others.
Tesco, for example, has clear milestones for its Scope 1 and 2 emissions and in September 2021 set a 2050 net zero target for those in Scope 3. However, the announcement failed to include any data on the extent of those value chain emissions, which make up 90% of the company's footprint. A clear plan was due by now but is still being assessed by the Science Based Targets initiative (SBTi).
Aldi, meanwhile, provides plentiful information on projects to reduce its Scope 1 and 2 emissions (including the sourcing of 100% renewable electricity since 2015) but only a vague line about a project with its major dairy supplier to support how it's reducing Scope 3.
Lidl, Waitrose and Morrisons are all yet to report fully on Scope 3. This is an "extremely complex" area, noted John Lewis in its 2021/22 sustainability report, and involves "working with millions of rows of data and, at times, making assumptions when detailed data is unavailable".
Asda and Co-op have more extensive breakdowns, with the latter publishing Scope 3 reductions in its latest corporate report (8% since the 2016/17 baseline), although these cuts were driven "as much by factors outside our control as by initiatives that we're driving ourselves", a spokesman says.
Reduction targets for Scope 3 also largely lean towards a 'well below two degrees' benchmark rather than the 1.5 degrees oft-used for Scopes 1 and 2. This means reductions of 30% by 2030 rather than 50% by the same date.
Sticks and stones
Elsewhere, there is scant information on the progress towards Scope 3 emission reductions, which are tricky to measure and harder to minimise. That's because they occur mostly beyond the supermarket's control, on farms, factories, and in shopper homes.
Asda's ESG report, for example, shows 51% of its total emissions are contained in its products, while 15% come from the way customers use them. It leaves the lines of responsibility blurred. Can Asda really be held responsible for people overfilling the kettle for a pot noodle?
At the other end of the chain, the challenge with suppliers is often that the net zero plans of own-label manufacturers are a mystery. "There's nothing there," says Maddy Diment, researcher at Tortoise Media.
In Tortoise's Better Food Index, which assesses Britain's 30 largest food companies, the three worst companies were wholly owned subsidiaries of UK supermarkets: Farmers Boy (Morrisons), Neerock (Morrisons) and International Procurement Logistics (Asda). "They've got a duty to report this information," Diment says.
Not a legal duty, however, for reporting most Scope 3 emissions is voluntary. But supermarkets are now demanding more data from their suppliers to build a picture of who's hot and who's not when it comes to carbon. Of the 211 Sainsbury's food suppliers with the largest environmental footprints, for example, 87% have disclosed their data and reduction plans through the carbon disclosure project. All suppliers need SBTi targets to be in place by 2025 – with a third of those key ones having done so already.
Asda, meanwhile, has used its data on Scope 3 emissions, packaging, food waste, alongside Kantar data on consumer behaviour to create scorecards for categories and suppliers so it can identify the "problem areas".
This leads to 'bull's eye suppliers' that flag red across the board. They could have high emissions, for example, be struggling to meet recyclability targets, have food waste rates double the norm, or a lack of eco-centric shoppers. "Those need a multi-year strategic plan with us to address these issues," explains Thomas.
Then there are 'critical contributors', which are red in just one of the areas. So with some drinks suppliers the conversation will be all about packaging, while for bread suppliers it might be about food waste. "This is new ground even for our biggest suppliers," says Thomas, who acknowledges that suppliers can often feel pulled in multiple directions with requests for different things from different retailers.
"While those who have gone public for net zero are being scrutinised – and rightly so – they have at least set a standard to be judged by"
It's not a perfect system, but the supermarkets' approach is leading to better-quality data as a result. It's just a matter of striking a balance between having enough detail to target the interventions that make the most difference and flooding the supply chain with a diverse range of requests.
Wrap's new protocols on Scope 3 could help improve consistency. But it's a voluntary approach and many green NGOs want mandatory reporting on emissions for all food companies to be included in the government's green finance strategy. But the government looks set to cut red tape and stymie the green agenda, raising questions over whether companies can be trusted to see through their commitments in the absence of legislation at all.
There are already clear issues with transparency. Analysis by the Grocer found Waitrose owner John Lewis reported just 24Kt CO2e of Scope 3 emissions when the figure should realistically be in millions of tonnes. Others retailers buried the numbers on websites or in corporate reports.
Even when it is available, companies can often mislead consumers, policymakers and investors with their numbers, says Sybrig Smit, who has been unpicking company climate commitments for a new annual corporate climate responsibility monitor. In many cases "they are not at all transparent about what they are aiming to do".
Smit, who works for the NewClimate Institute, has taken aim at Nestlé, widely accepted as a leader in this space, for not including 12.7Mt CO2e associated with 'consumer use' of its products. Co-op does the same, omitting 1.5Mt CO2e that come from the way its products are consumed, says Smit.
In fact, 10 of Britain's 30 largest food companies don't report any Scope 3 emissions, found Tortoise Media's Better Food Index, published in June this year, while others were seriously underplaying them.
"Meat producers have the worst Scope 3 reporting in the index, despite the fact that meat is a carbon-intensive sector," said a report by the researchers. Whether this is intentional or not is unclear – net zero isn't yet an exact science – but that hasn't stopped rocks being chucked at the sector's goliaths.
Shared goal
Many of the companies claim, however, that there is only so much they can do with the tools they have. According to Nestlé head of sustainability Emma Keller, some are crying out for consistency but harmonisation of reporting will require uncomfortable conversations. "It will require competitors being in the same room, but we all have a shared goal."
How much this changes could be determined by to what extent the public and investors keep the pressure on. Eight in 10 Brits are concerned about climate change, according to an Ipsos poll in July, and half believe the country's net zero target should be brought forward.
Nonetheless, that same polling ranked inflation as the biggest issue facing the country, with 40% of Brits stating it was their primary concern. It is a clear change from last year when global warming was briefly seen as the most important issue during COP26.
The coming months should reveal more about how each supermarket and manufacturer will balance the often competing forces of rising prices and environmental action. Some will no doubt try and back away from their existing carbon targets, while others redouble their efforts in recognition that climate change is getting worse.
"This is new ground even for our biggest suppliers"
In this context, climate change campaigners feel it is important to keep the pressure up. Supermarkets are often an obvious target for such pressure given their position at the top of the food chain and their high penetration in the minds of the public. But criticising companies seen to be leaders on net zero commitments can be counter-productive. For in pointing the finger at those who have published figures and are taking action, it is easy to forget the companies who aren't.
"We want to avoid that trap," agrees Ion Visinovschi, who led NGO Planet Tracker's recent critique of Nestlé's net zero plan. "They are publishing the best information and giving us the greatest ammunition, so we need to use that carefully," he adds. "We want to be critical friends."
And as Steve Smith, a climate expert at the University of Oxford, argues: "While those who have gone public for net zero are being scrutinised – and rightly so – they have at least set a standard to be judged by."
The c-word
The deep emissions cuts needed by 2030 and beyond will mean many supermarkets start offering lower-carbon products. But what this means for their portfolio mix or how they will coax consumers is a delicate debate. "You can't take away every choice," notes Barry.
Talk of influencing consumption remains muted. Co-op, which has moved to ensure price parity on its plant and meat-based products, says there must be recognition that reducing Scope 3 depends on decarbonising meat and dairy, but also on "factors such as the absolute sales volume of products with a high greenhouse gas impact".
NGOs want supermarkets to push plants harder, but they need to tread carefully. Tesco was rapped by the advertising watchdog recently for claiming its vegan 'Plant Chef' burgers are better for the planet than meat burgers. The Competition & Markets Authority is watching the food sector closely and more evidence than ever will be needed to back net zero and carbon neutral claims up. Marketers will therefore need to work even harder on blending the appeal of simplicity with the rigour of detail, says Pendragon Stuart of insights consultancy GlobeScan.
Claims of 'better meat' or sustainable dairy will also need unpicking. Some companies have already begun to promote their low-carbon hoofprints: Arla's work across 2,000 farms suggests emissions are 1.13 CO2e per kilo of milk – lower than the UK average and half that of the global average. It's also just committed to another 30% reduction by 2030. Much is also being made of eco-labels, which could help drive emissions out of supply chains. After all, no one wants a 'red' label if a competitor has an amber one.
Yet there are still other hanging fruits to pick. Dutch supermarket Albert Heijn says it can reduce 4.5 million kg of food waste annually by helping consumers buy products at a reduced price before they go out of date.
But while saving shoppers money in the name of sustainability is easy, asking them to spend more when budgets are squeezed is much trickier. Shoppers' behaviour around sustainability will be "interesting to observe" in the coming months, says Clive Black of Shore Capital.
The UK is now in a very different place to where it was for COP26. The question is whether the mindset of supermarket boardrooms has changed with it.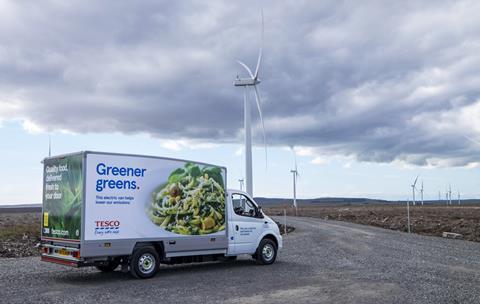 Picking a horse
Marks & Spencer recently shifted its funds used to offset its Scope 1 and 2 emissions into innovations that will drive down those in Scope 3. If it can make it work then the gains are significant. But getting it right will be a tricky task.
For starters, it will require unprecedented levels of collaboration. No single company can decarbonise the beef chain, for example, or move shoppers away from eating so much meat and dairy. But these are among the "radical changes" being discussed, notes Charlotte Bande, global food and beverage lead at sustainability consultancy Quantis.
Sainsbury's has a target to cut its Scope 3 emissions from 26.7Mt CO2e to 18.8Mt CO2e, but that isn't possible alone. It requires industry collaboration and supplier alignment, says a spokeswoman.
The other problem is picking a horse. Emma Keller, head of sustainability at Nestlé, is still digging into what net zero really means for the business. "I have really exciting innovators and startups and data providers contacting me every single day, [but] how do I work out which is the one to back?"
For food businesses, an inevitable problem is tackling on-farm emissions (which account for 10% of UK emissions and haven't budged in a decade). For those with a big farming footprint there is also a buzz around regenerative agriculture – a method which promises to enhance biodiversity, improve soils, reduce carbon, and produce more resilient and even more nutritious foods. It's early days, though, and the dip in yields sometimes seen initially will be hard to swallow in the current climate.
Simon Miller, co-founder at consultancy 3Keel, which works with fmcg companies on net zero, says supermarkets are making a "concerted effort" to understand farm emissions. "The seriousness of this agenda has cranked up significantly," he adds.
Waitrose has committed to its UK farms being net zero by 2035 and is currently working with supplier groups to identify improvements in areas such as feed, fertilisers and farm energy use, says senior ethics and sustainability manager Alex Sutton.