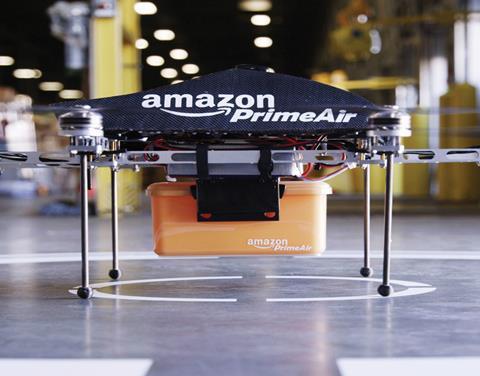 Amazon has revealed details of a plan that it hopes will lay the foundations for widespread drone deliveries in the next 10 years.

The retailer has launched two new position papers outlining its proposals for drone design as well as management and operations of the airspace for what it called "the safe and efficient integration of low-altitude small unmanned aircraft systems".

It advocates modifying the way airspace is used and is proposing a series of height limits for drones. Amazon said its drones would automatically adjust their path if they were on a collision course and would warn each other about obstacles.

The position papers come hard on the heels of Amazon securing US patent approval for its drones, which will be able to track customers' locations and communicate with each other about weather and traffic. It won permission to carry out experimental drone flights for the proposed Amazon Prime Air service in the US in April. It is also reportedly setting up a drone research centre in London.

"With Amazon Prime Air, we're developing a rapid delivery system that is safe and environmentally sound. Our growing team continues to conduct flight tests on rapidly improving designs. Testing is going well, and we are very pleased with the R&D progress it has enabled," said an Amazon spokeswoman. "We won't launch Prime Air until we are able to demonstrate safe operations."

Technology experts said Amazon's time-frame was realistic. "It's simply a case of when, not if," said Muddy Boots Software marketing executive Ralph Dickinson.

"We are probably about five years away from proper, regulated drone services being offered," agreed Steve Blyth, chief executive of interactive technology group Engage Works.