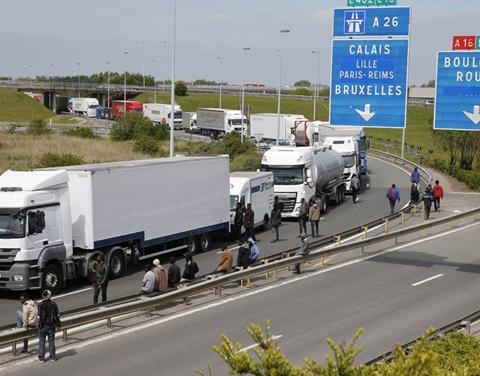 Hauliers carrying fresh produce are hopeful that a new secure parking zone in Calais, to be created by the end of the year, will protect UK-bound drivers from gangs of illegal migrants and result in fewer food consignments being ditched.
The Road Haulage Association has calculated that product write-off due to contamination by stowaways could reach £1bn a year.
The Freight Transport Association told The Grocer earlier this month that UK retailers had refused to accept consignments breached by migrants and insurance did not cover all the loads written off.
Home secretary Theresa May told the House of Commons on Tuesday that the migrant problem, together with the French port workers strike, had exacerbated problems at the port.
But a new secure zone, policed by French authorities, would hold 230 vehicles, the equivalent of removing a two-and-a-half mile queue from the approach road.
"This should transform protection for lorries," May said, adding that it would remove drivers from the open road where they were becoming targets for migrants.
James Hookham, FTA deputy chief executive, said: "At long last something is being done in order to protect drivers, but we still need the French to step up their policing of the area and address the issue of the migrants camped out in Calais.
Hookham pointed out that Calais was a "vital" trade gateway with £89bn passing through the port each year. "We cannot allow the migrants to put this in jeopardy – already millions of pounds have been lost in delays, damage to vehicles and spoiled cargoes."
Robert Keen, the British International Freight Association's director general, said it would be great news for those engaged in cross-Channel trade if the new secure zone helped to protect hauliers.
"Only a month ago, we called for some additional action from the authorities in France and the UK to step up their protection of the routes across the Channel and fulfil their obligations to let trade move unhindered before serious damage is done to this strategic freight route," he said.