It's been 35 years since M&S invented the modern sandwich. Of course it's been a staple of British cuisine ever since 1762, when the Earl of Sandwich demanded meat between two slices of bread so he could eat and gamble at the same time. But it was not until 1980 that M&S took a leap forward when it released the first ready-made sandwich. The rest is pre-packed food to go history.
Then, last October, M&S sandwiches found fame all over again: splashed by an outraged Daily Mail after Greencore, which makes an ever increasing number of M&S sandwiches, revealed it was recruiting workers from Hungary to fill jobs (and sarnies) in a new £35m factory in Nottingham.
"Is there no one left in Britain who can make a sandwich?" asked the Mail, in a politically motivated story that ticked the welfare and immigration boxes perfectly. And it was so distracted it failed to pick up on a far greater threat to those looking to work on a production line wherever they may hail from: the rise of the machines.
Advantage Robot
Lower operating costs
Improved product quality and consistency
Better quality of work for (remaining) employees
Increase production output rates
Reduce material waste and increase yield
Make workplace healthier and safer
Less labour turnover and recruitment difficulties
Smaller capital costs
Save space in high value manufacturing areas
Of course, robots and automated equipment are used in almost every manufacturing site in the UK and have been for decades (the difference between the two is basic - automated equipment does one thing all day long while robots can perform a variety of functions).
Yet, as Greencore's recruitment issues demonstrated, its production lines still need real people (and real hands) to ensure the 400 million sandwiches it turns out every year are spot on. But for how long?
"I would say if someone genuinely said let's make the transition to robotic sandwich manufacture, it could be as short as two to three years away," says Rich Walker, MD of Shadow Robot Company. "But it is more likely to happen over 10 to 15 years."
It would appear there is genuine interest, says John Gray, professor of robotics and systems engineering at the University of Manchester, and chairman of the Defra-sponsored Food Manufacturing Engineering Group. He was involved with a project 10 years ago that devised a sandwich-making robot and says the team used a robot to "test out everything, including to tell us the dynamics of a piece of cheese".
It's not just sandwiches, either. In 2010, Ginsters took the plunge into robotic systems to assemble sausage rolls. "They will tell you they delivered a major return on investment," claims Gray.
Efficiency is just one of the numerous advantages offered by robots, says John Rainer, regional sales manager at Fanuc UK, which provides robotic solutions for the manufacturing industry.
"In the downstream palletising end of the food production process, significant gains have been made in meat, fish and poultry. Moving upstream, robotics can be used for filling, capping, sterilising, high-speed picking and sorting, packaging and other activities.
"They can form, grind and cut food products. Incorporating vision-sensing technology into robotics allows checks to be made on such things as thickness, colour and other inconsistencies. New applications for the food industry are becoming more prevalent every day. And by trialling gripping technologies, robotics can work in extreme hot and cold as well as repetitive environments."
Risk aversion
Yet take a close look at the numbers and the UK is lagging behind the rest of the world when it comes to robots. According to the PPMA Group of Associations, which includes the British Automation & Robot Association, much of Europe, the US, China, Japan and South Korea are leaving the UK behind. Germany, for example, has been installing 127 robots per 10,000 employees in industry overall, Sweden 114, Italy 97, Spain about 45, France 38. The UK figure is just 25.
Rainer puts the UK's position down to a combination of conservatism and risk aversion. "The UK market can often focus more on the payback periods and return on investment rather than looking at the wider picture," says Rainer. "Many management teams at food manufacturers demand payback from labour replacement within one or two years of purchase without considering the wider impact on profitability."
Grant Collier, head of marketing and publishing at the PMA, blames the supermarkets. He says squeezing supplier margins and the provision of "short" and "unstable" contracts have discouraged investment in robots. He also claims "a lot of suppliers have been going to great lengths to prevent the supermarkets from finding out they are using robotics, which is dysfunctional in my view."
It's the lack of predictability that is the enemy of innovation, adds Gray. "If you go from a flexible labour-intensive way of doing things and your market changes rapidly or your orders dry up, you are stuck with lots of kit you can't use," he says. "Whereas you can always hire and fire people and that's the way the industry's worked for years. The major issue relates to the volatility of the marketplace."
Long-term approach required
"A long-term approach is required to invest in robotics and automation," advises Keith Thornhill, business manager for food & beverage at Siemens UK and Ireland. He believes not only does this mean a move away from a short-term approach focused on the capital expenditure of investments, it also means investing in skilled staff to support any technological investments.
Payback periods are "typically two years nowadays", adds Collier. And as prices come down, small manufacturers are also benefiting, meaning robotics are no longer technology that only the big manufacturers can afford, he claims.
The government, too, has pledged millions of pounds of investment in robotics by creating centres of excellence linking universities with industry.
Four years ago, Bara organised a programme called Automating Manufacturing after it secured £600,000 of funding from UK Trade & Investment to assess the viability of automation and robotics on production lines. Over 100 food and drink companies applied to take part and Bara subsequently identified food and drink as a sector with special scope for improvement.
Amid intense interest, separate statistics (and anecdotal evidence) suggest the UK is speeding up its embrace of robots, driven by major robot suppliers to the food and drink industry market like Kuka, Fanuc, ABB, Kawasaki, Mitsubishi, RA Automation, Yaskawa, AA Robotics, Nachi and Staubli.
"The general trend over a number of years is a steady increase although it's not fast, or anything like the rate of automotive," says Collier.
The UK food and drink sector accounted for the sale of 82 robots in 2014, according to the latest figures Bara has just published. Although this was 15% lower than the 97 sold the previous year, the underlying trend for robot sales in the sector is up - 76 were sold in 2012, and 2013 saw a further 28% hike in sales.
In the final quarter of 2014 367 robots were sold for delivery in the UK overall. Nineteen of these were within the food and drink sector - more than were sold in education, R&D, aerospace and the electrical and electronics industry, and just behind pharma, healthcare and medical.
A total of 1,793 were sold overall in the UK during 2014 across all industries and, although down from 2,305 in 2013 and 2,427 in 2012, last year's sales were well up on all the years prior to 2012.
Fanuc also predicts sales of robots will amount to 600 units over the next five years in the food industry - a 27% increase on the combined figures for the last five years.
So is this the start of the transformation to a robotic future that Walker suggests could take place?
Well, not exactly. Walker is on the steering committee of Innovate UK and says he has spoken to the big supermarket groups, which have told him about problems with ready meals assembly.
Although Rainer says the process of integrating robotics into the workplace has "already begun" and the next 10 to 20 years will see a "major acceleration… and that the way robotic intelligence is constantly evolving makes a sandwich-making robot perfectly feasible", he also takes care to point out "robots in food processing are not fully autonomous - yet."
That means they won't work without humans to babysit them. Indeed, Greencore is currently recruiting for a number of 'Machine Minders' to "join our fast moving and dynamic organisation where you will be responsible for ensuring equipment is set up and operated correctly throughout the shift."
In short, they can butter bread or select a filling. But although their "vision systems are highly cognitive, they are not yet able to intelligently take in their surroundings and make a judgment call on actions to take," adds Rainer.
Alan Spreckley, global industry segment manager (food & beverage) robotics at ABB, points out that most robots do not have more than six or seven axes of movement while humans have more than 63.
"So although robots are very good and can do a lot of repeat business, they are not as dextrous as us, yet. Plus a base robot can be anything between £13,000 and £40,000 but that's only part of the cost. It won't work without other equipment around it. A robot tends to be between 25%-40% of a totally installed operational cell. You need infeed conveyers, out-feeds, safety guarding and integrating with other equipment. It won't work without the rest."
That said, there are some pragmatic advantages, suggests Spreckley. "A robot does not need to go to the toilet, have time off sick or take holidays, and can often utilise areas of a plant that may be off limits to humans," he says.
"However, it will be long way off before robots are as dextrous and analytical as humans… hundreds of years," he believes.
Or about the same length of time between the time the Earl of Sandwich first ordered a sandwich and M&S first pre-packed one.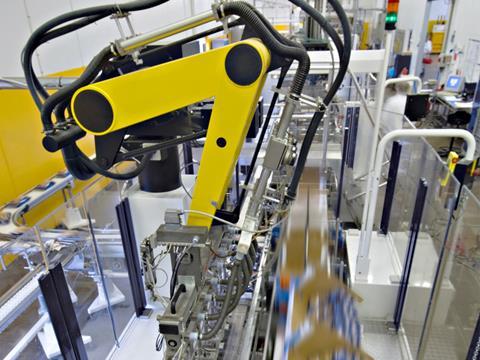 The evolution of robots in food and drink
Automatic robot milking systems have been commonplace within dairy farming since the 1980s, removing the repetitive stress inflicted on farmers during the milking process.
Today, robots with sanitised grippers and vision systems (that provide improved placement and product integrity as well as safety) have taken over this monotonous task, which often takes place in cold environments and which can lead to injuries including carpal tunnel syndrome and tendonitis.
Chicken, meat and fish processing have also benefited from innovative gripping technology, which can handle thin and thick-sliced portions.
Further upstream, meanwhile, robots are also making a greater impact on the initial processing applications, operating directly on animal carcases.
Consistent and precise cuts, free from variation caused by operator fatigue, have reduced accidental injuries to operators, while a reduction in saw blade overheating has resulted in a drop in meat losses due to burn damage.
Today's robot applications are fast moving towards store-friendly packaged deliveries from distribution centres, enabling pallets to include a variety of product, thereby reducing retailers' holding stock and, consequently, waste. Pallets with mixed stock keeping units are especially beneficial for convenience retailers.
Perhaps the biggest evolution has been the variety of tasks robots can perform. They can now can be updated with new software and different end effectors, enabling them to change in line with brand and packaging trends.