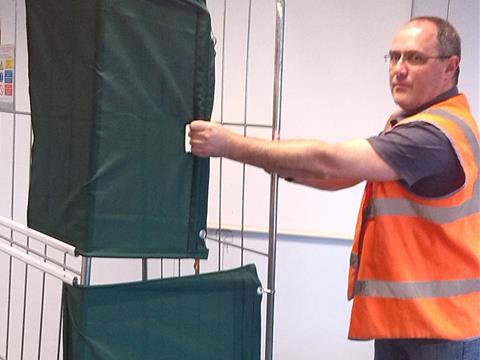 Three Tesco distribution workers are seeking retailers, distributors and suppliers to take up their new invention, which they claim improves how goods are secured in delivery cages.

Derek Butler, Billy Paterson and Tommy McGilligan have invented Retractashroud - a reusable and quick way to wrap two and three-sided cages in the warehouse, with no need to shrink wrap before loading on to delivery vehicles.

Butler said there were no moving mechanical parts to break, and once hooked on to the opposite side of the cage, a shock cord created a resistant force, preventing anything falling out.

"Our practice is to wrap all heavy and glass-containing cages prior to loading so as to protect the product within. This task is both time-consuming and uses a lot of shrink wrap, which is then disposed of or recycled," said Butler.

"We are looking to potentially sell the device idea to an interested party, or to work with a distributor to develop it for their use. We would consider either a licensing agreement for the idea or a complete one-off sale of the intellectual property rights."

The trio have achieved patent pending status.