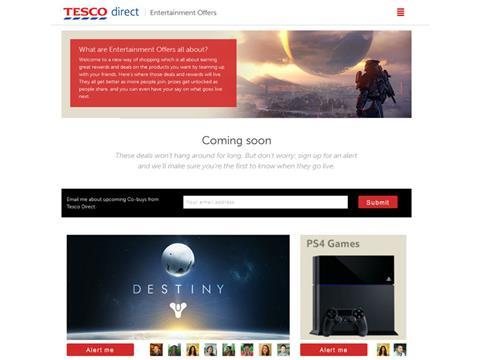 Tesco is rolling out a new direct selling channel on Tesco Direct that offers consumers the chance to earn rewards and deals by sharing with their social network.
The new tescodirect.co-buying.com platform, which is powered by technology company Buyapowa, launched today with games and entertainment products. It will be extended to cover toys, home and electrical goods by Christmas. It follows the success of the Tesco Wine Co-Buy site, which launched in May 2013 and has run more than 100 individual co-buys and has driven hundreds of thousands of pounds of business every month, according to Buyapowa.
The 'social commerce' platform created by Buyapowa allows brands and retailers to design an e-commerce site that encourages consumers to unlock deals, bring prices down and earn rewards by sharing with friends and family. The platforms can be tailormade to allow consumers a say in the products and offers that go live, offering different incentives on pricing or availability and encouraging consumers to compete with each other to bring in more potential customers. In the process, the retailer is able to gather and analyse insight and data.
"It is customer referral marketing that actually works," Buyapowa CEO Gideon Lask told The Grocer. "The great thing about social people are already connected - if you can motivate them at the same time, then it unlocks the latent potential of the customers network."
The new site has boosted the simple price-step model used by the Wine Co-Buy site, which sees the price of the co-buy fall as more people join, and includes a gallery where consumers can 'co-create' the wine they want included in the next co-buy.
The new entertainment site will offer free games, merchandising, rare content and bonus Clubcard points for the people who are best at sharing deals.
It goes live with pre-orders of Destiny, an open-world, multi-player sci-fi game that goes on sale on 9 September and is anticipated to be one of the big gaming launches of 2014. The retailer will seed the offers with existing gaming customers and encourage them to share it with their social network, as it seeks to become "a destination of hardcore gamers", Lask said.
"This campaign will open up a totally new channel that will enable Tesco to get closer to fans than any other retailer. Making shopping a truly social experience is about creating a dynamic environment that is actually fun to shop in." he said.
"Tesco is utilising the platform to make shopping itself into a game, tapping into the players' natural competitive streak as well as giving fans the chance to earn some great deals and exclusive 'never before seen' content."
Lask said Tesco was keen to experiment with new ways of acquiring new and valuable customers, as affiliate marketing had become less and less effective, while costing a considerable margin. "Social commerce is twice as effective and those customers are worth twice as much as an affiliate customer over their lifetime, so that's a strong motivational piece to get behind it," he added.
Tesco has seen its share of the gaming market shrink by two percentage points to 14.6% [Kantar Worldpanel], with the multiples suffering from increased competition from traditional high street gaming retailers and Amazon.