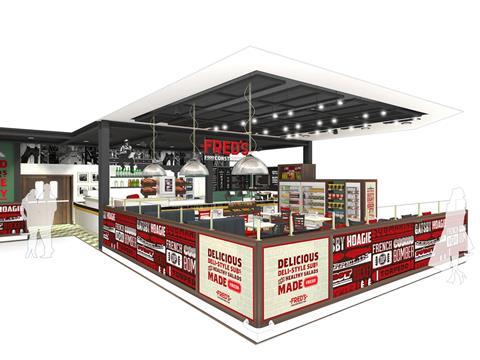 Tesco's latest restaurant concept to attract shoppers to its Extra stores is a New York-style deli-diner inspired by the famous images of construction workers perched atop skyscrapers.
The Fred's Food Construction diner opens at Tesco's Extra store in Osterley, West London on Monday (31 March).
The restaurant will specialise in hot sandwiches with grilled, roast and cured meats, served in a roll, or in a salad or carb-free lettuce wrap.
The concept has been developed by Daniel Gestetner, founder of global frozen yoghurt brand Yoomoo, and Paul Goodale, former restaurant director at Harrods. It comes as Tesco continues the rollout of Giraffe restaurants and Harris+Hoole coffee shops in a bid to make its big-box stores "retail destinations".
"We know Londoners love good food, but also love to be the first to experience new and exciting food concepts, so we're delighted to support Fred's Food Construction in bringing delicious New York-style deli sandwiches to our customers in Osterley," said Michael Holmes, CEO of Tesco New Food Experience.
"Whether customers are grabbing a sub or sitting down for a leisurely lunch with friends, Fred's provides the perfect mix of great food in a relaxed atmosphere that we think they'll really enjoy."
Osterley is one of top 10 most affluent areas of the country with a Tesco Extra store, and has a 70% Asian customer base.