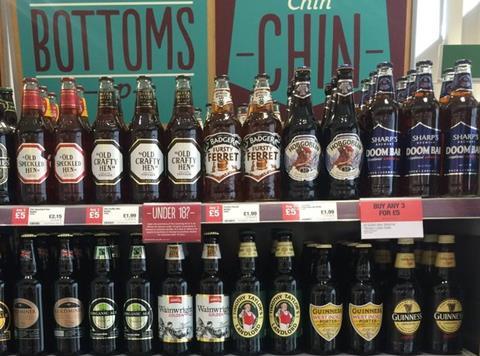 The Co-operative Food has expanded its ale line-up and created region-specific beer ranges.
The retailer is introducing 40 new regional ales from across Britain this month, taking the total number of ales offered by the retailer to 111.
Stores will carry beers from a core range of national ales - including market-leading brands such as Old Speckled Hen, Hobgoblin and Sharp's Doom Bar – along with beers offered only in the region where they are brewed.
Among the additions are beers from 11 breweries new to The Co-op. Individual bottles will retail between £1.99 and £2.49, while the full range is included in a 3-for-£5 offer (except in Scotland).
The launches come in response to Co-op research which indicated 71% of people think it's important to buy locally-sourced varieties. The Co-op Food ale buyer Joe Turner said the strategy was intended to place the retailer at heart of the communities it operates in.
"Across the UK, our shoppers' needs are different and it's important to acknowledge that," he added. "With more people than ever enjoying real ale, and local offerings a crucial part of its success, it's exciting to collaborate with such a great variety of breweries across the UK."
Alongside the 40 new beers, the presence of a further 26 is being increased, typically from 10- 20 stores to 100-200, The Co-op said.
The premium bottled ale (PBA) category is worth £490m – up from just £280m in 2009 [IRI]. In April, Marston's claimed the sector was on track to be worth £1bn by 2020 – with £104m of the growth opportunity coming from the convenience channel.
| Region | Supplier | Brand |
| --- | --- | --- |
| East Anglia | Adnams | Adnams Sole Star |
| East Anglia | Oakham Ales | Citra |
| East Anglia | Adnams | Adnams Spindrift |
| East Anglia | Adnams | Adnams Innovation |
| Midlands | Marstons Plc | Brakspear Oxford Gold |
| Midlands | Marstons Plc | Imperial Red |
| Midlands | Wye Valley Brewery | Butty Bach |
| Midlands | Marstons Plc | Ringwood Old Thumper |
| Midlands | Marstons Plc | Ringwood Boondoggle |
| Midlands | Purity Brewery | Purity Pure Ubu |
| North East | Mordue Brewery | Workie Ticket |
| North East | Mordue Brewery | Radgie Gadgie |
| North East | Double Maxim Beer Company | Maximus Strong Ale |
| North East | Camerons Brewery | Camerons Strongarm Ruby Red Ale |
| North West | Robinsons Brewery | Trooper |
| North West | Marstons Plc | Jennings Cocker Hoop |
| North West | Thwaites | Thwaites Lancaster Bomber |
| North West | Marstons Plc | Ringwood Old Thumper |
| North West | Robinsons Brewery | Dizzy Blonde |
| North West | Hawkshead Brewery | Hawkshead Lakeland Gold |
| North West | Moorhouses | Blond Witch |
| North West | Moorhouses | Pendle Witches Brew |
| North West | Marstons Plc | Ringwood Boondoggle |
| Scotland | Williams Bros. Brewing | Joker Ipa |
| Scotland | Williams Bros. Brewing | Birds & Bees |
| Scotland | Williams Bros. Brewing | Caesar Augustus |
| Scotland | Williams Bros. Brewing | Seven Giraffes |
| Scotland | Brewdog | Brewdog Dead Pony Club |
| South East | Greene King | Old Golden Hen |
| South East | Shepherd Neame | Whitstable Bay Pale Ale |
| South West | Hall & Woodhouse | Badger Firkin Fox |
| Wales | Wye Valley Brewery | Butty Bach |
| Wales | Conwy Brewery | Welsh Pride |
| Wales | Conwy Brewery | Rampart |
| Wales | Sa Brains | Brains Barry Island Ipa |
| Wales | Wye Valley Brewery | Hereford |
| Wales | Sa Brains | Boilermaker Ipa |
| Wales | Conwy Brewery | Clogwyn Gold |
| Yorkshire | Black Sheep | Golden Sheep Ale |
| Yorkshire | Black Sheep | Riggwelter Ale |
| Yorkshire | Black Sheep | All Creatures |
| Yorkshire | Ossett Brewing Company | Ossett Yorkshire Blonde |
National Lines
Old Crafty Hen
Old Speckled Hen
Hobgoblin
Sharps Doom Bar
Badger Fursty Ferret
Crabbies Alcoholic Ginger Beer
Guinness West Indies Porter
Guinness Original
The Co-Operative F/T Bumble Bee Ale
The Co-Operative Gold Miner Ale
The Co-Operative F/T Organic Premium Ale