The Co-operative last week announced plans to add tablets to its trolleys to gather customer feedback. James Graemer of LIFE is unimpressed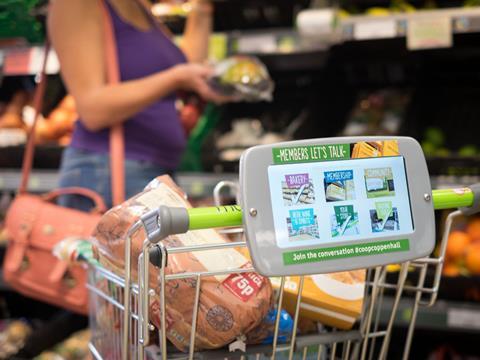 My heart sank when I read the details of The Co-operative's plans to install tablets on its trolleys. The initiative had so much potential, but instead it all feels a bit gimmicky.
Admittedly, The Co-op is having a tough time, having reported losses of £2.5bn in April and its boss quitting. For a while now, it has been asking its members what they think the organisation should stand for, while also redefining its CSR strategy. The grocer is clearly in a state of limbo. The introduction of the tablets is simply another extension of that – another way of helping to inform what the business should do with itself, rather than finding ways to add value to the shopping experience.
Technology is an essential tool for retailers and when used cleverly – such as to provide in-store offers, to store shopping lists or to help navigate shoppers around the store – it can add huge value to the shopping experience. The Co-op could have done so much more with its new hi-tech trolleys than just use it as a research mechanic, which is essentially what it is doing.
Not only is the grocer planning to interrupt shoppers mid-shop – which is both incredibly difficult and annoying for the customer – but it's implementing the technology in some of its smaller stores; stores which are used for quick convenience shopping missions. Therefore its customers will be time poor and impatient to get on and out.
There is also a complete lack of incentive for the shopper. Waitrose in Swindon, for example, helps navigate shoppers in-store via Beacon technology – a tool which works on any device as long as it is enabled. This is a great example of a real value exchange.
Equally frustrating is that The Co-op doesn't appear to have even thought about the device that people keep in their pockets, and which they know the most about: their smartphone. Some people can be very hesitant to use technology in-store in case they appear to struggle to use it. By using the shopper's own device, The Co-op could have found a more intuitive way of enhancing the shopping experience. It also could have saved on the cost, and potential theft of the trolleys.
There is still time for The Co-op to turn its tablet-wielding trolleys into something of real value both for the customer and the organisation. But if it's research data the grocer is after, there are better alternatives.
James Graemer is senior strategist at LIFE