Conveying cheese's sensory attributes online is tricky but dozens of specialists are finding an online market, especially if they appeal to gifting and special occasions
Now consider cheese. What comes to mind? Is it the smell? A heady whiff? Or the texture? Creamy, crumbly, chewy? Perhaps it's simply the taste: tangy or rich, mellow or bold? Now think about buying cheese online, in a vacuum devoid of these tactile pleasures. It couldn't work, could it?
In fact, there are dozens of cheese specialists trading on the internet, some of them longstanding bricks and mortar stores that have identified another route to market; and some pure-play web operators. So who are the people willing to buy cheese online? And how can retailers connect with them?
Venerable St James cheesemonger Paxton & Whitfield (est 1797) describes itself as an early adopter of the online revolution, having operated a website since 1998. MD Ros Windsor says the site attracts a core of regular shoppers who buy in store and sometimes find it more convenient to buy online. But a far larger group are the gift buyers, enticed by hampers and cheese collections, driving sales around Christmas, Valentine's Day, Father's Day. "Hampers enable people who perhaps are less confident in buying cheese or don't have much time to know they're going to get something good," says Windsor.
Somerset-based Godminster farm operates a shop in Bruton, but according to CEO Peter Andrew, online is "not to be ignored. People are becoming very savvy. The potential savings are very easy and we have to be competitive." Godminster's website stocks a wide selection of hampers, and, like Paxton & Whitfield, its sales are event-oriented. "We are highly seasonal. That's part of the headache – and I'm trying to flatten the curve," Andrew says, adding he wants to build up sales in the summer lull.
The Cheese Society, meanwhile, started life as a mail order company before branching out with a café and shop in Lincoln, and a website. "We sell to all sorts of people across the UK – for personal consumption, parties, special occasions, weddings, gifts for birthdays," says MD Kate O'Meara, who agrees that selections help win customers. "We find that people will often buy our Monthly Selection to test us out before buying gifts for special occasions."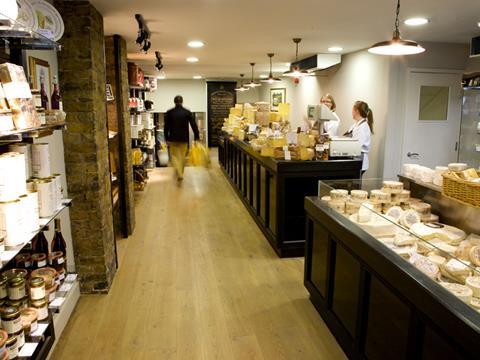 Gift buyers are "looking for a quick and easy solution; an alternative to chocolate or wine," according to Ian Wellens, director of The Cheese Shed – an online-only operation that specialises in West Country cheese. Wellens identifies two further types of customer: cheese enthusiasts, tempted by obscure items – "we have some pretty off-the-beaten-track cheese;" and the wedding customer. The Cheese Shed has developed its own wedding cake builder (p28) to allow shoppers to fashion bespoke creations and tap the trend for replacing a traditional wedding cake with a big pile of cheese.
Lincolnshire cheesemaker Michael Davenport has a slightly different perspective: he sells locally and through wholesalers, and is a supplier to The Cheese Society. He agrees contributing to hampers sold through online retailers has helped his Cote Hill Blue reach new consumers. But he believes customers who make orders through his own transactional website are usually familiar with the cheese already; they simply can't get it locally. "I don't think we generate new sales by having a website; we use it to provide information about the cheese," he says.
There is a clearly a market online for cheese. But an effective online operation must adhere to the principles of good e-commerce. "You need a really good website with filter options and information on where the cheeses come from," says John David Roeg, senior analyst at Rabobank. A "deep and broad assortment" – particularly of artisanal and seasonal cheeses – will help specialists differentiate themselves from the big retailers, he adds.
Speciality retailers need to ditch the jargon and find interesting ways to describe their wares, says Christian Holst, research director at the Baymard Institute. "Most users will need detailed descriptions of the texture, taste, usage. As the number of products increases and becomes more obscure, users will need guidance to find them and broaden their palate." He recommends 'cheese finders' or cross-sells, such as 'If you like x, you may also want to try y and z.'
"Having a great-looking website is essential," says Andrew. "It's got to be straightforward and easy to use. If I have to go and find it, I click off and go somewhere else."
And designing the website to work on any device is key. Godminster switched to a responsive site two and a half years ago, which means it resizes itself to fit the screen on which it is viewed. As a result, sales are up 366% on mobile and 53% on tablet. The Cheese Shed, likewise, switched to a responsive site last year. "That had a hefty price tag but we felt it had to be done," Wellens says.
Beyond website usability and appearance, with good photography, there are the typical concerns around logistics and fulfilment. Most online retailers promise nationwide delivery – but keeping it affordable is a constant challenge. "The price of the delivery is fairly critical – and ideally needs to be just underneath £5 as customers often do plenty of research before they commit to a purchase," says O'Meara.
Accessories are another tactic used by cheese retailers to close the sale online. Paxton & Whitfield and Godminster stock premium cheeseboards and knives, while The Cheese Shed offers a supplementary range of beers, ciders, chutneys and biscuits. "They are not a massive part of our turnover but they probably secure the sale for a significant number of customers," says Wellens. Offers such as these are "a logical extension of the cheese product," adds Roeg, "because you have to make orders as big as possible to make them economical."
If there's one lesson all can agree on, it's that clicks need just as much care and attention as bricks and mortar. "I see lots of instances of shops that start a website and I wonder how well some of them do," says Wellens. "If you're preoccupied running a shop, you may not be giving the website the attention it needs." For Paxton & Whitfield, its online operation is the equivalent of a store in its own right. "You can't expect that just because something sold well last year it will sell well this year," says Windsor. Like the cheese itself, you have to keep it fresh.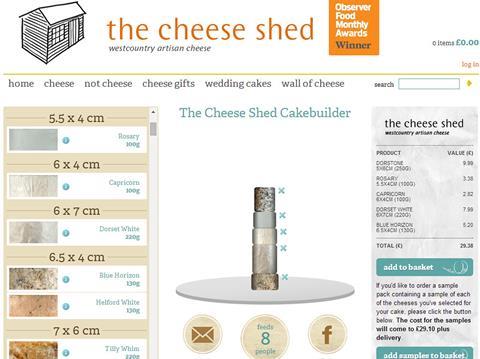 Cheese wedding cake builder – The Cheese Shed
Devon-based operator The Cheese Shed has a purpose-built 'cakebuilder' for customers to create their bespoke cheese wedding cakes. The drop-and-drag functionality is unique, claims Cheese Shed owner Ian Wellens, and it is soon to be rebuilt better than ever so that it works on touchscreen devices. The business started up in 2006 with the aim of making a wider range of West Country cheese available to people all over the country.
Advanced search – The Cheese Society
The Cheese Society's advanced search function allows customers to browse cheeses by region, strength, milk type, country – even pasteurisation. "There is no point in stocking any products that supermarkets stock, so you need to constantly do homework and discover new products," says Kate O'Meara, managing director of the specialist in artisan cheeses from all around the world.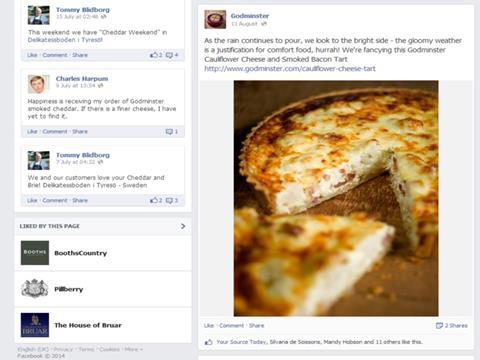 Social media outreach – Godminster
Godminster has embraced social media, using a PR company to help drive traffic to its site with regular postings. "Social media is absolutely essential," says CEO Peter Andrew. From its Facebook stats, Godminster has identified its customers as predominantly female, London-based and aged 25 to 45: "Professional, PC, tablet and mobile-friendly," according to Andrew.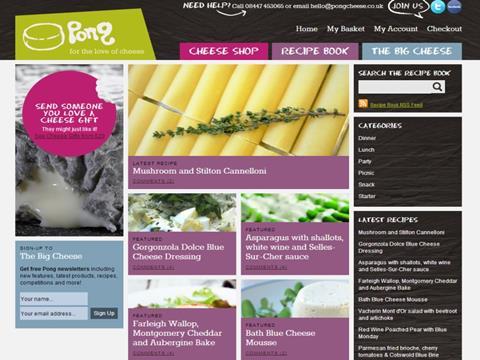 Recipe book – Pong
Pongcheese.co.uk features a Recipe Book helpfully categorised into lunch, dinner, party, picnic, snack and starter; dishes range from 'Stilton stuffed chicken under a brick' to Welsh rarebit. Additional content includes articles on the History of Brie de Meaux and a celebration of fondue, as well as guidance on best-before dates and eating cheese during pregnancy.