The dairy free market is seeing a flurry of indulgent dessert NPD. Will the new products tempt more mainstream Brits to go dairy free?
The dairy alternatives category is getting a seriously sweet tooth. Long associated first and foremost with milk alternatives – such as soya, almond, oat and rice drinks – the sector is seeing an explosion in activity around indulgent treats and desserts.
To meet demand and double its output, plant-based drinks and desserts manufacturer Alpro is investing £18.5m in its UK facilities this year. And, like many other suppliers in the space, it is increasingly getting into dairy-free desserts, adding an indulgent gingerbread-flavoured variant to its range of soya puddings in June.
"People who are looking for a healthier diet are buying into the dairy-free marketplace"
On the own-label side, Tesco launched its own range of dairy-free desserts in 2013, while in the same year, Gü founder James Averdieck bought a controlling stake in dairy-free desserts brand Bessant & Drury's and now he's also selling frozen and chilled yoghurts made from coconut milk under his The Coconut Collaborative brand, launched in April 2014. Meanwhile, Co Yo has doubled its retail presence in the past year and began distributing frozen coconut milk ice cream to wholefood stores last month.
So as the dairy-free desserts space is seeing a flurry of launches, just how much potential is there in the market?
The recent burst of free-from desserts NPD comes as dairy alternatives in general are proving ever more popular with mainstream consumers. Last year, Brits knocked back 92 million litres of milk alternatives – an increase of 155% on 2011 [Mintel Dairy Drinks Report 2014]. Over the past year, the value of the dairy alternatives sector has risen 16.3% [Kantar Worldpanel 52 w/e 14 April].
For some consumers, of course, not eating dairy isn't a choice. Up to 17% of the EU population could suffer some kind of food allergy and the frequency is higher in children, according to the European Academy of Allergy and Clinical Immunology. Families are often reluctant to stigmatise one member with an allergy so buy free from for the whole family – a 'four in one' purchasing effect.
This is a great opportunity to boost sales, but to attract the family market, dairy alternative desserts need to match the appeal of mainstream brands in packaging, quality and taste.
Fayrefield Foods is aiming to do just that with its frozen gluten-free and dairy-free tiramisu and raspberry mousse, to be launched this month.
"The market's growing at a fast pace so there'll be more choice in future and more big brands entering," says senior business manager Nick Smallwood, who is optimistic the lines will get listed in Sainsbury's and Waitrose. "Products must appeal to the mainstream for success because it's not just people with allergies and intolerances who are buying our products: people who are looking for a healthier diet are buying into this marketplace."
Co Yo now has its premium coconut milk yoghurts and ice creams listed in 416 Tesco stores and 100 Waitroses. "Coconut is the new superfood," claims Bethany Eaton, founder and managing director. "Its health benefits are being shouted about in the mainstream media, and this has filtered through to the consumer and generated increased sales."
Demand for healthier desserts has already helped Alpro rack up sales of its soya-based yoghurt alternatives at a rate of 8% year on year. "We believe this area of plant-based eating is relatively untapped and there is a huge opportunity for us to build sales and bring incremental growth to the category," says Alpro UK senior brand manager Vicky Walsh.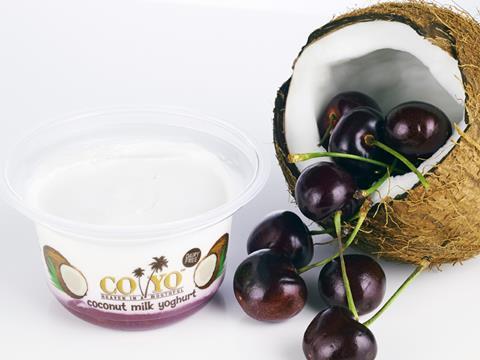 Having launched its gingerbread dessert, the company is exploring further desserts NPD.
Arla's dairy alternatives brand Lactofree also sees great potential in desserts. "Although milk provided a practical alternative for those trying to avoid lactose on a daily basis, consumers were looking for something to fulfil the 'treat' occasion and the fruity yoghurts more than any other SKU allowed us to tap into this area for our consumers," says brand manager Michelle Roberts.

But will consumption of dairy alternative desserts ever reach the dizzy heights of gluten-free? Roberts is certainly ambitious. "Our ambition is for lactose-free to become as widely recognised as gluten-free and to offer consumers the opportunity to enjoy the benefits of real dairy, without the lactose," she says.
Allergen thresholds
But others argue for the dairy alternatives sector more generally – and specifically dairy-free rather than lactose-free options – much will depend on European allergen thresholds. These were set for gluten-free food in 2012, which means a product must contain fewer than 20 parts per million of gluten to be legally labelled gluten-free. Greater amounts than this provide a case for legal action if the product triggers a reaction in the consumer. Thresholds have yet to be agreed for dairy-free.
Alpro, for one, says more certainty around thresholds would make labelling choices much clearer, both for manufacturers and consumers. "The lack of a single common standard leaves brands with very difficult decisions," says Walsh.
Once set, thresholds will have a huge impact on the dairy-free industry. "When the action levels finally come in the next two to three years, there will be a huge increase in allergen-free products," says Michelle Berriedale-Johnson, founder of the FreeFrom Food Awards. "Manufacturers will start to look at their existing ranges and label them as dairy-free. Mrs Crimble's, for example, has been dairy-free forever but won't label its products as such because of the legal hang-up."
But even until the allergen thresholds come in, brands are confident they won't have to work too hard to convince more UK consumers to go dairy free. "Everything points to the dairy-free sector exploding into the mainstream over the coming two years," says Tom Petersson, CEO of milk alternatives brand Oatly. "We no longer need to seek out the mainstream consumer, as they are actively looking for us."