Over the past few months, a chink of light has appeared at the end of the tunnel for Britain's dairy farmers.

Not only does the supermarket price war on milk appear to have been put temporarily on hold, but dairy commodity markets are starting to show signs of recovery as production wanes - prompting higher farmgate prices - and the post-Brexit vote sterling crash has boosted the competitiveness of British milk.

While these are all promising signs for farmers, however, they are only likely to give temporary relief in a volatile market. Longer-term solutions are needed to protect the future of Britain's dairy farmers - and supermarket milk supplies.

So perhaps the most significant development in the market over the past 12 months has been a sudden raft of value-added NPD that is promising to put more pennies in farmers' pockets by encouraging shoppers to splash more cash on fresh milk.

So just how significant is innovation to fresh milk's fortunes? And does such NPD have staying power, or will hopes of adding value to fresh milk prove short-lived?

On the face of it, there were no big surprises from liquid milk's performance last year, with value sales falling a further 1.7% to £3.1bn over the past year on relatively flat volumes [Kantar 52 w/e 22 May 2016] as retail prices continued to tumble. But there was a marked turnaround for branded fresh milk, which enjoyed value sales gains of 0.8% on volumes down 0.5% - a significant improvement from the 4.8% value losses on volumes down 8.4% in 2014/15.

The recovery of brand volumes was particularly impressive given average prices for branded fresh milk have increased 5.4% over the past two years, compared with an 11.3% drop in average own-label milk prices. It also suggests shoppers are willing to pay extra for something a little bit different, even in a highly commoditised category like milk.
Innovation: going global for fresh ideas on milk NPD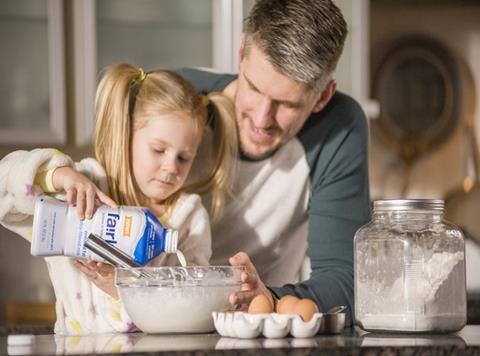 In the absence of value growth in the UK milk market, should suppliers be looking overseas for NPD inspiration? Whether it's enriched milk, frothing milk or milk with added protein, globally there is a clear trend towards more choice and adapting products.
Australian brand Devondale is one example of a company that has identified a new market opportunity. It spotted the growing ubiquity of coffee machines in the home and responded with Barista's Own Frothing Milk, specifically designed to deliver a consistent creamy froth to coffees and hot drinks served at home.
Another Australian product that has already made its mark in the UK is A2 milk. Unlike the majority of milk, which contains the A1 protein and has been linked with dairy-related allergies, A2 milk is produced from cows bred to produce the rarer A2 protein, which the company says causes no gastrointestinal disturbance in people clinically diagnosed as lactose-intolerant. Originally launched in Australia back in 2003 where it has taken a 10% share of the dairy market, A2 is now making significant headway in the UK following its introduction in 2012, says Scott Wotherspoon, CEO of The A2 Milk Company, UK and China. The "huge growth" of its A2 Platinum premium infant formula in China indicates the potential, he adds.
Milk with added protein - already a big trend in the US, - is also tipped for further growth in the UK.
US health and wellness start-up Fairlife, backed by Coca-Cola, is making a bold play in the US with its cold-filtered milk that contains 50% more protein, 30% more calcium and half the sugar of ordinary milk. And Ireland's Avonmore Protein Milk is aimed squarely at the sports and fitness markets where the addition of 50% extra whey and casein protein gives it strong appeal among bodybuilders and endurance athletes. It was developed in partnership with the Gaelic Athletic Association.
UK supplier Dale Farm picked up on the trend last year with the launch of its Protein Milk, enriched with 50% more natural milk protein.
Launched in January in two-litre and one-litre formats (rsp: £1.50 and £1 respectively), Best of Both promises to deliver the fat content of skimmed milk with the taste of semi-skimmed, creating an entirely new segment of 'yellow top' milk.Although branded milk growth is partly down to the runaway success of Alpro -which increased value sales of its plant-based milks by a another 27% last year - cows' milk brands are also increasingly giving that point of difference. Arla's new Best of Both branded milk is a case in point, racking up sales of £3.6m in its first half year on shelf.
"With Best of Both the strategy was to try and develop something that was great-tasting but also healthy, which is the focus of the Arla brand," explains Arla category director Stuart Ibberson. "Research before we launched Best of Both showed 49% of semi-skimmed drinkers would buy skimmed milk but didn't like the texture, and another 33% would buy skimmed but didn't like the taste. Our challenge was to develop something that had the texture and taste of semi-skimmed but in a skimmed milk, because we knew that would appeal to a big audience."

The technology behind Best of Both, which involves collecting some of the naturally occurring protein in milk and adding more of it back into skimmed milk, took around three years to develop, and the product has gone through numerous rounds of consumer testing to ensure it delivers against Arla's claims.
"With Best of Both the aim was to develop a great-tasting but also healthy product"



- Stuart Ibberson, Arla
So far, the results have been positive, says Ibberson. Best of Both has achieved listings in all of the major multiples, as well as in convenience. "Retailers are very happy with it," he says. "We are driving a lot of incremental volume and value in the category through Best of Both [and] we've got expectations for it to grow further."

With rate of sale and repeat rates also looking promising, Arla's optimism may be well founded. But not everyone is convinced by the staying power of a low-fat, semi-skimmed milk. "Best of Both may have captured consumer attention a couple of years ago, but with consumers now focused on sugar, the market for a fat-free milk would seem to be less exciting," says Hamish Renton, MD of HRA Food & Drink Consultants.

If the concept of yellow top milk has yet to prove its longevity, the enduring appeal of products that directly benefit British farmers seems more compelling by the month.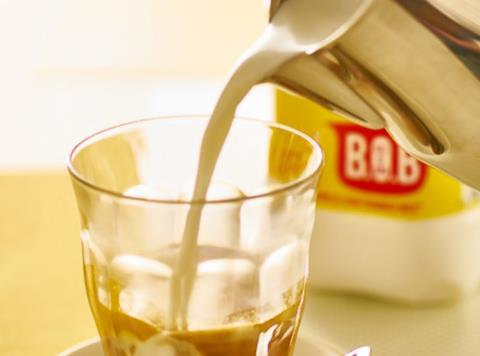 Morrisons shook up the market with its Milk for Farmers brand last autumn, which guarantees that 10 pence per litre of the retail price goes directly to dairy farmers. And despite sitting alongside the cheaper standard-price Morrisons own-brand milk in the dairy aisle, shoppers have bought into the proposition.

In May 2016 alone, over four million litres of Milk for Farmers were sold, generating in excess of £400,000 for producers, claims a Morrisons spokesman. In total, between October 2015 and May 2016 the For Farmers range - which also encompasses cheese and, more recently, cream and bacon - has generated £2.9m of income for farmers.

Arla, whose farmer owners benefit from Morrisons' Milk for Farmers brand, has itself launched a new premium brand, which guarantees to pay an extra 25p from the retail price of a four-pint bottle directly to dairy farmers. Arla Farmers Milk launched in July in Asda nationwide and is unashamedly aimed at helping British farmers and adding value back into the market. "People are willing to pay more for milk when you say the additional premium is going back to farmers," says Ibberson. "It's getting people to think about their milk choice a little bit more."

New usage occasions

Despite the growing success of added-value milk brands, the fact remains that standard own-label milk still accounts for the lion's share of category sales. By implication, milk suppliers will also need to create new usage occasions if they are to drive long-term sustainable value growth in the category.

One opportunity could lie in marketing milk as a healthy, convenience drink, with the NFU recently stating there is huge potential in repositioning milk as a nutritious alternative to sugary soft drinks.

A number of suppliers are already testing this theory. Arla launched a 250ml grab-and-go variant of its Cravendale brand into the Co-op in May and has subsequently picked up another listing in Asda. "It's very much us saying that milk should play a part in that snacking, food-on-the-go space," says Ibbberson.

Crediton Dairy is another supplier moving into 'on the go' with the launch of a new 330ml variant of its Moo brand. The drink, previously available only in a one-litre format, will now be competing for shelf space against the likes of Frijj and Yazoo, which have both introduced new reduced or no-added-sugar flavoured milk SKUs in recent months.

The NFU has welcomed the recent market innovations, although Renton again sounds a note of caution to suppliers looking to position milk as a healthy, natural alternative to sugary soft drinks. "The practicalities are restrictive," he says. "It needs to be consumed quickly after purchase and this is not what many on-the-go consumers are looking for."
TAKE-HOME SALES
52 w/e 22 May 16
Value
Volume
£m
y-o-y%
litres(m)
y-o-y%
Pasteurised
2,510.5
-3.1%
4,792.80
0.4%
Filtered
223
2.9%
285.7
4.6%
U.H.T.
157.5
-7.1%
237.2
-7.5%
Other Types
136.2
27.4%
98.8
28.3%
Soya
79.5
3.3%
85.4
4.1%
Sterilised
7.5
-3.2%
7.2
-14.1%
Total Category
3,114.5
-1.7%
5506.9
0.7%
Source: Kantar Worldpanel
Vision of the future
This autumn sees the launch of Müller Milk & Ingredients' first ever category vision for liquid dairy, targeting fresh milk, cream and milk drinks. Müller has developed six category drivers, which it believes will unlock growth and enable the company to bring targeted innovation to the category.

Among the macro and dairy trends Müller has identified are the appetite among connected consumers for more information on products; a move away from the traditional 'good, better, best' towards authenticity and maximising every usage occasion; and an expectation that food and drink should address demand for health, enjoyment and practicality.

"The status quo, particularly within the fresh milk sector, is not sustainable for anyone," says Müller Milk & Ingredients MD Andrew McInnes.

Müller's growing dominance, along with Arla, of milk processing capacity in the UK has been one of the most important market dynamics to emerge in recent years. But far from consolidation and low prices stifling innovation, the recent actions of Arla and the intent demonstrated in Müller's category vision suggest the future NPD pipeline will remain fluid.
"The status quo, particularly within fresh milk, is not sustainable for anyone"

- Andrew McInnes, Müller
In own-label milk, meanwhile, smaller, fleet-footed players are making the most of opportunities to secure new contracts. Shelagh Hancock, business development director at Medina Dairies, says the company's arrangement with Müller last autumn to toll-process up to 100 million litres of fresh milk a year out of Müller's Severnside dairy in Gloucestershire, marked a pivotal point for the business, which has since gone on to win contracts to supply both Iceland and Sainsbury's. "It certainly brought the business more into the limelight and has helped us accelerate relationships with some of the more major players," she says.

Medina is positioning itself as a credible alternative to Arla and Müller and believes its agility and flexibility will help it secure more supermarket contracts. "Many customers are reconsidering their partners and sourcing strategies and looking for people who want to work with them and feel important to them," says Hancock. "That's something a business the size of Medina can really deliver on."

The milk category has endured some tough times of late and Brexit has added an extra layer of uncertainty. But with retailers and suppliers investing in the category, there is a glimmer of hope the next 12 months may yield better returns at last.