The grass isn't always greener on the other side, but cheddar brands would be forgiven for thinking so. While the prospect of a 'bad' Brexit strikes fear into the hearts of many a food supplier, the drop in sterling since June's EU referendum has made British cheddar far more competitive, opening up lucractive export opportunities that are looking increasingly tempting given the unyielding nature of the UK market.

Wholesale prices for cheddar are surging amid a shortage of fats in the UK, putting serious cost pressures on suppliers, but supermarkets are refusing to put up prices. In fact, average retail prices for cheddar have actually fallen over the past 12 months, driven by a switch to own label and the rise of the discounters. This has also resulted in another big drop in value sales of branded cheddar, which have crashed 10% in the past year to £497.9m - in stark contrast to a 2.5% increase in sales of own label, which now accounts for £858.3m of total market value.
The implications for cheddar brands are so severe that some are questioning the long-term viability of producing value-added products for the UK market and have started looking overseas. So what does this mean for British cheddar? Will suppliers abandon retailers for export markets if prices don't rise? And if prices do rise, will shoppers abandon cheddar?

For some suppliers struggling to make a decent return in a cut-throat UK market, the incentive to adopt a greater export focus post-Brexit is increasingly compelling. "The UK market is still a tough place to do business," says Wyke Farms managing director Rich Clothier. "We're still seeing value decline despite the fact that the milk price is rising and dairy commodities aren't very plentiful."
As a consequence, Clothier says Wyke has developed two distinct strategies: a UK strategy and an export strategy. "They're very different in many ways because the UK is so disrupted and it's hard to articulate values. There's been too much time spent talking about commercials and price and not enough time talking about how we can grow the category together, but in the export markets it's all about the quality of the products."
"You can't divorce the future of cheddar from what happens in Brexit"
Wyke recently announced an extension of its partnership with organic dairy co-op OMSCo to treble current production of organic cheese for export markets such as the US. Demand is growing in Europe and Asia, too, and although Wyke is also keen to build the profile of organic cheddar in the UK, it is clear that the world market is the real prize.
Cheddar Category Snapshot 2017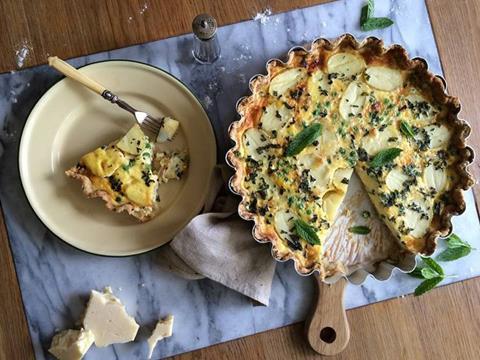 The nature of the UK's Brexit deal is unlikely to make or break the export strategies of British suppliers such as Wyke, but it could transform their fortunes on the home market.

"You've got a nice Brexit and a nasty Brexit scenario," says Hamish Renton, managing director of HRA Food & Drink Consultants. "If it's a nice Brexit then you're going to have more of the same and own label will continue to nibble away at branded. If there are any tariffs whatsoever involved, the share of trade of imported products will dive and that's bad news for any imported cheddar and good news for domestic producers."

If post-Brexit tariffs are imposed on dairy products, brands importing cheddar from Ireland will be especially vulnerable, warns Renton. However, Mike Harper, marketing director at Ornua Foods, whose Pilgrims Choice cheddar is sourced from both the UK and Ireland, says the Irish-owned co-op has strong plans in place to mitigate any future tariffs. "We've been doing a lot of work on Brexit - myriad assumptions about what might happen. Is it going to be better or is it going to be worse? We're planning on somewhere in the middle at the moment."

While the drop in sterling has made British cheddar more competitive on global markets, Brexit is also throwing up some challenges for exporters. As The Dairymen went to press, Organic Milk Suppliers Cooperative (OMSCo) warned it risks losing access to its multimillion-pound US export market at the end of the year unless an issue over equivalence of standards is addressed. OMSCo will not be able to produce cheddar for the US market, which is currently worth in excess of £30m to the co-op, after the end of the year because it is unclear what standards it will have to adhere to by the time its cheese is ready for export in 2019 and 2020.

It shows just how inextricably the future prospects of British dairy are linked to the outcome of negotiations both with the EU and other trading partners. As Renton says: "You can't divorce the future of the cheddar market from what happens in Brexit."

With global demand for fats growing, Clothier feels the successful negotiation of improved market access with the likes of the US, India and China could be a big driver of inflation in the years ahead, a scenario that would have significant consequences for the UK market.
"Too much time is spent talking about price; in the export market it is all about quality"
"If we don't get our act together and start working together there are wealthier people in the world who can afford to buy products that we might not be seeing in the UK in 20 years' time," he says. "I can see premium UK food producers being priced out of the UK market if we're not careful and that would be a big shame."

Suppliers insist the only way to guarantee the future viability of British cheddar is for retail prices to rise, but for now, supermarkets are still doing everything in their power to keep the prices as competitive as possible as they continue their brutal price war with the discounters.

Although the volume of cheddar sold on promotion has fallen to below 50% during the past year, average prices have been slashed by 3.4%, wiping another £35m off the value of the category. "This trend of price decrease has affected the cheese sector as a whole, but cheddar is seeing the greatest decline in spend as a result," says Kantar analyst Faith Ayomoto.

Despite slashing prices, the big four continue to lose out to discounters, with Aldi and Lidl enjoying value sales growth of 11.7% and 13.6% respectively, while Tesco, Sainsbury's, Asda and Morrisons are suffering volume and value decline.

In a bid to win back shoppers, the major mults have embarked on further range rationalisation and are "very much focused on the quality of their own-label products" according to Caroline Yates, head of market strategy and planning at Cathedral City owner Dairy Crest.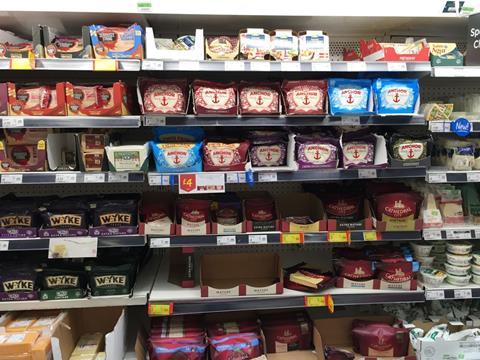 Hard-pressed brands keep it serious with shoppers
It's hardly surprising, given the pressures facing branded cheddar, that suppliers are reluctant to splash the cash on marketing. "If you look over the past couple of years there's been a significant reduction in above-the-line investment in cheddar brands," says Mike Harper, marketing director at Ornua Foods, owner of the Pilgrims Choice brand.
Harper says Pilgrims Choice has continued to invest in the brand to demonstrate its point of difference. "Over the past two years we've held our above-the-line spend and that's paid dividends. We've seen our competitors significantly reduce the TV, but we did two bursts of TV last year and we've just been on air again this year."
Recognising the job to do on core cheddar, Lactalis McLelland relaunched its Seriously brand in April, dropping the word 'Strong' from the brand as well as introducing a new medium cheddar recipe. Lactalis McLelland sales director Mike Chatters says Seriously Creamy Medium Cheddar was launched to appeal to younger families in particular and to spark life back into the underperforming mild/medium segment.
The relaunch has been supported by a wide-reaching media campaign, running until September and featuring video on demand, social media activity and national outdoor advertising. The 'There's cheddar, then there's Seriously' campaign has been further supported through major in-store activation.
There are few more contemporary marketing channels than social media, which Wyke Farms has been using to its advantage. Lacking the financial clout of some rivals, Wyke's approach has been to tell the brand's story through different platforms, notably social media. "By leveraging the social side it gives independent businesses such as Wyke a fantastic tool to talk to shoppers," says MD Rich Clothier. "Social media is the stone that can fell the national plc giant because they struggle with the fluidity and honesty that social media requires."
For its part, Cathedral City has been focusing on truly understanding shoppers. "We're putting shopper insight at the heart of everything we're doing," says Caroline Yates, head of market strategy and planning at Dairy Crest. "We recently relaunched our category strategy Dairy for Life and have been taking that around key retail partners. We're looking at shopper insight and how we grow the category over the next three years."

In a market where retailers have been battling to win cheddar share via branded promotions, it has become apparent that own label is a "key differentiator" and a way to win back shopper loyalty, adds Rachel McColl, senior brand and category manager, yellow cheese at Arla Foods. "As a result, retailers have put more emphasis on their own-label range via new packaging, increased distribution, and even new pack sizes."

The fierce competition to maintain listings in the mults has claimed some high-profile casualties, with Arla's Anchor Cheddar losing its final supermarket listing in February after Asda replaced it with Pilgrims Choice. The demise of the category's fifth largest brand means there are now just four major brands - Cathedral City, Pilgrims Choice, Seriously Strong and Wyke Farms - clinging on to diminishing space in the fixture. Arla plans to focus on building Anchor's position in the convenience channel and will put greater focus on growing its Castello cheese brand.

While admitting the category is "tough", Mike Chatters, sales director for Lactalis McLelland, believes there are plenty of opportunities for cheddar brands, as long as they tap the key consumer drivers of quality, provenance, health and convenience. "In a competitive category, such as cheddar, it is important to offer consumers a point of difference," he adds. "Product quality is an excellent way of creating differentiation. The fact is, taste matters to consumers."

When it comes to quality and taste, Renton believes there's a strong argument to be made that own label can do just as good a job as branded cheddar at the lower end of the flavour scale. "Broadly speaking, mild cheddar is mild cheddar and it's not until you get to medium, mature and vintage that actually the taste characteristics are markedly different."

He does, however, feel there are better prospects for brands in extra mature and vintage, noting: "There are some very good British brands that probably deserve their place on the supermarket shelf."

Although block still accounts for the lion's share of cheddar sales, the format is in decline as consumers switch to more convenient formats such as sliced and grated, which have delivered value growth of 8.7% and 2.9% respectively. Recognising the trend, suppliers are putting a greater focus on promoting their full range of cheddar formats. "We do have to recognise that consumer needs are evolving, as are demographics," says Yates. "People are looking for faster, more convenient solutions. Sliced performs particularly well in the summer when you've got more barbecues and picnics, so on our sliced packaging we've got some visual cues of a burger and a sandwich with sliced cheese to get people thinking differently when they're at that fixture, not just focused on price. Equally, grated is performing well because it's very easy if you're busy and cooking."

Pilgrims Choice, too, is looking to push its grated and sliced formats. "We're looking at that part of the category at the moment - what we can do to really unlock the potential of sliced and grated," says Harper. "It's a very convenient format - it's huge in the US - and it's a part of the category that's growing."

Snacking also continues to gather momentum as a trend -both in cheddar and the wider cheese category, says Stephen Gregory, marketing director at Bel UK. "The number of cheese snacking occasions is currently growing 23% year on year [Kantar 52 w/e January 2017], with wholesome health and practicality cited as the two main drivers," he says.

Dairy Crest has responded with the launch of a Cathedral City snack bar in single and multipack formats, which are well aligned to tap the "positive snacking" trend, claims Yates.

It was one of only a handful of new products rolled out in the category over the past 12 months, with cheddar undoubtedly punching below its weight where innovation is concerned.

NPD is something all cheddar suppliers should be looking at, Harper admits, but because of the current environment and the challenges suppliers are facing, Ornua has decided to focus on the core Pilgrims Choice portfolio. "There's a massive job for the branded cheddar category generally in ensuring that consumers do see a difference between own label and branded," he says. "Instead of diverting money into NPD, I still think there's a big job to do on core block."

There are plans in place to promote the Pilgrims Choice Lighter variant more forcefully, says Harper, and with shoppers asking for simpler, more transparent pricing, further work is likely to be concentrated on delivering pack sizes that hit specific price points.

Lactalis McLelland has incorporated some NPD into its bid to reinvigorate block cheddar sales, with the brand launching a new Seriously Creamy Medium Cheddar SKU as part of its Seriously cheddar re-brand. It hopes the new product will "appeal to younger families in particular and spark life back into the underperforming mild/medium cheddar segment".

Dairy Crest, meanwhile, is looking at how Cathedral City can provide inspiration for meals that incorporate a block of cheese as part of its holistic Dairy for Life strategy to grow the category.
"We're looking at what we can do to really unlock the potential of sliced and grated"
If retailers do give into external pressures and increase shelf prices for cheddar - which both Clothier and Renton believe is inevitable - brands could actually gain an advantage over own label, argues Gregory.

"It will force consumers to be even more selective, making informed decisions based on issues such as convenience, health and food waste and, counterintuitively, this will provide an opportunity for more premium segments."

However, Stephen Cameron, group commercial director for Dale Farm, warns "there is a risk of consumers decreasing frequency of purchase and consumption" if prices rise.

What's not up for debate, however, is that cheddar suppliers will need to perform a delicate balancing act in the months ahead. Because, for all the potential of export markets, the UK will remain the engine of sales for most brands for the foreseeable future. The grass may well be greener on the other side, but there's another popular saying British cheddar brands would be well advised to heed: there's no place like home.