It's been a tough few months for cheese importers, who are battling uncertainty as they prepare for the festive period
Spare a thought for Continental cheese importers, who have been bracing themselves for a nightmare before Christmas. For the UK was due to leave the EU at Halloween, the time retailers usually start buying in their Christmas cheese selections.
With MPs moving to block a no-deal in October, their worst fears might not be realised. But Brexit isn't the only thing keeping them awake at night. Rising milk prices, a weak pound and a renaissance in British cheese are also causing a headache.
But despite these turbulent times, or perhaps because of them, Britain's appetite for foreign fromage remains undiminished. Sales are up 5% to £547m on volumes up 6.7% [Kantar 52 w/e 19 May 2019]. In growth terms, Continental is far outstripping cheddar, with gouda, camembert, mozzarella, halloumi and feta all star performers.
Indeed, some see a bright future for such cheeses, regardless of Brexit. Own label supplier Eurilait has recently invested in two new cutting lines at its factory in Shepton Mallet for producing halloumi sticks and portioning wheels of hard cheese. It's also seen big growth in baking camemberts, helped by the launch of a new barbecue product in Sainsbury's under the Al Fresco brand, which also includes steak and sausage products made from cheese.
"A lot of the growth is down to consumer confidence," says Eurilait MD James Millward. "People are more confident about eating cheeses from the Continent. Cheese is also seen as a healthier alternative to meat, which is why you're seeing growth in feta and halloumi."
Snacking and sharing are also important trends. "People are sharing more when they go out to eat, and that's being replicated at home," adds Millward. "We're seeing people buying baking camembert throughout the year, not just the winter. It's part of wider sharing and convenience trends."
Brexit caused some problems for Continental cheese earlier this year, when "everything was on hold" ahead of the March 29 deadline, says George Paul, executive director at cheese company Bradburys.
"It was only three weeks before the deadline and the government hadn't issued the [cheese import] tariffs and the retailers were sitting on their hands. Why would you list cheeses from France, Italy or Spain if you weren't sure what the tariffs might be?"
However, the decision to extend the Brexit deadline until October gave the market a boost as retailers spring back into action. "The extra six months has given the market a bit of a reboot," he says. "The general trend across all retailers has been range reduction and concentration. Lines have been squeezed out, especially slower sellers. The net result has actually been a total increase in volumes. If you look at cheddar, it's simple to shop: mild, medium, mature, extra mature. Continental can be a confusing category with a lot of clutter. Italian, Dutch, Greek, French, Spanish, Swiss, cow, goat, sheep, and lots of different styles. A lot of retailers had too much duplication."
Range reductions are partly motivated by the rise of the discounters, which has put pressure on the supers to cut costs and compete on price. While retail prices of branded Continental cheeses rose 0.9%, own-label prices fell by 2.2% as supermarkets moved to everyday low pricing [Kantar]. "We're being squeezed on margins, but it's being spread around the chain," says Paul.
There are signs the supply chain cannot be squeezed much further. Another fall in the pound's value of 5% after the March deadline and EU farmgate milk prices rising 5% in the year to May [AHDB] means own-label prices may be forced up soon. Huge demand and milk shortages in Cyprus have already led to a 5% average retail price rise for halloumi this summer.
"Why would you list cheese from the Continent if you weren't sure what the tariffs might be?"
Beyond the issue of price, Aldi and Asda were the best performing retailers in Continental cheese, up 20% and 18% in value respectively. The Co-op also performed well with sales up 7.5%. New pre-portioned and grated products have been a key driver, says Paul Duszynski, category development planner for cheese. "Co-op own-brand lines such as parmesan, halloumi and mozzarella are adding the most value. A variety of formats is clearly appealing to shoppers and the number one growth product in cooking ranges is 50g Co-op Parmigiano Reggiano Grated Sachets."
Mozzarella pearls, parmesan shavings and sachets of grated grana padano have also sold well, he adds. "The convenience formats are what Co-op shoppers want," says Duszynski.
Own-label accounts for 82% of Continental cheese sales, which are up 4.5% helped by products such as Tesco Creamfields, which was expanded with new mozzarella and brie lines, adding £5.6m to the category.
Brands posted a jump in value sales of 7.4% thanks to deals, NPD and marketing support. Jarlsberg saw sales grow 41%, helped by '20% off' and coupon promotions, says Dominique Delacour, head of marketing & NPD at parent company Norseland. The brand also launched a fondue product and snacking lines, and invested in marketing at events such as Pub in the Park, plus an online 'ultimate cheeseburger'.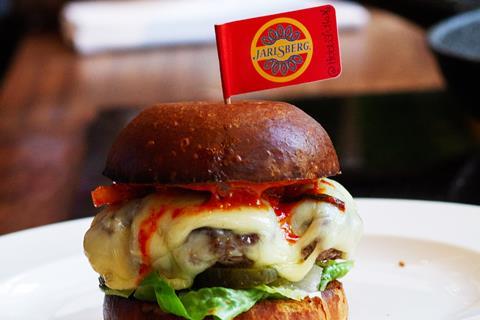 "Aldi and Lidl are also helping to grow the category because everyday low prices encourage people to trial, attracting new customers," says Delacour.
Other developments from brands include new Boursin Velvety, which has a smooth texture aimed at luring younger shoppers away from the chilled dipping sector. Leerdammer is addressing shoppers' environmental concerns by building on its on-pack Free Grazing promise (cows graze outside for at least 120 days a year) with new 100% recyclable packaging.
At cheesemonger Paxton & Whitfield, Continental sales were up 12% in the first half of 2019, driven by flavoured varieties like gouda and comte and hard ewe's milk cheeses such as manchego and pecorino.The only cloud on the horizon was the Brexit deadline of 31 October, which would have been the "worst possible date" for cheesemongers, says MD Ros Windsor. "It's when we really start selling for Christmas. It's very messy at a time you've spent your whole year planning for things to go smoothly."
It would have been bad news for consumers, too. Challenges around stockpiling a short shelf-life product means "prices will go up if there's a no deal", says Eurilait's Millward. "There's no way a company like us or farmers can absorb World Trade tariffs or even Favoured Nation tariffs," he adds. "And there will undoubtedly be disruption to supply chains."
Efforts to stop a no-deal in October might save Christmas. But ongoing uncertainty means Continental cheese importers can't sleep tight just yet.
The Dairymen
From lab-made milk to butter shortages, our annual definitive guide to the dairy category is full of insight and analysis on the latest trends shaping the industry. This year, The Dairymen will explore how the UK's exit from the EU will affect British dairy, and ask how the industry can make sure it is prepared to tackle the supply chain pressures it might bring, as well as making the most of potential new export markets.
Gold and Platinum members will be able to download The Dairymen from 14 September. Subscribe now. We'll be publishing insight and analysis from The Dairymen online throughout September and October.