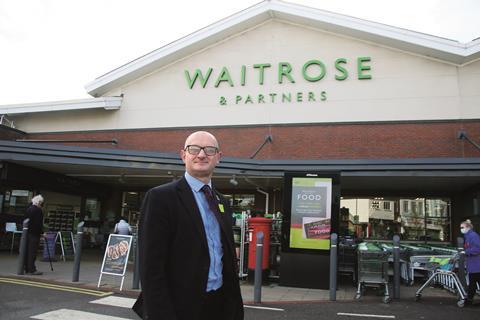 Winner: Waitrose Horley, Surrey
Store manager: Paul Cottingham
Size: 22,000 sq ft
Opened: 1999
Market share: 16.2%
Nearest rivals: Tesco – 1.2 miles, Sainsbury's – 5.2 miles, Asda – 5.8 miles, Morrisons – 6.4 miles
Store data source: Analysis by CACI.
Call the market planning group on 020 7602 6000
How do you anticipate the easing of lockdown will impact sales? There are so many variables, it's difficult to say for sure. Grocery retailers have benefited massively from the closure of hospitality venues on and off since last March, but on the other hand we're getting very few office workers visiting to purchase lunch or food for tonight.
The branch had 100% availability. Have there been any stock issues you've had to overcome? We've had some challenges recently, which have created a few gaps in our wine and petfood sections. They have been caused by a major revamp of our petfood category and some wine deliveries getting stuck in transit in Europe over the past week. The team is relentlessly focused on stock management. Decent stock levels are a vital component of creating an enjoyable shopping experience because if we don't have everything in stock that a customer has on their list, we are letting them down.
What did the store's recent refit involve? The branch was looking a bit tired and it's now got a new layout, toilets, car park, fridges, décor, shelving, signage and café. Our revamped service counters also look so much more modern and have a dedicated space. They are a key point of difference for Waitrose and customers particularly like the meat and fish ranges.
How is the rapid Covid testing programme for partners going? Around 90% of partners have utilised it since we introduced it a couple of months ago. I got tested following a socially distanced meeting with a colleague who then discovered they had symptoms. Any employee can voluntarily get a test done at the closed-off café area at Waitrose in Horsham and it can be done during a shift or in their own time. Waitrose covers any expenses too. It only takes around half an hour to get your result which means partners know where they stand very quickly. It's very reassuring to have testing in place, but we don't force anyone to get a test. We've had a few employees feeling reluctant to get public transport to the store, which is completely understandable, but it's great to know employees and shoppers are protected. We had a very intense time over Christmas and the new year with a lot of absences, and it was very tricky to manage.
How have you kept up with demand for online shopping? It's been challenging but we've expanded our capacity for deliveries by over 1,000% in just a year. That's meant we've had about five years' worth of growth in just one. We had two vans two years ago and did around 650 orders a week whereas we now have 11 vans and 2,000 slots per week with about 99% of those taken up. We also added a click & collect service last year which offers around 30 slots per week and they're consistently booked up. The phenomenal growth has really shown what's possible when retailers follow what customers want. I doubt we'll see online sales dip in the coming months as I think there's been a real shift in customers' preferences.