Mr Kipling maker Premier Foods has been left with a Gavin Darby-shaped hole since January, when the former CEO stepped down.
CFO Alastair Murray has stepped up as interim chief executive for the past three months, after Darby left on the back of a shareholder revolt that saw him perilously close to being ousted last year.
Shareholder frustrations remain, but they are keen to find a new leader who can find value in its portfolio of traditional British staples. Its search for a new leader comes as the group's share price has stagnated around 35p, a far cry from the 65p offered by McCormick for the business back in March 2016.
This weekend, Weetabix chief executive Giles Turrell was identified as a possible successor, as the company whittles down its recruitment shortlist. Turrell built his reputation during 14 years at Kleenex maker Kimberly-Clark, where he was president of its European consumer business as well as its chief marketing executive.
After delivering strong growth across its core brands, including Andrex, in the UK and Europe, Turrell moved to Weetabix in 2011. While there, he led the UK cereal giant through two ownership changes, initially when a majority stake was bought for £1.2bn by China's Bright Food, before presiding over a difficult period for the cereal maker (sales slid 6.5% to £313m and profits declined 5% to £81.9m from 2011 to 2016).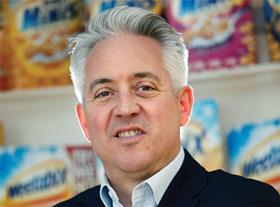 His time helming the business ended shortly after Weetabix was sold to Post Holdings in the US for £1.4bn. More recently, he reportedly worked with Goldman Sachs' private equity division on an (eventually unsuccessful) £1bn takeover bid for Kimberly-Clark's European tissue division.
While Turrell's time spent leading Weetabix through two sales processes will undoubtedly appeal to Premier investors eyeing up sale opportunities for the group, his time spent running day-to-day operations of the Weetabix brand may mean more for his leadership credentials. "A sale will likely be out of his hands, so they will be hiring a CEO they believe can adequately run the business day to day," a City source said today.
Media reports over the weekend suggested Premier appeared to be "in no rush" to appoint its new boss and had not yet earmarked Turrell as its preferred candidate. However, investors will be keen for at least some clarity regarding the company's strategy in coming months.
Plenty has changed at Premier Foods in the past six months. Back in November, Ambrosia was up for sale (before being pulled in recent months), net debt was expected to be lower, and its share price was 18% higher. "Since then, Ambrosia is no longer for sale and they've appointed two activists on to the board, which undoubtedly will make the role less interesting because if you are a CEO coming in you'd want to have reasonably free rein," one analyst commented.
Oasis Management placed Darby's head on the chopping block as it demanded selling off brands, while fellow activist Paulson has since almost doubled its stake to grow its influence on company strategy. Any new CEO would be tasked with delivering profitability and debt reduction amid such pressure, with a brand portfolio consisting largely of unglamorous British store cupboard classics. And Premier's most recent results will hardly fuel optimism among would-be executives, after it reported a 2.2% drop to £255.6m sales in the quarter to 29 December 2018, due to a plunge in revenues from its private-label cakes and international business.
Nevertheless, there is hope. Premier remains profitable – pre-tax profits grew 14% to £30.2m in the first half of the financial year – and it has continued to cut into its significant debts, even if it has done so more slowly than some shareholders desire. Optimism can also be gained from its wide-ranging portfolio, which includes improving brands such as Batchelors, which saw 2.6% sales growth in 2018 [Nielsen] on the back of an innovative NPD pipeline. Key brands Mr Kipling and Bisto also delivered strong recent sales, Premier said, helping to drive a 2.7% jump in UK branded grocery sales in the past quarter.
Batchelors continues to stand out as a high-value sale option, while the presence of two activists on the board certainly increases the potential of a possible group sale. "It did attract McCormick, so we shouldn't write it off as unattractive business," the analyst added. A complete sale to a larger corporate would help to reduce debts and potentially provide significant backing for a boss to drive Premier's next stage of growth. Whether the company board is eyeing up a new owner, or simply planning to auction off one of its more high-value assets, hiring a new CEO who can steady the ship remains a must.
A leader with Turrell's experience of navigating sales processes would surely appeal to investors. What's less clear is whether someone like Turrell would relish the prospect of spearheading Premier through what is undoubtedly going to be an uphill struggle.

Henry is city reporter at The Grocer.

Follow Henry on Twitter: @HenrySakerClark