"Disgraceful." "Woefully inadequate." "Abysmal."
That's how Boris Johnson, opposition leader Keir Starmer and FWD chair Coral Rose described the free school lunchboxes provided to some of the country's poorest children by leading education caterer Chartwells.
Images of Chartwells' pitiful boxes first emerged on Twitter on Monday, prompting parents to share countless more shocking examples of recently delivered food parcels. Not necessarily all from Chartwells, but all intended for hungry kids.
Among those that stood out as particularly abysmal was a lunchbox featuring a few spoonfuls of tuna in a plastic change bag, and one delivered in bin bags.
Presentation aside, what really upset people was the maths. The government now pays £15 per eligible child each week to schools to cover free school meals. It was recently upped by £3.50 a week per pupil for the duration of this term.
A quick tot-up revealed the products in Chartwells' hampers – which included bread, two bananas, two carrots, a small bag of pasta and a few Frubes yoghurts – would come to around just £5 if purchased at a supermarket.
Chartwells', which is owned by Compass Group, has since apologised and promised it would refund schools where food parcels had not met its "usual high standards". It has also vowed to add free breakfast to food parcels for children eligible for free school meals
But it was too little, too late, for some. "We must do better than this. It's 2021" tweeted children's hero Marcus Rashford, who managed to hold both Chartwells and the Department for Education to account before donning his Manchester United kit for a Premier League game last night.
Rashford is, of course, right. We must do better than this.
But it's worth pointing out a lot of wholesalers already are doing much better at providing free school meal boxes.
Take Harvest Fine Foods, which is working with Southampton City Catering to provide around 3,000 free school meal kits to families. Its hampers far exceed the government's guidelines. A full block of cheese, brown bread, milk, a bag of carrots, a punnet of cherry tomatoes and two boxes of eggs are among the goodies in its weekly boxes.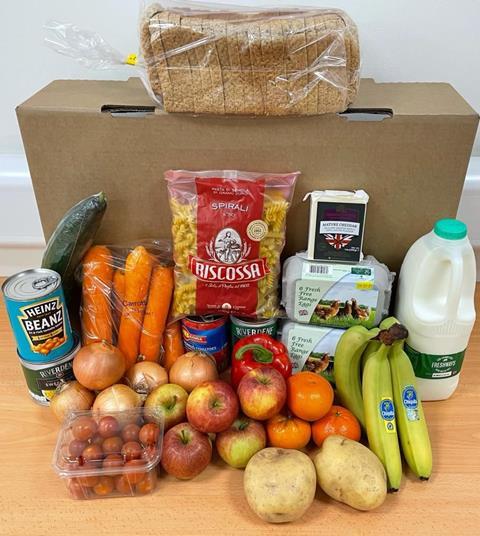 The problem is these examples aren't making it into the news. And wholesalers providing an honourable service now fear the furore over "inadequate" free school lunch boxes could wipe out one of their last remaining income streams.
Government guidance is clear that schools should do all they can to provide a food box in place of free school meals, rather than offer families a voucher.
However, there are growing calls for schools to default to the voucher scheme to avoid some kids being on the receiving end of inadequacy.
That would be bad news for parents, who would be forced to make extra trips to supermarkets during lockdown to buy the food themselves. It would be bad news for vulnerable children, for whom the delivery of a box gives teachers a chance to check in on them when school is out. And it would be bad news for the wholesale sector, which is still struggling amid hospitality shutdowns.
That's perhaps why the pics of the Chartwells' boxes provoked such a strong response, not just from politicians and parents, but from the sector itself.
Cumbrian wholesaler Caterite shared the collective sentiment across the sector right now when it tweeted a response to one of Chartwells' three PR statements, published yesterday: "You are an embarrassment to our industry. Disgraceful."
We can only hope Johnson reprimands those found guilty of delivering inadequate meals but takes note of the good work done by some in the sector and stops short of taking away a service that is being rolled out so well to so many.