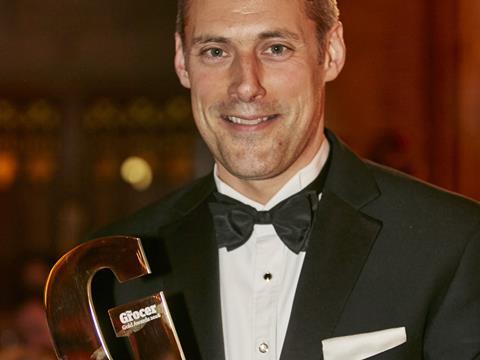 It had to be Aldi. Although when you look back at 2015 it's hard to pick a single reason why.

Maybe it's the sales, which nudged £7bn (up 31% on 2014). Maybe it's the level of consistency in such a turbulent market - according to Kantar Worldpanel, Aldi has recorded double-digit sales growth every month since February 2011.

Maybe it's Aldi's expanding market share, which has doubled in the last four years to 6%, overtaking Waitrose and bringing Aldi to within touching distance of the Co-op.

Or maybe it's that, away from all the stellar figures, Aldi continues to make strategic evolutions that point to further success, such as becoming the highest paying supermarket in the UK in October 2015, or the eyecatching online wine and non-food debut it announced in September 2015.

Then there is the continued rapid expansion (as well as the ongoing refurbishment and extension of existing stores). Aldi opened 65 new stores in 2015, more than any other grocer, and it plans to open another 80 in 2016. It expects to open its 1,000th store in 2022.

But arguably its most effective strategic move in recent years has been its drive to become increasingly British, and Aldi continued to push the message hard in 2015.

Over two thirds of Aldi products are now sourced from British suppliers (and according to the Groceries Code Adjudicator it treats them better than any other supermarket).

Meanwhile its sponsorship of Team GB for the upcoming Olympic Games (the first supermarket to do so) has allowed it to splash the Union Jack over everything it does, from in-store marketing, fixtures and fittings, product packaging, its delivery vans, even its Atherstone HQ. The end result is that Aldi has never appeared less Teutonic.

But if it was all about appearances (or indeed prices) it wouldn't be working as well as it is.

Aldi continued to improve and expand its own-label offering, and scooped 13 gold medals at The Grocer Own-Label Awards in 2015, the joint highest number alongside Lidl. In 2016 it won 19, more than any other supermarket.

Revamping its wine offer also worked, with its new Exquisite Collection selling 1,000 bottles an hour and pushing wine sales up 40% year on year. And its Mamia baby range also picked up a Grocer Gold for Own-label Range of the Year (see p30).

The upshot is that when Aldi does attract new customers through its doors they return when they realise the prices at Aldi may be lower than its rivals but the quality of its range is comparable. And overall, it adds up to a "compelling case" said one judge.

"It's growing market share and overall shopper spend faster than any other supermarket," said another.

And a third judge said Aldi had implemented a "clear strategy to address shoppers' perception of fresh - as well as target mums away from Asda."

So perhaps the only problem on the horizon for Aldi is that after years of denial the major multiples have finally woken up to what's been going on.

So whether it's Tesco imitating Aldi's fruit & veg promos, or Walmart bringing in a new boss at Asda and threatening to go nuclear on price, the sharp knives are out for Aldi.

An interesting few months lie ahead.