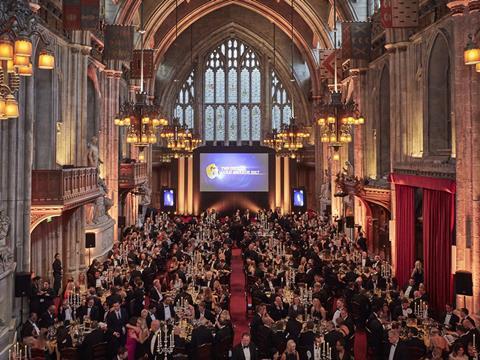 The winners of this year's Grocer Gold Awards have been announced.
The prestigious ceremony took place on Tuesday 14 June, with a glittering reception at the Guildhall in London. It was a wonderful evening, which saw the industry come together to celebrate what has been a challenging but fantastic year in the FMCG sector.
The evening was hosted by actor and impressionist, Rory Bremner, and Adam Leyland, Editor of The Grocer. Together they proudly announced the winners of the hotly contested The Grocer Gold Awards 2017.
With 27 award categories and record numbers of entries, our judges had an extremely difficult task in selecting the overall winners.
.@Tesco crowned Grocer of the Year at #GrocerGold Awards https://t.co/Cdg8TAohRb 🆓 pic.twitter.com/3Y5Cspghfv

— The Grocer (@TheGrocer) June 14, 2017
The Winners
Brand of the Year - Fever-Tree
Business Initiative of the Year - The Iceland Kitchen, Iceland
Consumer Initiative of the Year - Purdey's
Drinks Retailer of the Year - Conviviality Retail
Employer of the Year - Aldi
UK Entrepreneur of the Year - Barney Mauleverer, FUEL10K
Exporter of the Year - Eat Natural
Food To Go Retailer of the Year - Greggs
Green Initiative of the Year - 50 in 5, Pepsico
Independent Retail Chain of the Year - Henderson Retail
Logistics Supplier of the Year - Pladis
Online Supermarket of the Year - Iceland
Own Label Range of the Year - The Best, Morrisons
SME Brand of the Year - The Collective
Specialist Online Retailer of the Year - HelloFresh
Symbol/Franchise Convenience Retailer of the Year - Budgens
Technology Supplier of the Year - Shield Safety Group
The Grocer of the Year - Tesco
Waste Not Want Not Award - Tesco
Wholesaler of the Year - Booker
Britain's Favourite Supermarket - Tesco
Branded Supplier of the Year - Procter & Gamble
Own Label Supplier of the Year - Greencore
The Grocer 33 Price Award - Asda
The Grocer 33 Customer Service Award - Sainsbury's
The Grocer 33 Availability Award - Sainsbury's
Store Manager of the Year - Dave Curness, Sainsbury's Redhill, Surrey