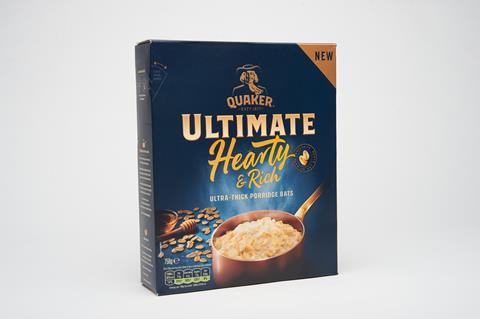 Winner: Quaker Ultimate Hearty & Rich Porridge Oats
Porridge has undergone something of a makeover in recent years. For so long a slightly fussy and outdated breakfast choice, it's now the darling of Instagram, adorned with fruits, nut butters and seeds and beloved by younger shoppers. With its new Hearty & Rich oats in June 2021, Quaker cleverly responds to this premium pedestal. Not only does it use thicker oats for a more indulgent texture, but it ensures its Conway Oat variety pass no less than 40 checks before being rolled and kilned. This attention to detail not only delivers delicious results, but it appeals directly to porridge's brand new discerning demographic.
Quaker have delivered exactly what it says on the pack, a hearty, rich porridge. Instantly visible are the different grains that give it the hearty and interesting texture. An excellent porridge with a premium look, but good value price point.
Finalists:
Bio&Me Apple & Cinnamon Gut-Loving Prebiotic Porridge
Oreo O's Cereal
Weetabix Chocolate Melts
With thanks to our sponsors