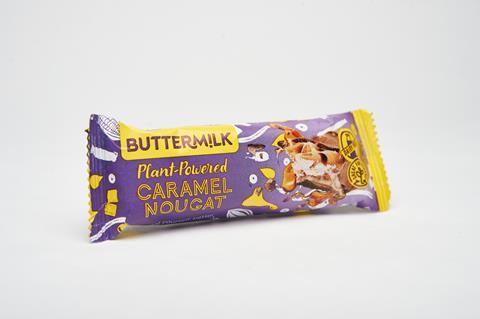 Winner: Buttermilk Plant-Powered Caramel Nougat
Chocolate and cheese arguably remain two of the last frontiers when it comes to plant-based, both proving tricky for manufacturers to replicate in taste and texture without the help of dairy. Which makes the fantastic taste and convincingly chocolatey texture of this plant-base caramel nougat bar from Buttermilk, launched in August, such a feat. The brand says its seeking to take on a 'global best-selling chocolate bar' with its plant-powered nougat equivalent, reflecting its impressive ambition for the well-executed product. In compostable wrapping and formulated to be enjoyed by allergen sufferers too, it's certainly ticking plenty of critical boxes for its target demographic.
Our judges were seriously impressed with this product. Despite being vegan, it was convincingly chocolatey and had a strong caramel taste. Its nutritional credentials were clearly labelled, and judges loved the colourful packaging.
Finalists:
Ferrero Rocher Bar Milk Chocolate Original
Forest of Hope Chocolate Surprise Egg
Pip & Nut Milk Chocolate Peanut Butter Cups
Poppets Mix-Ups
With thanks to our sponsors