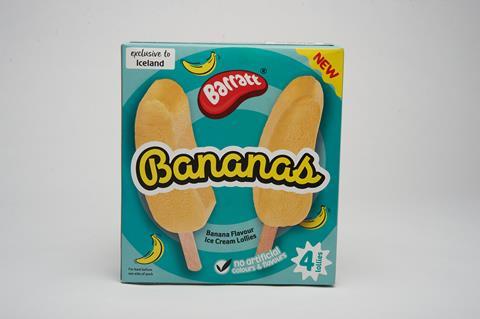 Winner: Barratt Bananas Ice Lollies
This product has successfully taken a long-standing family favourite sweet and turned it into the taste of summer, taking shoppers (and our judges) on a nostalgic walk down memory lane. Sold exclusively in Iceland stores, the creamy, brightly coloured lolly adds a touch of fun with its banana shape while capturing the flavour of the classic confectionery, giving it appeal all the way from children to their grandparents. It also hits the right notes on health, at only 71 calories and containing no artificial colours or flavours. Having already proved a huge hit in both the supermarket and across social media, it's clear this innovative cross-category twist on a classic has hit just the right spot with nostalgic-hungry consumers.
"These ice creams are like a walk down memory lane," said our judges. They smell and taste exactly like the retro banana sweets. The nostalgia would draw in adults as well as children and gives a fun talking point. A lovely light ice cream that felt like a guiltier treat than they actually were.
Highly commended: Häagen-Dazs Piña Colada Ice Cream
Finalists:
Barratt Cola Bottles Ice Lollies
Barratt Sherbet Fountain Ice Lollies
BEAR Mango Fruit Lollies
Ben & Jerry's Peace Pop
With thanks to our sponsors