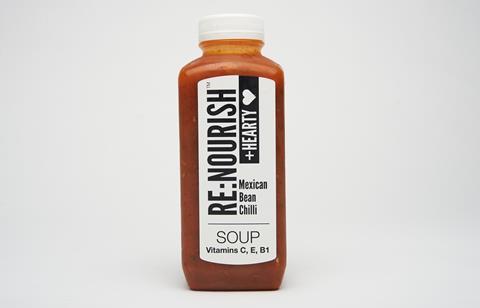 Winner: RE:NOURISH + HEARTY Mexican Bean Chilli Soup
The soup category has laboured for a while under perceptions that the convenience it delivers can often come at a high HFSS cost. But RE:NOURISH turns that on its head with this Mexican Bean Chilli Soup, launched in May 2021. Not only is it gluten-free, dairy-free, low-fat and with no additives, but it also incorporates ingredients bursting with ThiaminB1, a vitamin known to help support heart health, alongside Vitamin C, E and plenty of fibre. With a rich colour, and packed with veggies – including peppers, kale, tomatoes and onions – the soup is the perfect light lunch for a healthier consumer that may not otherwise have ventured down the soup aisle.
Judges loved this product on initial sight. The packaging which was both informative and stand out was also a good size for storage. The soup delivered a great flavour and a lovely dense texture which meant the product definitely lived up to its 'hearty' name.
Finalists:
Glorious! Super Red Thai Vegetable Soup
RE:NOURISH + UPLIFT Red Thai Noodle Soup
Yorkshire Provender Smoky Sausage & Three Bean Soup
With thanks to our sponsors