The toughest regulatory constraints yet on tobacco have led to £300m being wiped off the market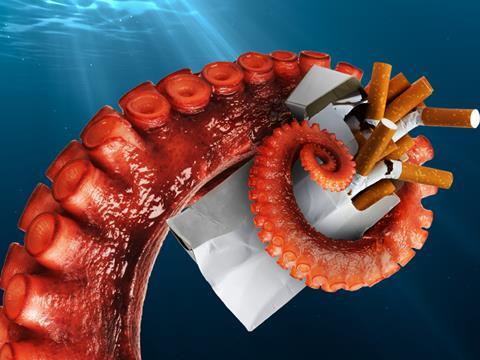 Tobacco is facing its tightest squeeze in history. Caught in the tentacle-like grip of tough legislation, changing habits and the booming vaping industry, over £300m has disappeared from the cigarette category over the past year [Nielsen]. To look at the top 10 brands is to see - with a few notable exceptions - a litany of slow decline.
The companies clinging on to traditional tobacco are struggling to offer growth strategies other than generic statements about "creating quality experiences" and "offering the smoker real choice". But others are betting big on innovation. Philip Morris launched its campaign for a smoke-free future to much fanfare last month with the assertion that, like many smokers at this time of year, it was also "trying to give up cigarettes" in favour of its heat-not-burn tobacco product Iqos. So is bold innovation the key to success in this challenging sector? And how else are suppliers responding to changes in the market?
For the main culprit behind the decline in tobacco sales, look no further than the legislation introduced last May. Alongside plain pack laws, the UK government stipulated that the minimum pack size for cigarettes should be raised to 20, and 30g for rolling tobacco. In one fell swoop, tobacco companies lost their last available way of communicating their brand to the consumer. And the larger pack sizes meant the minimum price was much higher.

In this new, more regulated era of tobacco, the power of packaging and marketing has largely disappeared. Larger pack sizes have made cheap entry-level tobacco packs a thing of the past. And so consumers are focusing on one thing only: price.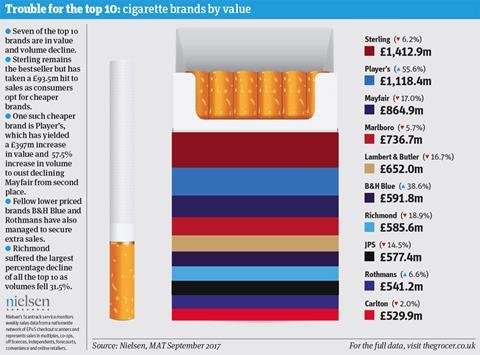 A glance at the top 10 brands shows just how consumers are moving away from traditional big names towards less pricey options.Seven of the 10 are in value decline. Although this has been a long-term trend, the new legislation has made percentage falls among pricier options even more eye-watering than before. Take JTI's traditionally big-hitting portfolio, for example. Its market-leading brand Sterling was down £93.5m on last year (a fall of 6.2%) and its more expensive number three brand Mayfair was down a whopping £177.4m in value (-17%). Volumes of these big names were down an even more staggering 20.2% and 29.8% respectively (fuelled partially by larger pack sizes). It's a trend that JTI can't help but acknowledge. "Price is a key factor for existing adult smokers when choosing where to shop for tobacco," says Mark Yexley, head of communications at JTI, although he is at pains to point out Sterling "remains the UK's number one cigarette brand and an important part of JTI's portfolio".

So the only brands in the top 10 that are posting growth - Player's, B&H Blue and Rothmans - are on the cheaper side of the market. Imperial brand Player's is a particular success story. Last year, it was ranked the sixth largest cigarette brand. This year it is second - up £399.8m or 55.6% - to be worth over £1.1bn.

JTI's B&H Blue has gone from number 13 brand last year to number six this year, having secured an extra £164.9m in sales.

And Rothmans secured 6.6% value growth to £541.2m. This perhaps explains why owner British American Tobacco insists it has "not seen a noticeable impact on the long-term consumption trends of tobacco since the introduction of plain packaging".
"Price is a key factor for existing adult smokers when choosing where to shop for tobacco"
But not all tobacco firms are so upbeat about the legislation. JTI, for example, has not just been hit with falling sales, but worries the plain packaging laws will provide an opening for illicit trade. A report published by the Tobacco Manufacturers' Association noted that illicit tobacco cost the UK £2.4bn in 2015-16 of - and it fears this figure could rise.

"The sale of illicit tobacco accounts for nearly 13% of the ready-made market and 32% of RYO tobacco in the UK," says JTI's Yexley. "There are continued concerns that these figures may worsen since packs have become easier to duplicate with the introduction of plain packaging. In addition, the legal requirement to only produce larger pack sizes can lead to consumers looking for cheaper alternatives on the black market."

Overall, it's a pretty bleak picture for cigarettes. But elsewhere in tobacco, there are more positive developments. Consumer appetite for cheaper options has boosted the roll-your-own market to the tune of £212m. Gold Leaf is responsible for nearly 40% of this figure alone, having accrued an extra £82.1m over the past year. And the rise in rolling tobacco is creating a wider market in accessories. According to IRI, accessories are now worth £256.4m, with filters alone providing £76.3m of that figure.

Republic Technologies, the parent company behind the Swan brand, is using innovation to capitalise on these new consumers. "NPD and increased focus on merchandising is driving growth in the category," says general sales manager Gavin Anderson. Republic has released four new products designed for the RYO market: an 'ultra slim' filter, a biodegradable filter, a pack with 32 slim papers and filters, and a cigarette tube targeted at cost-conscious consumers looking for an alternative to factory-made cigarettes.
There is also some positivity in the cigar market. Scandinavian Tobacco Group, which makes cigars, pipe and fine-cut tobacco, has reported a 2.6% increase in sales in the nine months to 30 September 2017. Even in this market, though, consumers are looking for "value for money" rather than the most premium option. Jens Christiansen, head of marketing and public affairs at STG, believes its affordable Moments Blue brand could steal some shoppers away from "higher priced cigarettes".

Essentially, it's all about the cheaper end of the market. So where does the opportunity for the mid-market tobacco brands lie? For many, it is in diversification away from cigarettes. Big tobacco has taken note of the growth of the vaping market, which is predicted to exceed £2bn by 2020. Imperial Tobacco has acquired vaping brand Blu from RJ Reynolds, and British American Tobacco is behind Vype.

In the case of Philip Morris, it has developed what it sees as a cross between vaping and traditional tobacco: the heat-not-burn device Iqos. Claiming to be less harmful than cigarettes yet offering a more realistic 'smoking' experience than vaping, more than 3.7 million people have switched to Iqos since its launch last year, according to its official site. The lion's share of this market is likely to be in Japan, where vaping is illegal (analysts have suggested Iqos could account for 25% of Japan's $36bn tobacco market by 2020).

The product is also gradually gaining ground in the UK. Sainsbury's became the first major mult to stock the refills in December, taking their availability beyond the Iqos website and three dedicated Iqos stores in London. Now other companies are placing their bets on heat-not-burn technology. BAT has launched its product Glo into the Japanese, Russian, Canadian, Swiss and South Korean markets. JTI has invested in its own Ploom Tech and says sales in Japan have outstripped demand.

However, the ability of Glo, Iqos or Ploom to succeed in the UK market, where vaping is legal, remains unclear. Add to this a report from the US Food and Drug Administration two weeks ago arguing that these devices should not be able to claim a reduced risk of tobacco-related diseases, and the future looks shaky. (Vaping, on the hand, was deemed less harmful than smoking in the largest ever US study, published two weeks ago.)

Fending off the challenge of vaping, evaluating heat-not-burn devices, navigating in the new legislative landscape and fending off illicit trade: big tobacco certainly has its work cut out for the year ahead.