We've all been there. Palms sweating and heart racing as you mull over (for the 100th time) how exactly you're going to phrase 'can I have a pay rise?'. Well, mull no more. We assembled an expert industry panel to give their top career tips at the 2019 Top New Talent Summer Social, sponsored by Veritas Partners. Panellists were grilled on everything from how to maintain a work/life balance to their favourite interview questions. Here are the highlights.
Entries are now open for the Top New Talent Awards 2019. If you're under 35 and working in the industry, you can enter for free now by filling in this survey.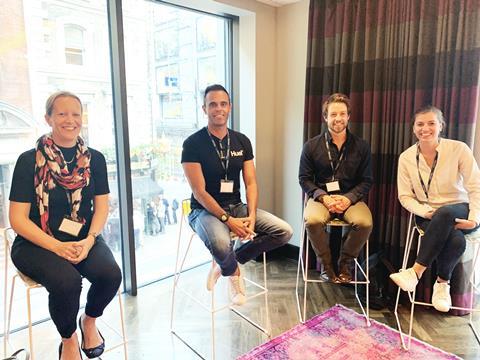 Panellists
From left
Linda Ellett, partner at global consultancy KPMG
Julian Hearn, founder of Huel
Adam Thompson, MD at Rebel Kitchen
Thea Alexander, co-founder of Young Foodies
What's the best way to go about getting a pay rise or a promotion?
Linda Ellett: "A great bit of advice that I was given when I was about a year off a promotion was to write a business case for the promotion as I would write it in a year – then you can see what you haven't done. It gives you a year to fill in all the things that you haven't done that are in your case.
"For a pay rise, people should be very clear on why they're asking. If they're asking because they've benchmarked in the market or because a colleague is being paid more it makes it a negative experience. If people come to me and say that they've been stretching themselves or they are adding more value, that makes for a much more productive conversation."
Julian Hearn: "You need to be worth the money and produce results. Also, if you want to go from head of department to director level, you need to be behaving like a director six months before you go and ask for it."
Adam Thompson: "One thing that frustrates me is when someone says 'I've benchmarked against the industry and this is the average salary'. Don't use an average – there's a whole spectrum out there at different points in their careers.
"Something that has been super impressive is when someone came to me and said they believed they could do the job, asked for it and said if they delivered in six months then I could retroactively pay them. I've got no issues with that – if you can do it then I'll pay you."
What do you think of coaches and mentors?
Thea Alexander: "I have a coach and I love her. When I first started Young Foodies it was really lonely – you're used to having a manager or someone to talk to every day and suddenly there's no one. Even if you think you're clear on what you need to do, naturally you'll find you're questioning yourself because there's no one else to talk to. I found the process of bringing in a performance coach incredibly liberating and supportive through that.
"I went through a few coaches and some of them I didn't click with but when I sat down with her she hardly said anything and somehow I came away with a complete vision of what I needed to do for the next month. I would absolutely recommend everyone at least try it."
Linda Ellett: "There are three things: a coach, a mentor and a sponsor and I think they get used interchangeably in the wrong way. For me, a coach is somebody who makes you a better version of yourself but it's all in you, a mentor is someone you go to for advice and then a sponsor is someone who is willing to put their success – that can be their career or their business – on the line in order to help you. We often talk to people about getting mentors but what they really need is a coach or a sponsor."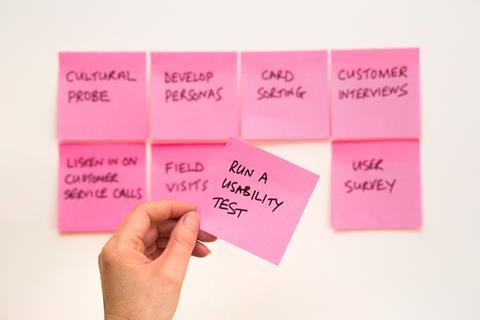 How do you protect your own wellbeing and work/life balance?
Adam Thompson: "I don't think there is a work/life balance. It's more like a flow. It's the single biggest thing you do in the week so the idea of balance on the scales just isn't going to work. Variety is really important. Just 20 minutes of something different now and then can reset you.
"In the early days I completely got it wrong and there were days when I had to forcibly shut myself off from work and go do something that I loved like going for a run to clear my head. There's sometimes a fear that if you're not working you're not progressing, but you need to put your own oxygen mask on first. If you don't you'll start to overthink and everything becomes a bigger problem than it actually is."
Julian Hearn: "You can't be average, you have to do crazy stuff. You're trying to start something that doesn't exist and you're doing so many different jobs as one person you're not looking at a five-day work week – you're looking at seven days plus evenings. So in the early days the work/life balance doesn't really exist. You have to suck it up and get your head down.
"Your social life, relationships and health will suffer, but you know it's not going to be forever. Whereas in the corporate world you'll be doing five days a week for 40 years, with startups it's condensed into a very short period of time."
Do you have any killer interview questions that you always ask?
Julian Hearn: "Describe yourself in three words. It's amazing how much people struggle with it and I've never been given the same three words twice. It typically gets to the root of what they're like very quickly. If they've got direct reports I ask which three words they'd use to describe them so I get an idea of how they're perceived by people below them and it's always different words."
Adam Thompson: "One I use is 'would you rather have £1m now or a penny that doubles for 30 days?', It doesn't really matter what the answer is but you can ask why and what they'd do with it. You'll start to understand what's underneath them – are they risk averse? Are they methodical with their thinking? What are their ambitions and aspirations?"
Linda Ellett: "I ask them to tell a joke. It tests how agile they are. It doesn't matter what the joke is but you can see if they're willing to do it and if they can deliver it in a punchy way."
Entries are now open for the Top New Talent Awards 2019. If you're under 35 and working in the industry, you can enter for free now by filling in this survey.