Sugar hit the headlines in 2014 for all the wrong reasons. Baby juice took a direct hit as a result. The sector's fall of 22.4%, or £2.2m, is the greatest percentage decline of any of the 110 sub-categories we've looked at this year.

Granted, sales have been struggling for a while (a year ago value was down 9.3% on flat volumes), but after NHS advice updated at the end of 2013 called on parents to "avoid giving babies fruit-flavoured 'baby juices'," sales tanked. A Public health England report on the dental health of toddlers advising parents to avoid such drinks didn't help either.

The Guardian later ran a story under the headline "Sugary drinks in baby bottles triggering rise in tooth extractions" and the Daily Mail said: "One in eight three-year-olds has rotting teeth… and fruit juice is to blame."

Proving that not all publicity is good publicity, all of the top five brands have suffered. Products from Heinz, Hipp, Nutricia and Nestlé are down by an average of 40%. Own-label sales are also down.

"The industry as a whole has been affected by the negative press regarding sugar levels in food and drink," says a Heinz spokeswoman.

"Heinz has responded by reducing sugar in juices with the new recipe of fruity spring water, mixing fruit juice with spring water to reduce sugar content, which is in stores now."

Not quite as bad, but still down, is wet babyfood.

Overall, the category is down 4.5% on volumes down 9.6%. However, there are success stories, even within Heinz's stable, which is down 9.8% on volumes down 12.7% overall. But perhaps the biggest change in 2014 is that Ella's Kitchen has overtaken Hipp Organic at the top of the table.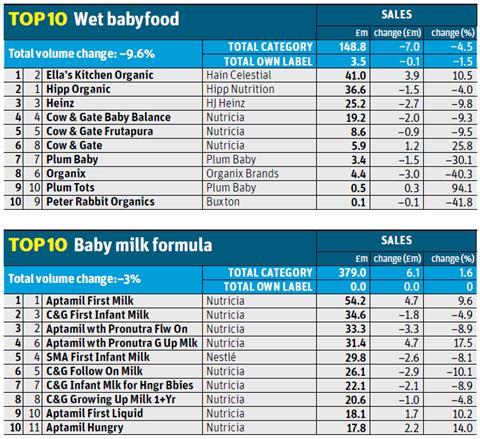 "Our success this year has been down to a few key factors," says a spokeswoman for Ella's. "These include a focus on driving overall category value versus just focusing on only growing Ella's, really consumer-focused NPD and increases in distribution across our core range, as we know that we are delivering more value per distribution point than our competitors."

However, even Ella's isn't immune to the pressures of the market. "Wet babyfood has been having a tough time since September, which coincides with the time that Glasgow University published the results from its babyfood study," adds the Ella's spokeswoman, referring to a study that suggested prepared babyfood had fewer nutrients than home-made food but higher levels of sugar.

"In addition to this, we've seen that despite pouch sales improving year on year, we've not been able to cover off the decline in jar volumes, which is driven by distribution losses and retailers switching promotional strategies." However, as well as topping the category the spokeswoman points to distribution gains and NPD that delivers "more value than our competitors" as reasons to be cheerful.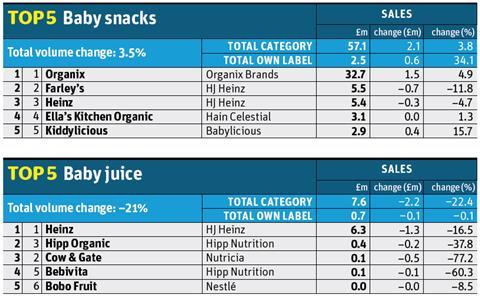 And showing that it's a tough market indeed, Plum Baby ceased trading in September due to the "challenging" nature of the market. The company's "carefully managed and scale-back" shows in its figures: value is down 30.1% to £3.4m; volumes have sunk 28%.
Variety and choice
Over in baby snacks, Organix is making all the running. Sales of its core range are up 4.9% to £32.7m on volumes up 6.9%, although it's worth noting that the smaller Goodies range has suffered a sharp decline.

"Getting it right has been down to a combination of digital communication, focused new launches and a strong redesign on our Organix range," says a spokeswoman. "Our Discover with Organix and Explore with Goodies campaigns were packed with content to help parents and their little ones have fun with food and featured a reward element for customers to win toys."

NPD has also played a strong role, with Organix introducing "more variety and choice" in the form of new flavours and shapes, as well as the "big re-launch" of Organix cereals. New foods were launched into the ranges of baby and toddler corn puffs, oat bars and fruit snacks.

Baby milk had a choppy year in 2013 after a safety scandal in China saw rationing introduced in the UK This year was more settled, with value sales up 1.6% and volumes dipping slightly, by 3%. Danone Nutricia still dominates the field, with nine of the top 10 products produced by the company.

A spokeswoman blames the slowdown in the category on a "dip in the birth rate in 2013" which "will have impacted the 2014 category dynamics". However, she also points out that Aptamil is "significantly outperforming the market", thanks to its "consumer-insight led approach, best formulation in the market and increased use of liquid formats".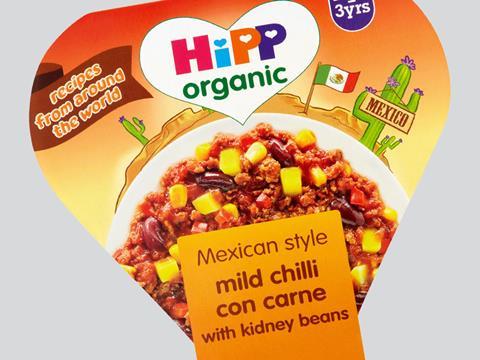 Top launch: Tray meals Hipp Organic
The tray-meal sector is growing at 8% year on year, and Hipp Organic is driving the growth. It increased its share of the sector to 44% after launching 15 recipes, including its first two for kids aged between 18 months and three - Mexican-style mild chilli and Swiss-style macaroni pasta in a cheese sauce with carrots and courgettes.
These lively recipes were inspired by a survey Hipp carried out in which 23% of parents questioned said their kids didn't get enough variety in their meals.