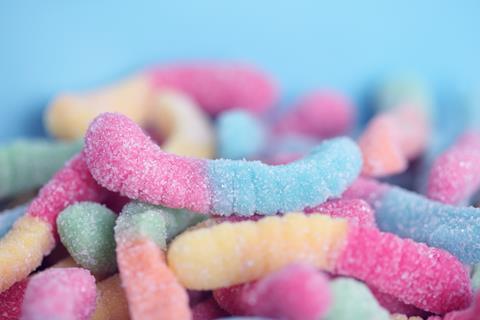 Can anything curb Britain's sweet tooth? Despite repeated warnings from Public Health England about sugar consumption, shoppers splashed out an extra £30.9m on candy. Not even a 4% average price hike was enough to dampen volumes, up 2.2%.
Still, it's not been all plain sailing in the sugar confectionery aisle. Some of the biggest brands have lost millions of pounds, and gum is falling out of favour.
So, what's driving an increasingly health-conscious nation to scoff sweets? Why isn't gum seeing the same growth? And what separated the winners from the losers?
If you think Brits are eating more candy because there are more reduced sugar options on shelf, think again. The launch of Haribo's 30% less sugar Fruitilicious in early 2018 "has not been followed by a stream of reduced sugar variants as we may have expected" says Adam Paulson, client manager at Nielsen.
One of the few to follow in Haribo's footsteps is Maynards Bassetts, which in July launched 30% lower sugar Wine Gums. But the innovation failed to keep the brand in growth. It lost a total of £3.8m in value, which represents the largest absolute decline of the top 50 sugar confectionery brands.
Instead of opting for lower sugar options – or avoiding the category altogether – many health-minded shoppers are turning to smaller formats. "Consumers are still keen to enjoy sugar in moderation as part of a healthy, balanced diet," says Mark Walker, sales director at Swizzels. That demand for moderation has been a key influence on Swizzels' strategy this year. "We've focused on ensuring pack sizes are suitable for portion control and that labelling is clear, making sure consumers make informed decisions," explains Walker. For its efforts, the brand has enjoyed 2% value growth.
Swizzels isn't the only confectionery player investing in smaller formats. Haribo introduced 'treat size' 16g packs of Giant Strawbs Gone Mini in February, while Starburst claims its 2018 launch Minis has been the main driver this year for its impressive 23.7% value growth, contributing £3.3m of its £4.1m additional sales.
Another key trend is the plant-based movement. A growing army of vegan shoppers have made animal-free sweets a hot area of growth. For proof, see the performance of Candy Kittens. The adult sweets brand has reported a 50% rise in sales since relaunching its range as 100% vegan in 2017. That makes it one of the fastest growing players in candy in percentage terms – up 46.8% in value this year on volumes up 39.4% (albeit from a relatively small base).
"The growth of veganism is in line with the evolving way that consumers, especially younger generations, are seeing health," says Candy Kittens marketing manager Ana Melvin. "Perceptions of health have shifted from focusing on macronutrients to looking for natural, unprocessed ingredients this year, which is benefiting vegan confectionery brands."
Many larger brands are also looking to plant-based as a source of growth. In January, Swizzels relaunched its Refreshers Chew Bars and Chew Stick Packs with 100% vegan recipes. That was followed by the launch of Perfetti Van Melle's first gelatine-free lines – Fruittella Koalas and Fruittella Sour Snakes – in September, both sporting the Vegan Society stamp.
Rising demand for vegan sweets could go some way to explaining the turnaround of Skittles. The brand's range, which is almost entirely vegan, made an extra £6.2m this year following a poor performance in 2018.
"Our core range has been the biggest driver of sales, but our 2018 innovation Skittles Chewies have also been key," says Dan Newell, fruity confections portfolio director at brand owner Mars Wrigley.
Still, the supplier isn't just relying on the plant-based movement. Its biggest fruit confectionery launch of the year, yoghurt-covered Skittles Dips, are not suitable for vegan consumers. They have made £750k since launching in July, says Mars. As well as providing a more premium option, the new line also taps "consumer demand for new taste and texture experiences" Newell adds. "Where previously confectionery innovation focused on introducing new flavour varieties, we are now differentiating flavour profiles, textures and formats to bring completely new taste sensations to market."
When it comes to taste sensations, there is one that is prevailing: sour. "Sour sweets are booming," says Mark Roberts, trade marketing manager at Perfetti Van Melle. "The market is currently worth £50m, with growth of 21% in the past two years, and there is a big opportunity to drive this further."
Perfetti Van Melle capitalised on that opportunity with the launch of Chupa Chups Sour Infernals in August. It's not the only one going down that route. In February, Maynards Bassetts launched its first sour line, Soft Jellies Fizzy Fish. It reports £2.5m of sales in its first eight months on shelf.
Launches – or at least, relaunches –certainly seem to be key in this market. Haribo, for example, has seen value increase 4.2% after overhauling its Funny Mix and Jelly Bean lines. And Rowntree attributes much of its 2.4% value growth to the relaunch of Randoms in March, including new pouches of Sours, Squish'ems, Foamies and Juicers.
Sadly, this flurry of activity isn't reflected across gum – a sector that "is significantly less dynamic than others within confectionery" according to Nielsen's Paulson. Sales have been sluggish as a result. "The biggest growth this year has been from Starburst, which is simply establishing itself in the market after launching last year."
In fact, the only thing driving up gum sales overall were average price increases, which propped up a 0.5% dip in volumes. Several major brands, including Extra, Airwaves, Hubba Bubba and Mentos, hiked up average prices more than 3%. Of the four, only Hubba Bubba managed to keep its volume sales in the black.
Mentos is hoping to turn around its flagging value sales in gum (down 22.1% on volumes down 23.7%) with two additions to its Pure Fresh range. Cherry and Tropical rolled out in November in a 50-piece bottle. Mentos Pure Fresh's "liquid centre and long-lasting flavour provides differentiation," says PVM's Roberts. "The market needs that differentiation to drive new people into the category."
Which is something for all confectionery brands to chew on as they look to 2020.
The Top Products
In association with nielsen
Top 20 Sugar confectionery
£m
change (£m)
change (%)
Total Category:
1110.7
30.9
2.9
Total volume change:
2.2%
Total Own Label:
222.1
9.8
4.6
This year's rank
Last year's rank
Brand
Manufacturer
£m
change (£m)
change (%)
1
1
Haribo
Haribo
186.0
7.4
4.2
2
2
Maynards Bassetts
Mondelez
114.8
-3.8
-3.2
3
3
Rowntrees
Nestle Rowntree
78.6
1.8
2.4
4
4
Trebor
Mondelez
45.5
-1.9
-3.9
5
5
Drumstick
Swizzels Matlow
40.5
1.6
4.1
6
7
Skittles
Mars Wrigley
39.4
6.2
18.6
7
6
Swizzels
Swizzels Matlow
33.0
1.1
2.8
8
8
Polo
Nestle Rowntree
25.8
-1.0
-3.6
9
9
Tic Tac
Ferrero
22.7
-0.4
-1.9
10
13
Starburst
Mars Wrigley
21.3
4.1
23.7
11
11
Fruit-Tella
Perfetti Van Melle
20.7
0.3
1.7
12
10
Mentos
Perfetti Van Melle
20.4
-0.3
-1.6
13
12
Werthers Original
Storck
18.1
-1.5
-7.5
14
15
Barratt
Valeo Foods
13.7
4.1
42.7
15
14
Candy Land
Tangerine Confectionery
11.5
-0.9
-7.3
16
19
Smint
Perfetti Van Melle
9.0
1.2
14.9
17
16
Cadbury Eclairs
Mondelez
9.0
-0.3
-3.4
18
18
Chupa Chups
Perfetti Van Melle
8.3
0.4
5.7
19
17
Chewits
Leaf
8.2
-0.7
-8.2
20
24
Candy Kittens
Candy Kittens
5.7
1.8
46.8
Top 10 Gum
£m
change (£m)
change (%)
Total Category:
264.4
0.8
0.3
Total volume change:
-0.5%
Total Own Label:
1.4
-0.3
-15.5
This year's rank
Last year's rank
Brand
Manufacturer
£m
change (£m)
change (%)
1
1
Extra
Mars Wrigley
205.1
1.2
0.6
2
2
Airwaves
Mars Wrigley
31.7
-1.5
-4.6
3
4
Hubba Bubba
Mars Wrigley
6.1
0.4
7.5
4
5
Starburst
Mars Wrigley
6.0
2.7
80.6
5
3
Mentos
Perfetti Van Melle
5.2
-1.5
-22.1
6
6
Jawbreaker
Zed Candy
1.8
-0.6
-24.3
7
7
Juicy Fruit
Mars Wrigley
0.9
0.0
-1.7
8
8
Chupa Chups Bubble Gum
Perfetti Van Melle
0.9
0.1
11.9
9
14
What's Next Candy
What's Next Candy Co
0.6
0.3
89.8
10
12
JTS Sugar Novelties
JTS Intl
0.5
0.2
50.6
The Grocer's Top Launch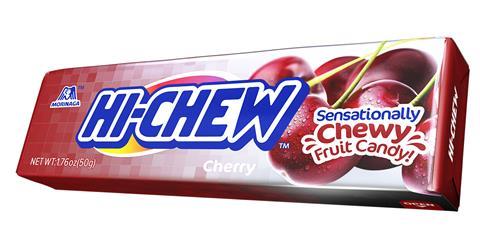 Hi-Chew by IB Group
Brits' growing fascination with Japanese food and culture prompted Costcutter to join forces with distributor Bobby's Foods this year to introduce the UK to Hi-Chew, Japan's bestselling candy. Almost 30% of the symbol group's stores now stock the chewy brand's pineapple, strawberry and cherry variants. The launch was supported by a targeted social media campaign, which gave Londoners vouchers to pick up a free Hi-Chew countline at any of nearly 700 c-stores.