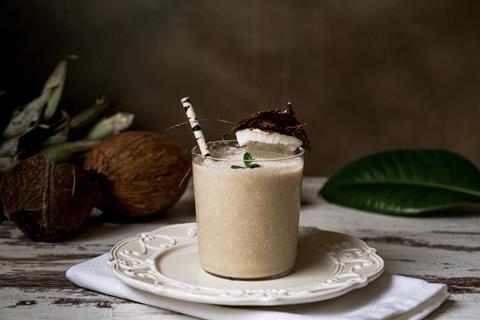 The cows had better watch out. For milk alternatives have stolen the show in this year's free-from market. Seventeen of the top 50 brands are predominantly dairy-free. Together, they are worth £420m, and have racked up £50.7m in extra sales. That's a substantial portion of the £122.3m growth across the total market.
"Most free-from brands have maintained growth through the milk categories," says Tom Homer, junior client analytics executive at Nielsen. "Milk has the biggest value share of free-from. Alpro is the best example of a brand that has made the most of this."
Indeed, Alpro had the second-largest gain in the top 20 of £13.4m. Marketing director David Jiscoot claims that is partly down to the buoyant nature of the dairy-free sector. It is now a category "firmly established in its own right", he says, which "goes well beyond its free-from heartland".
Alpro has been keen to capitalise on this momentum. Jiscoot points to a "winning combination" of demand-driven NPD and high-impact marketing activity. "Caffè Cup, for example, propelled us into the all-important food-to-go fixture, and secured us our first-ever listing in Boots as part of its meal deal, while our new on-the-go Alpro Greek Style with Granola pots can be found front-of-store in the food-to-go fixtures of Sainsbury's and Spar stores nationwide," he says. "Naturally, this means that both of these launches have been crucial in helping to drive penetration. By giving us visibility in a completely new fixture and channel, and tapping into growing demand for healthy, on-the-go choices."
When it comes to marketing, the aim is to push Alpro and plant-based food and drink "well and truly into the mainstream".
Throughout February and March, the brand handed out 350,000 samples to shoppers. The campaign was specifically aimed at promoting its Unsweetened range, which uses no sugars or sweeteners. And in August, Alpro started rolling out a new look for its range of dairy alternatives, in an effort to attract new shoppers.
Jiscoot says this has partly been driven by increased competition in free-from. It has inspired a "real explosion in innovation" which "really pushes the boundaries of what it is and should be", he notes.
Few brands are presenting quite as much competition as Oatly. It's the fastest-growing brand in the top 20 this year, up a staggering £18.4m. It's now worth £36.9m, nearly double what it was in 2018.
For Oatly, sustainability has been a key focus of the past 12 months. Packs now detail the carbon footprint of its products – and in March, it unveiled a campaign for the London Coffee Festival that claimed switching from cows milk to oat milk equalled a 73% saving in carbon emissions.
Consumer demand is the driving force behind this focus. Oatly UK general manager Ishen Paran believes the growth of milk alternatives is down to "an increase in awareness from consumers that the purchasing decisions they make have a direct impact on the environment".
He adds: "Our values as a brand, the quality of our products and our environmental credentials enable us to appeal to a varied consumer base.
"We think that anyone who wants to make a small switch in their life in order to make a difference to the health of the planet will be interested in our products and what we have to say about them – and some of those consumers may be existing dairy drinkers."
Innovation has also played a part in Oatly's strategy. In October, the brand launched a trio of oat-based ice creams – Chocolate Fudge, Hazelnut Swirl and Salted Caramel – into Tesco. Paran says its portfolio of products "deliver on taste, sustainability and health". "We see no limits to our growth for the next few years."
That Oatly has diversified into ice cream is an interesting point. Because that has emerged as another hot area in dairy-free. Halo Top unveiled two dairy-free flavours in the UK last year, and is busy adding more in the US. Unilever is also investing in this area. Last year, it launched three dairy-free ice cream variants for Ben & Jerry's. This year it "dared to" give the brand's long-standing Cookie Dough the plant-based treatment (the vegan cookie dough chunks are created by B-Corp Rhino Foods, the masterminds behind the original Cookie Dough ice cream). And in November, Ben & Jerry's unveiled the 'im-BOSH-ible' burger in collaboration with Bosh TV to promote its full vegan ice cream menu.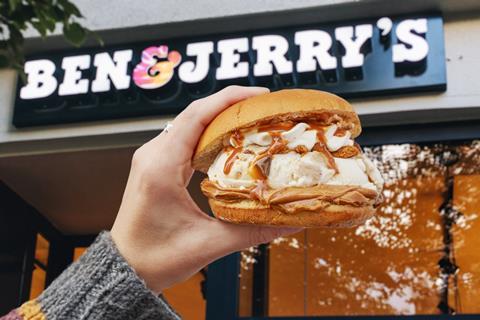 Andre Burger, vice president of ice cream and snacking at Unilever UK & Ireland, says all this activity is driven by a "huge shift in consumer attitude".
"There was a time when [free-from] was considered niche and reserved for those only with intolerances," he says. "But now it's become much more mainstream, driven by consumers who are actively choosing to avoid certain ingredients for wellbeing purposes."
The sheer range of emerging formats in dairy-free shows just how mainstream it has become. Nielsen's Homer says free-from cream, for example, has achieved growth of 36% to be worth more than £7m. Fresh flavoured free-from milk has also achieved impressive growth of 25%.
"With shoppers viewing this as a healthy treat, we could also see this category continue to grow," he predicts.
So it seems there are plenty more avenues for growth in dairy-free. But it's not all about vegan fare. Arla's Lactofree range, which comprises dairy products without the lactose, also managed healthy growth of £2.5m. That cements its position as the second-largest brand in the free-from category.
Harriet O'Regan, Arla's milk director, says the growth was partly down to repositioning Lactofree in January to target a "much wider audience". This included a pack redesign and a supporting marketing campaign.
"A rise in consumers moving into free-from is growing and supporting the success we have seen of the Lactofree brand as a functional health solution rather than just a medical choice," she says.
There is also solid growth in corners of the gluten-free market. Schär, for example, is up £2m, or 7.1%. Meanwhile, the Warburtons Gluten Free range is up 9.1%, or £1.5m.
The growth was enough for Warburtons to announce a £3m investment in its dedicated free-from facility in Newburn. That is despite the brand feeling the effects of a "challenging market" in bakery overall, as consumers move away from standard bread. Indeed, bread was down £37.5m this year).
Seems like cows aren't the only ones that need to be watching their backs.
The Top Products
In association with nielsen
Top 20 Free-from
£m
change (£m)
change (%)
Total Category:
1474.4
122.3
9.0
Total volume change:
7.7%
Total Own Label:
466.9
29.7
6.8
This year's rank
Last year's rank
Brand
Manufacturer
£m
change (£m)
change (%)
1
1
Alpro
Alpro
218.2
13.4
6.5
2
2
Lactofree
Arla Foods
65.8
2.5
3.9
3
3
Nakd
Lotus Bakeries
39.5
0.9
2.4
4
10
Oatly
Oatly
36.9
18.4
99.8
5
4
The Collective Great Dairy
Epicurean Dairy
35.9
3.5
11.0
6
5
Genius
Genius Foods
31.4
0.7
2.3
7
7
Schar
Dr Schar
30.6
2.0
7.1
8
6
Eat Natural
Eat Natural
30.4
0.6
2.0
9
8
Seabrook
Seabrook Crisps
28.7
4.1
16.9
10
9
Nairn's
Nairn's Oatcakes
27.8
3.4
14.0
11
11
Kallo
Wessanen
19.1
1.2
6.6
12
18
Halotop
Halo Top UK/Eden
18.2
7.9
76.9
13
13
Warburtons Gluten Free
Warburtons
17.5
1.5
9.1
14
12
Nature Valley Protein
General Mills
16.9
-0.3
-1.7
15
14
Trek
Lotus Bakeries
16.1
1.3
8.8
16
15
Koko
First Grade Int
15.1
2.2
16.6
17
23
Kind
Kind
14.2
5.8
70.2
18
19
Violife
Arivia SA
13.2
3.2
31.9
19
17
Rude Health
Rude Health
11.9
1.0
9.3
20
16
Mrs Crimble'S
Wessanen
11.2
-0.2
-1.8
The Grocer's Top Launch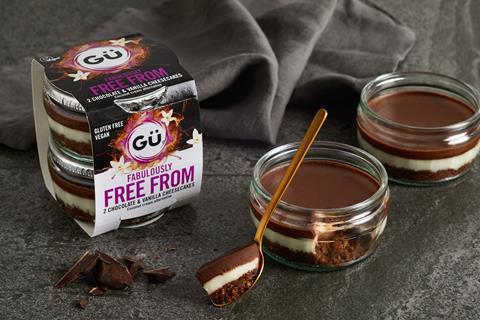 Fabulously Free From by Gü
Gü leapt on to the free-from bandwagon in February with the launch of five chilled SKUs with no gluten or dairy. An effort to bring "much-needed choice to the free-from category", the Fabulously range is made with ingredients like coconut cream and 70% cocoa chocolate. With variants including Strawberry & Rhubarb Cheesecake and Chocolate & Vanilla Cheesecake, the lineup has so far delivered £1.5m worth of retail sales, says its maker.