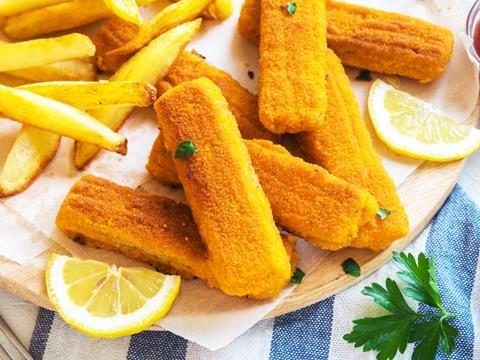 Things are heating up in frozen food. Value sales are up £35.1m (1.7%) on volumes up 1%. These slow but steady numbers suggest the category's comeback has legs.
Innovation has been key to this growth. Brands are knocking out on-trend NPD like there's no tomorrow. On the retailer side, Iceland has been at the forefront with the rollout of 550 new or improved lines in September. That came alongside a new Limited Edition range, which sees temporary new products hit the shelves on a weekly basis. The latter forms "a crucial part" of Iceland's innovation strategy, says Andrew Staniland, trading director for frozen.
"Limited Edition provides us with a test bed for new products and flavour profiles, to quickly respond to food trends and, crucially, continue to inspire customers in the frozen aisle," he says.
There's also been a continued effort to get consumers to reevaluate the frozen food aisle. This year, Birds Eye ran 'Eat in Full Colour' campaign with Sainsbury's, which saw the frozen section of its Epsom store covered with brightly coloured stickers and aisle fins.
It's undoubtedly good for the overall category. But brands aren't necessarily the ones winning from the frozen food comeback. In four of the five frozen categories included in this report – pizza, desserts, potatoes and fish – own label is winning in percentage growth.
That's being driven by a decline in consumer confidence, which is making lower-priced own label offerings more tempting. "Frozen remains a challenging place for brands," says Grace Featherstone, senior analytics consultant at Nielsen. "Private label's share of the market continues to keep pressure on prices in the face of other inflation – and, as a result, frozen brands have to work hard for even small growth."
This is particularly evident in frozen fish. Brands lost 1.1% in value, while own label edged up 0.1%. British Frozen Food Federation CEO Richard Harrow says the rise in average prices – up 1.1% across the board, according to Nielsen – shaped consumer behaviour. "Rising costs of importing raw materials has led to a drop in promotions for frozen fish, which has deterred many shoppers," he says.
Indeed, the lowest-priced brands seem to be winning in this space. See the Young's portfolio for proof. Its premium Gastro sub-brand shed £2.9m, while its cheaper Chip Shop sub-brand gained £5.8m. Young's said that growth was driven by the low-cost entry point of its pollock products. Keen to build on this success, the brand introduced a Chip Shop quarter pounder pollock burger in July.
This focus on price is boosting own label in other areas of frozen food. In pizza, own label is up 5% in value while brands are up 2.2%. In desserts, own label edged up 0.6% while brands suffered a 13.2% blow to value. And in potatoes, own label delivered a 4.9% increase against a 3.8% branded gain.
Still, there is a glimmer of hope for brands. Because shoppers can still be tempted to part with their hard-earned cash if they get more bang for their buck. "It really all comes down to value," Harrow says. "Shoppers can be persuaded to trade up on their food if it really delivers on quality."
Perhaps the best example of this added-value strategy is Strong Roots, which has gained £2m despite a higher-than-average price point. Part of that is down to NPD such as the the launch of Cauliflower Hash Browns in December.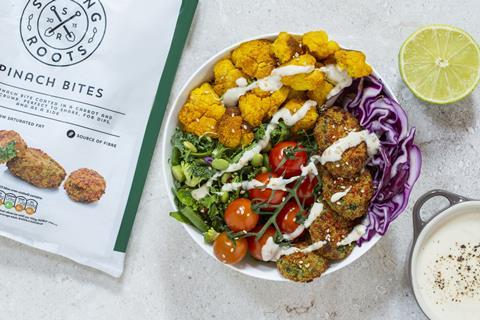 However, its long-standing Sweet Potato Fries "remain the cornerstone of our range, with sales more than doubling in the past year" says Strong Roots founder Sam Dennigan. "The above-average price of the fries is bringing new shoppers into frozen and driving value into the category."
Other frozen potato players are similarly seeing the benefits of premium lines. Aunt Bessie's, for example, attributes much of its £1.7m additional frozen potato sales to its posh Parmentier Potatoes and Chilli, Pepper & Chilli Roastie launches.
And foodie credentials aren't the only way of communicating added value. Health is another hot area. New frozen potato products include the January launch of McCain's Lighter Home Chips, which contain 30% less fat than standard Home Chips, and Birds Eye's better-for-you Sweet Potato and Rainbow Mini Waffles. "We're attracting younger, more affluent shoppers as they look for variety and products that can help them have a more balanced diet," says Birds Eye marketing director Steve Challouma.
All this innovation has helped frozen potatoes become the fastest-growing area of frozen, up £27.6m.
Still, pizza hasn't done too shabbily either, with a £14m gain. Similarly to frozen potatoes, it's taking a multi-faceted approach to added value. New entrant Crosta & Mollica, now the eighth biggest player in the category, has gone down the foodie route. It charges more than £1 more than Goodfella's for a margherita pizza by communicating that it is made by "artisan bakers". Meanwhile, number nine brand Whole Creations is justifying its higher price point with gluten-free recipes. And Goodfella's is hoping to reverse its £3.1m decline with the launch of a vegan pizza (see Top Launch).
Goodfella's is also looking to new occasions with the launch of its Pizza Pockets in October. It sees frozen snacking as a huge opportunity. "The market is worth £72.5m and frequency of purchase in frozen snacks is up 4.4% this year," says Claire Hoyle, the brand's head of marketing. Others are clearly thinking along similar lines. In September, McCain launched Brew City, a range of snacks inspired by craft beer. Meanwhile, Birds Eye launched tapas-inspired Mini Fish Cakes and Fish Croquettes in August.
This desire for a quick bite is boosting frozen pastries as a whole, says Pukka Pies. It should know – its sales have soared a staggering 38.9% to £2.8m. "Our research shows that 88% of consumers see pies as a quick and filling food choice, and nearly a quarter of shoppers look for them in the freezer section – especially as we move into the colder months," says Pukka Pies head of marketing Rachel Cranston.
If brands can find these growing corners of the market – and communicate added value – they may just stop sales cooling off.
The Top Products
In association with nielsen
Top 10 Frozen potatoes
£m
change (£m)
change (%)
Total Category:
686.1
27.6
4.2%
Volume change:
2.2%
Total Own Label:
227.2
10.7
4.9%
This year's rank
Last year's rank
Brand
Manufacturer
£m
change (£m)
change (%)
1
1
Mccain
McCain Foods
334.8
9.7
3.0%
2
2
Aunt Bessies
Nomad Foods
68.6
1.7
2.5%
3
3
Birds Eye
Nomad Foods
25.4
3.7
17.2%
4
5
Albert Bartlett
Albert Bartlett
7.3
-0.5
-6.5%
5
4
Bannisters Farm
Farmhouse Potato Bakers Ltd.
7.1
-1.3
-15.5%
6
6
Happy Shopper
Booker Belmont
3.6
0.1
3.6%
7
8
Strong Roots
Handy Food Innovation
3.2
2.0
165.2%
8
New
Slimming World
Loxton Foods
3.0
3.0
-
9
9
Aviko
Aviko UK
1.2
0.3
33.4%
10
11
Scotty Brand
Scotty Brand
0.7
0.1
18.7%
Top 10 Frozen Pizza
£m
change (£m)
change (%)
Total Category:
430.6
14.0
3.3%
Volume change:
4.1%
Total Own Label:
175.1
8.4
5.0%
This year's rank
Last year's rank
Brand
Manufacturer
£m
change (£m)
change (%)
1
1
Chicago Town
Dr Oetker
122.0
6.8
5.9%
2
2
Goodfellas
Nomad Foods
71.7
-3.1
-4.1%
3
3
Dr Oetker
Dr Oetker
48.7
-0.8
-1.5%
4
4
San Marco
Nomad Foods
4.8
0.0
1.0%
5
5
Schar
Dr Schar
1.6
0.1
5.3%
6
New
Kirstys
Kirsty's
1.2
1.2
-
7
New
Roncadin
Roncadin
0.9
0.9
-
8
New
Crosta & Mollica
Crosta & Mollica
0.9
0.9
-
9
12
Whole Creations
Whole Creations
0.8
0.7
444.7%
10
9
Findus
Nomad Foods
0.8
0.4
91.3%
Top 5 Frozen desserts
£m
change (£m)
change (%)
Total Category:
150.7
–5.7
–3.7
Volume change:
5.8%
Total Own Label:
108.4
0.7
0.6
This year's rank
Last year's rank
Brand
Manufacturer
£m
change (£m)
change (%)
1
1
Viennetta
Unilever
10.7
-1.6
-12.9%
2
2
Aunt Bessies
Nomad Foods
10.6
0.4
3.9%
3
3
Coppenrath & Wiese
Coppenrath & Wiese
4.8
-0.3
-6.5%
4
4
WW from Heinz
Kraft Heinz Co
2.6
-1.3
-32.7%
5
6
Almondy
Almondy
2.2
-0.3
-11.5%
Top 10 Frozen fish
£m
change (£m)
change (%)
Total Category:
696.8
-3.5
-0.5%
Volume change:
-1.6%
Total Own Label:
350.1
0.4
0.1%
This year's rank
Last year's rank
Brand
Manufacturer
£m
change (£m)
change (%)
1
1
Birds Eye
Nomad Foods
146.9
1.9
1.3%
2
2
Youngs Gastro
Young's
59.5
-2.9
-4.7%
3
3
Youngs
Young's
49.7
-2.4
-4.5%
4
4
Youngs Chip Shop
Young's
41.1
5.8
16.5%
5
6
Arctic Royal
J Sykes & Sons
9.4
-2.6
-21.4%
6
5
Birds Eye Inspirations
Nomad Foods
9.0
-5.5
-37.8%
7
7
Whitby
Whitby Seafoods
5.9
0.1
2.0%
8
14
Birds Eye Captain Plus
Nomad Foods
5.0
3.5
218.7%
9
9
Birds Eye Gluten Free
Nomad Foods
2.7
0.8
42.4%
10
8
Fishmonger's Favourite
Northcoast Seawfoods
2.3
-0.1
-4.7%
Top 10 Frozen pastries
£m
change (£m)
change (%)
Total Category:
112.9
2.8
2.5%
Volume change:
1.5%
Total Own Label:
43.9
0.8
1.7%
This year's rank
Last year's rank
Brand
Manufacturer
£m
change (£m)
change (%)
1
1
Greggs
Greggs
35.8
5.0
16.3%
2
2
Birds Eye
Nomad Foods
14.6
-1.5
-9.1%
3
3
Hollands Pies
2 Sisters Food Group
10.0
-0.6
-5.4%
4
4
Pukka Pies
Pukka Pies
2.8
0.8
38.9%
5
5
Genius
Genius Foods
1.8
0.0
-0.9%
6
7
Stobarts
Stobarts Bradford
0.7
0.0
2.8%
7
8
Cook
Cook
0.6
0.0
7.0%
8
27
Quick Food Products
Quick Food Products
0.4
0.3
1403.2%
9
10
Peter Hunt
Peter Hunt
0.3
0.0
2.5%
10
11
Square Pie
Square Pie
0.2
-0.1
-20.5%
The Grocer's Top Launch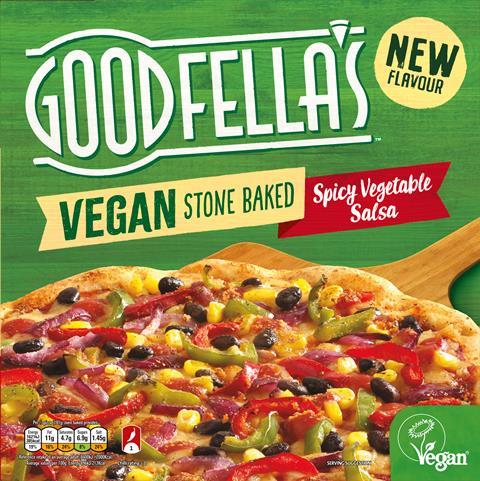 Goodfella's Spicy Vegetable Salsa by Nomad
Goodfella's spent months searching for the "perfect recipe" for its vegan Spicy Vegetable Salsa pizza, it says. The result combines Mexican flavours with peppers, black beans, red onion and a stringy cheddar-style plant-based cheese atop a stone-baked base. It's actually the second vegan offer from the brand, which launched a Falafel pizza in 2018. But it's the first to include a cheese alternative – which Goodfella's created in collaboration with Heather Mills' VBites business.