Talk about a nation of caffeine addicts. This year, Brits splashed out an extra £52m on their coffee fix. That money isn't necessarily going where you think. As much as our national love of coffee shops may be playing a part, it's not the posh, barista-style stuff driving growth.

The roast & ground market is certainly looking healthy, with a rise in prices and volumes taking its total value to £380.1m. But instant has yielded higher growth in absolute and percentage terms, across both value and volume. In fact, Nescafé instant coffee - up £20.7m to £398.1m - achieved higher growth than the entire roast & ground coffee market in absolute terms. So much for predictions of the instant cuppa dying a slow death.

Much of this has been down to a revamping of the instant offering. Leading brands Nescafé and Kenco did plenty to address negative perceptions of instant with their respective Azera and Millicano ranges. On the back of these new-wave instants has come a flurry of even more innovative NPD, which Nielsen analyst Hannah Chapman credits with driving market growth.
Take Nescafé Azera. Much of this year's activity focused on the launch of Azera Coffee to Go in March, a 'just add water' cup targeting the on-the-go crowd, which it says "shows how our business is continually innovating and evolving with the times". Then there was the Nescafé Azera Nitro range, unveiled this summer to neatly coincide with the hot weather and growing demand for cold brew.

Kenco took a similar tack with its Iced Latte Sachets in July available in four flavour variants: Original, Vanilla, Salted Caramel and Coconut. Brand owner Jacob Douwe Egberts says it has embraced the "hot cold drinks" category, describing it as a "huge opportunity".

Others see plenty of opportunity in the traditional instant. Lavazza relaunched the Carte Noire brand with "rounder and smoother" flavoured variants in June and is eyeing £42m of annual sales, which would put it in fourth place in this ranking.

Nescafé, for one, must be pleased the instant market is booming. Because over in roast & grounded, its Dolce Gusto brand shed £6.7m - the largest absolute loss in the sector. Arch rival Jacobs Douwe Egberts, by contrast, racked up an extra £6.5m of sales between its five brands. Tassimo built on its leading position, but the standout performer was L'Or, whose Nespresso-compatible capsules have generated a whopping £6.9m extra sales in their second year, to rise up to fifth in the rankings.

Format is likely to be a key factor here. Nielsen's Chapman says "a lot of growth" has come from Nespresso-compatible ranges from brands like L'Or and CafePod, as well as own-label ranges (up 8.7%).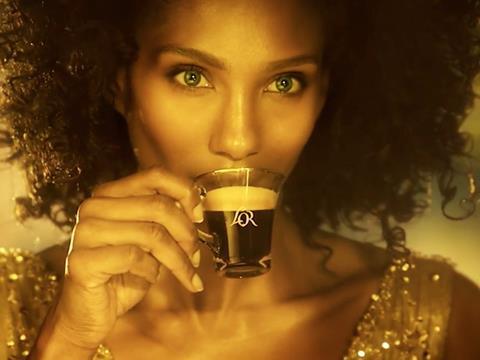 CafePod is indeed close to overtaking its nearest rival, Cafédirect, with a £1m boost to sales. "We've completely relaunched with a fresh new look, extended our range into ground and whole bean coffee and launched our first ever advertising campaign," it says. "Nespresso-compatible capsules are a boom area with new ranges, and brands and retailers are slowly opening up space. More and more consumers realise the convenience of buying these products in supermarkets."
Taylors of Harrogate, which has generated an extra £1.1m this year, says premium cues are also tempting consumers. "This has been a successful year for whole bean coffee," says senior brand manager Kelly Wright. "We recently launched new packaging to clearly signpost this growing sector, calling out 'beans' loud and proud on-pack. Premiumisation is showing no signs of slowing down and more consumers are appreciating speciality coffee and are prepared to pay more for it."

Sadly, premiumisation isn't working so well for tea. Prices are up 4.3%, but volumes have fallen a disappointing 4.8%. Even Twinings, which has taken the number one spot from PG Tips, experienced a dip in value and volume. The cause is clear: the standard black teabag is waning.

Tea brands are brewing up plenty of innovation in response. Twinings ventured into the cooler end of the market with its Cold In'fuse product in April (see Top Launch). That was shortly followed by a rival Tetley product - Cold Infusions - which undercut Twinings at almost 11p cheaper per serving.

Unilever is taking a similarly innovative tack with PG Tips. Suffering an 8.8% drop in value on volumes down 4.9%, Unilever admits it's been a "challenging year for hot beverages". Still, it says "our focus this year has been on innovating from the core". Its latest PG2Go range, featuring recyclable paper cups with instant tea, hopes to "tap into the growing on-the-go trend". And the launch of PG Tips Perfect with Dairy Free in February responded to "consumer needs around diet and taste", says Unilever, which promises "this is just the start for us".

It also points to the popularity of matcha, which inspired the launch of Pure Leaf matcha in September. Unilever says matcha is "currently the fastest-growing segment of the global tea market", as consumers look for both health benefits and an 'experience'. "We are especially pleased to be the only brand on the market to produce a ginger flavoured matcha - proving our commitment to providing our consumers with something new," it adds.

For proof of the popularity of these health-led alternative teas, look no further than fellow Unilever brand Pukka, up a whopping £3.2m. This was fuelled by the launch of four new organic herbal lattes this year (pictured right) all of which have been "expertly blended using medicinal-grade herbs and spices" with no added sugar or artificial sweeteners.

That's not to say black tea is dead. As Typhoo points out, it still accounts for 80% of volume in the market. So despite suffering a difficult year in which it lost £3.6m, it believes the key to returning to growth "lies with re-engaging younger consumers with black tea".
The success of Yorkshire Tea, which has moved up from fourth to third place, proves it's not a lost cause. "It's been a proper positive year for Yorkshire Tea," says senior brand manager Ben Newbury. "We're bucking the trend as the only major standard black tea brand in value and volume growth. After the success of Breakfast Brew and Bedtime Brew, we launched Biscuit Brew in March - a tea that tastes like tea and biscuits. The new addition has been well received, and is set to become the number one variant in our speciality tea range."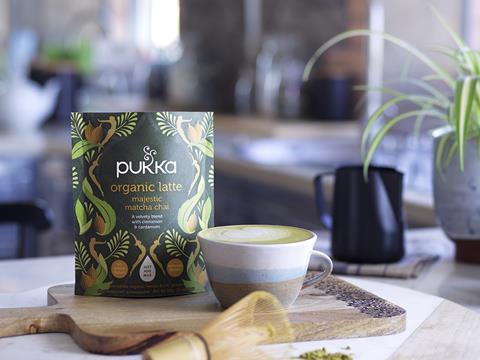 Then there is Teapigs, which also bucked the market decline to achieve a 7.6% rise in value. Co-founder Louise Cheadle says its success is down to a "mixture of things. Teapigs has led the charge to get people drinking real, whole leaf tea again rather than the dusty stuff you get in paper bags. They're interested in the quality of tea, where it is from, how it is sourced and they are also happier to pay a bit more for a quality product."

Clipper is hoping people will also pay more for an environmentally-friendly product. In October, it claimed a world first with a non-GM, plastic-free teabag. Rebecca Vercoe, Clipper Tea brand controller at Wessanen UK, believes innovation like this is the key to growth "rather than feeling under pressure to push through" constant new variants. "Brands should look to key trends that younger consumers are interested in, like ethics, sustainability, plastic reduction and of course taste and quality." Plenty of other players also see sustainable teabags as a crucial area. In February, PG Tips vowed to shift to "fully biodegradable, plant-based material". A month later, Tetley and Bettys & Taylors announced trials of biodegradable and polypropylene-free options.

Which brings us, finally, to hot chocolate. It's another market in need of a shake-up, with a 2.5% fall in value on volumes down 5.4%. Like tea, innovation is proving crucial to overcome this slump. Cadbury, whose value grew 1.4% despite a 0.7% dip in volume, has hardly been resting on its laurels. In June, it launched Cadbury Oreo Instant Hot Chocolate. Looking to the future, brand owner Mondelez says it "will continue to invest in 2019 in order to drive growth and futureproof the category, increasing marketing investment by 56%".

Galaxy is also reaping the rewards of innovation; its fairly modest 4.8% value growth masks an eye-watering 21.9% increase in volumes. Parent company Mars attributes this partially to the launch of Galaxy and Maltesers Hot Chocolate pods at the start of the year, which are "changing the dynamics of the category" and had a "strong return on sales in the first quarter". "Pods are driving growth within the coffee category and our pods replicate this trend within hot chocolate," says Michelle Frost, general manager for Mars Chocolate Drinks & Treats.

There's clearly no room for standing still in the hot beverages market. Better keep that caffeine coming.
TOP LAUNCH
---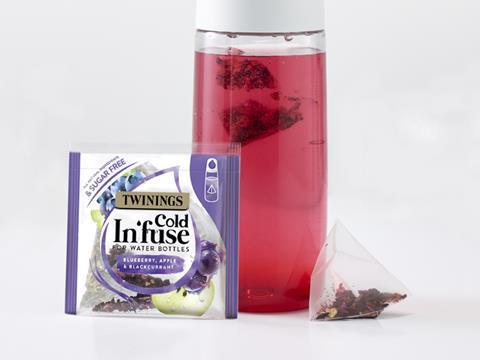 Cold In'fuse, Twinings
OK, so it's not technically a hot beverage. But it is the coolest launch in the market in more ways than one. Twinings took two years developing the technology behind its Cold In'fuse teabags, designed to liven up your tap water by infusing in just five minutes. The bags contain botanicals and small pieces of fruit in six lively flavours such as Passionfruit, Mango & Blood Orange. There are no nasty surprises, either: the bags contain only natural ingredients and no sugar.