Bigger is better when it comes to bagged snacks. Brits wolfed down an extra £155.2m worth of popcorn, crisps and nuts last year, led by larger packs. For in the world of snacks, sharing isn't just altruistic; it continues to rake in the big bucks.

"Large sharing is the segment driving the most growth in the crisps category and has added over £170m of value sales to the segment in the past five years," says Pringles UKI marketing manager Vicky Middlemast. "This past year is no exception, and the record-breaking weather in the UK this summer combined with the World Cup certainly contributed to the continued growth of large sharing crisps."
Indeed, Pringles has bounced back from last year's eye-watering decline, growing sales by £15.1m over the past 12 months. "Our #CelebrateWithPringles campaign around the World Cup was a huge driver of growth," says Middlemast. The brand also "saw an uplift" following its Deezer promotion in the summer, which gave shoppers four months of music streaming when they bought three cans of Pringles, she adds.

Walkers also looked to extend its reach in larger packs this year with the UK debut of 'light and airy' potato snack Poppables. "We are seeing strong growth from the sharing segment," said brand manager Kate Charman as the NPD was announced in May.

Larger packs aren't the sole beneficiaries of the sharing trend, though. "The multipack format plays into the sharing occasion just as much as the larger sharing bag does," says KP Snacks sales director Andy Riddle.
"Health-conscious shoppers continue to buy into the better- for-you segment"
This helped McCoy's add sales worth another £6.9m, with volumes up 2.8% over the past 12 months. The brand continues to command customer loyalty in the wake of its repositioning a few years ago, says Riddle, with its 2017 McCoy's Chips NPD proving a particularly big success with female consumers. Not bad for a brand that was once very much a lad's proposition based on beer and pubs. "Everything McCoy's does now is around flavour - great flavour, interesting flavour, strong flavour," Riddle says. "That repositioning has been well received because what consumers are looking for is flavour over and above everything else."

Walkers seems to be taking a similar tack. While its standard crisps haven't fared so well - down by £18.2m - its flavour-driven Walkers Max range is up a whopping £23.5m (75%). That's partly thanks to the rollout of Walkers Max Strong, a new range of ridged crisps designed to "deliver maximum flavour" and take advantage of the sharing trend. "We continue to see consumers being more adventurous, seeking bold and tasty flavours when shopping for snacks," says Andy Hawkswell, marketing manager at PepsiCo.

Walkers Oven Baked is also in strong growth of £15.1m (42.3%). That reflects another major trend driving growth in the category: permissable snacking. "Health-conscious shoppers continue to buy into the better-for-you segment," says Hawkswell.
Indeed, KP's Riddle attributes some of Hula Hoops' success over the past year to the "phenomenal" performance of its more permissable Hula Hoops Puft variant. "It's the lowest calorie snack multipack in the aisle at 71 calories," he adds.

Skips, which were already low in calories and Space Raiders, which are baked not fried, are also appealing to shoppers seeking out healthier snacking alternatives, Riddle says. "Part of Skips' growth has been bringing onto front of pack that it has under 100 calories."

KP also this year acquired Popchips, which Riddle claims is now "the fastest growing better-for-you brand in the marketplace". However, its other recent permissable snacking acquisition, Butterkist, is down 3.3% after volumes fell 9.6%. "We took a lot of promotions out of the market while we integrated the business in the first half of 2018," says Riddle, who points out much of popcorn has been promotionally driven, which "isn't sustainable" in the long run.

Butterkist is also facing competition from emerging rivals such as Propercorn (up 40.2% to £19m) which claims to be the fastest growing popcorn brand in sharing and multipacks. "There is a huge appetite for better-for-you snacks and it's never been more important for retailers to reflect this in their fixtures," says co-founder Ryan Kohn. "People are time poor and increasingly moving away from traditional mealtimes. These trends are particularly prominent among millennials, who shop for convenience but also look for health, quality and innovation."

As shoppers move away from mealtimes, on-the-go has become another fast growing opportunity for snacks. Which means small bags, as well as large bags, are in vogue. "Handy packs are in growth as consumers are eating more on the go," says James Thomas, customer marketing director at Pladis UK & Ireland. Indeed, Mini Cheddars' sales are up 9.7% on volumes up 5.3% year on year.

In a bid to take advantage of this trend, KP Nuts recently extended into smaller formats for convenience stores, which are going "great guns", claims Riddle. The brand is also benefiting from the better-for-you trend due to the naturally high protein content of nuts, he claims, and was back in growth at the end of October. However, "distribution changes" hit its performance earlier in the year. A more than 10% hike in average prices probably didn't help either. "There has been some commodity pressure in the nuts category over the last year," admits Riddle.

There have also been some serious inflationary pressures on crisps as a result of the UK potato shortage. With the cold spring delaying planting and the summer heatwave hitting yields and quality, brands were forced to cut back on promotions this summer. There were 78% fewer supermarket deals on large multipacks of crisps between July to November 2018, data suggests, while the number of promotions on small multipacks fell by 8.2% [Assosia]. With supplies still tight, these pressures look set to continue into 2019.But the performance of the bagged snack sector this year suggests brands offering great flavour, healthier options and 'big night in' excitement will continue to grow even if prices do rise.
TOP LAUNCH
---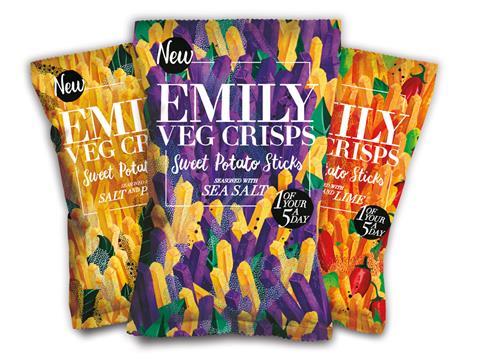 Sweet Potato Sticks, Emily Veg Crisps
Permissable snacking is all the rage at the moment as Brits look to balance on-the-go and at-home indulgence with healthier living. So these sweet potato sticks from better-for-you snack brand Emily Crisps are right on the mark.
Available in Sea Salt, Salt & Pepper and Chilli & Lime variants in a sharing (rsp: £2.79/120g) or impulse bag (rsp: £1.20/35g), they are gluten-free, high in fibre and count as one of your 5 a day, making them perfect for feel-good feasting.