They call it 'wrap rage'. We've all been there. It's the moment when you find yourself unable to open a piece of packaging, the red mist descends and you resort to attacking the jar, can or bag with whatever sharp - and potentially lethal - implement you have at your disposal.
In an exclusive survey of 800 members of the marketing, packaging and grocery industry undertaken by easyFairs on behalf of The Grocer, 74% of respondents admitted they had been so frustrated by a pack that they'd been forced to take a knife to it (14% admitting using a screwdriver and 9% pliers!) Furthermore, 63% of respondents claimed they'd injured themselves in the process.
If it's bad enough for grocery professionals, the challenge is amplified 10-fold for the nation's rapidly expanding older population. According to a survey undertaken by Grannynet in June last year, 80% of older respondents admitted having issues with packaging, with one angry survey respondent commenting: "You need a degree to get into some packages!"
"Marketers have not been convinced or able to convince their CEOs of the value of inclusive pack structure innovation"

Mike Leahy, Leahy Brand Design
The numbers should serve as a warning to the industry that more needs to be done to address this issue. Yet to date few inroads have been made, leaving an increasingly exasperated older population reaching for the knife drawer. So why are so many companies still sitting on their hands and what are the potential dangers of continuing to ignore this problem?
While there have undoubtedly been plenty of other pressing issues to address, the industry seems to have relegated packaging openability way down its list of priorities over the past few years. The upshot is that shelves remain full of fiendishly tricky packaging and we're not just talking vein-poppingly difficult screw top glass jars - as the above examples show, ringpull cans and even supposedly easy-peel packs can prove problematic.
It seems an astonishing oversight on the industry's part given that the spending power of the worst affected demographic is only set to increase. In the next 25 years, the number of people aged 60 or over in the UK is projected to rise by 50% [ONS 2011]. Over a similar period - 2010 to 2030 - the net contribution of over 65s to the UK economy is expected to grow from £40bn to £77bn [WRVS 2011 Gold Age Pensioners report].
The problem is not lack of awareness, argues David Howlett, director at MMR Research Worldwide. "The issue of openability is one that is recognised by many brand owners," he contends. "However, the costs associated with changing packaging to one that is easier to open are often a barrier, especially given that the potential sales benefits can only be estimated."
It's a view shared by Mike Leahy, planning director of Leahy Brand Design. "Marketers of everyday mainstream brands have not been convinced or able to convince their CFO and CEOs of the value of inclusive pack structure innovation," he believes. "This debate will be around trial growth, brand building and increased rsp, offsetting tooling and potential packaging on-cost."
Part of the challenge facing packaging specifiers is that when this cost debate takes place within many retailers and fmcg groups, the tendency is to view the expense as a production cost. However, packaging expert Lars Wallentin, who worked for Nestlé for 40 years and is due to speak about packaging efficiency at next month's Packaging Innovations show, argues that companies should view investment in packaging to enhance openability as a different kind of expenditure altogether.
"If you do something that's truly outstanding you will get a lot of free publicity, because people like to write and talk about these kinds of things, so for me packaging developments of this nature should be seen as a marketing investment," he says.
Potential downsides
It is, of course, reductive to talk about this issue just in terms of cost implications. As Chris Peach, research director at Marketing Sciences points out, while designing an easy-to-open pack may address one problem, it potentially raises other issues.
"If a pack is too easy to open, it can cause concerns that the product could have been tampered with before you have picked it off the shelf," says Peach. "It is also important to have well sealed packaging to create confidence that your product is fresh. Reducing the amount of packaging or failing to provide an adequate seal in between uses will make consumers think that the produce is less fresh, potentially impact on taste and quality impressions and ultimately reduce their desire to buy the product again."
Clearly, completely revamping the packaging of a product is a significant financial risk for brand owners both in terms of the outlay on creating the new packaging structure and the potential for lost sales if it doesn't go down well with shoppers. However, to date, all the brands that have set out to make their packs easier to open appear to have reaped the rewards of their endeavours.
Packaging villains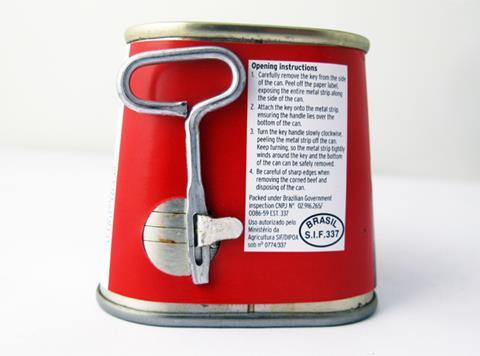 Corned beef cans
Corned beef packaging hasn't changed for years and nor have levels of irritation as consumers struggle to gain access. "Corned beef cans with square corners are one of the most frustrating forms of packaging on the market today, rendering can openers and traditional ringpulls ineffective and leaving limited alternatives for easy opening," says Gillian Garside-Wight, packaging technology director at Your Packaging Partner.
Easy-peel packs
Despite supposedly being easier to open, many consumers still have to resort to running a knife around the edge of 'easy-peel' packs of ham, cheese and bacon to access the contents, says Garside-Wight. "Time and effort have been invested to improve this packaging by all stakeholders. However, there is a fine line between easy-open and ensuring the product is protected, preserved and contained within the packaging," she adds.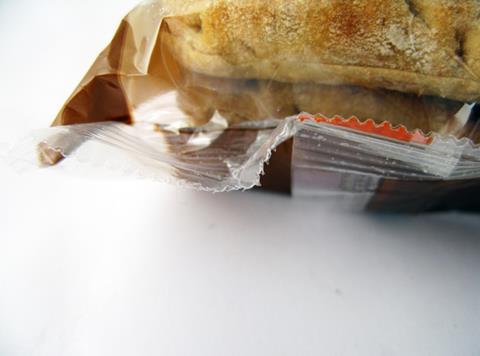 Flow-wrap packs
Although Mondelez may have hit the jackpot with its new Flake 'peel and seal' solution, research undertaken by Leahy Brand Design found that flow-wrap that doesn't have an 'easy-peel reseal' option frustrates consumers. Mike Leahy, the company's planning director, says that the worst offenders mentioned by consumers in the research were "grapes in punnets and Warburtons flatbreads - both were mentioned specifically".
Ringpulls
In the main, ringpulls have helped consumers who struggle to operate unwieldy can openers. However, notes Leahy, on some shallow tins containing products such as tuna, sardines and anchovies "we are fearful of cutting ourselves by complete removal of the lid so we resort to extracting the remaining product with a fork, which results in an inconvenient and unsightly presentation of the food when it reaches the plate".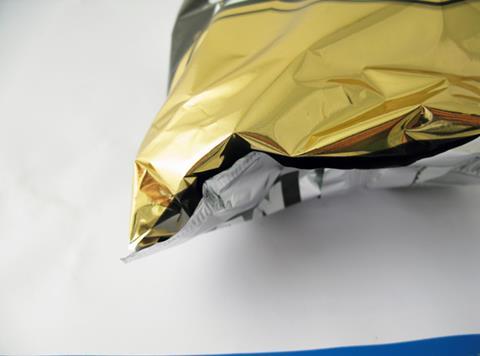 Sharing bags
Premium crisp brands in sharing bags are particularly problematic for many users, according to research from Leahy Brand Design. "There's a huge force needed to grip the top of the bags and prise the foil seal apart," says Leahy. "If you don't resort to scissors, you risk an explosion of crisps." In addition to sharing bags, many consumers admit to struggling to opening individual bags of crisps as they find it difficult to get a grip on the packs.
Take Duerr's, for example, a case study commonly cited by packaging pundits. The company introduced an easy-open lid on its jars in 2011 after reading horror stories about the lengths some customers resorted to to open the company's products.
Marketing and sales director Richard Duerr says that the cost to the business of using the lids is around £100,000 a year, but he believes that it's been worth the outlay both in terms of sales performance and the positive response from customers. "The feedback that we've had has been tremendous," says Duerr. "People have written letters to us saying that we've made their lives easier and that they're going to continue buying our jam because our jars are easy to open."
Mondelez has scored a similar success with the updated flow-wrap packaging on its Cadbury Flake. "The 'peel and reveal' pack is easier for consumers to open and keeps the product fresh for longer," says Mondelez International trade communications manager Susan Nash.
Different approaches
While some companies have deliberately set out to address an issue with their packaging identified by consumers, others have happened across a solution by accident. This was the case for Birds Eye when it launched new resealable bags of peas in 2010 with a zip-lock closure.
According to Radka Martinez, packaging development manager at Birds Eye Iglo, the main objective of the new bags was to keep the peas fresh, but the company quickly realised that the consumers were enjoying additional benefits from the new packs, "one of which was the zip-lock system itself".
"It's very easy and intuitive for the consumer to use and it addresses the needs of the ageing population as well - the zip is bright red in colour so it's easy to see, it is sturdy and reliable and works every time."
While some businesses are looking at openability issues on a case-by-case basis, others are not just looking at individual products or categories in isolation, they are intent on adopting a company-wide approach.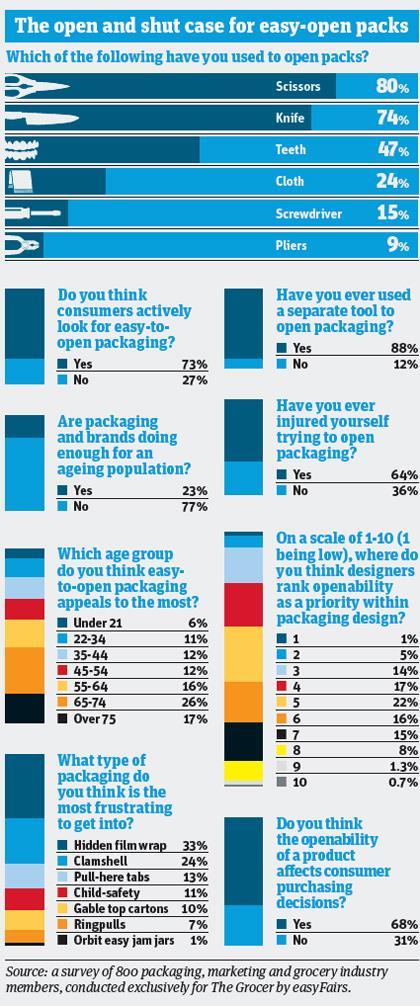 The business that arguably leads the way in this regard is Nestlé, which in 2009 introduced a new approach to its packaging needs called 'inclusive design' (ID) that puts the consumer at the centre of packaging development from an early stage, according to Pierre-Etienne Hannecart, packaging and purchasing advisor for Nestlé.
"Inclusive design is a process used among all the product categories that provides a holistic approach," he explains. "It covers the whole packaging journey, making sure that all the potential interactions between the consumer and the packaging are covered, from shopping to consumption and disposal. Interactions, such as easy opening of course, but also reading, handling and reclosing, must be taken just as seriously. Inclusive is challenging as no consumer must be excluded: one solution must fit all."
This work has already borne fruit on the openability front with revamps to coffee jars and some of the company's chocolate packaging. And that's just the start. A Nestlé spokesman says that "more work is going on across many of our brands to implement ID philosophy".
Yet, although this approach is evidently working for Nestlé, few other organisations are following its lead and tackling openability in a head-on way, notes Wallentin. "What you need to solve the problem is creativity, but creativity has gone out of the window because it's all written in the guidelines these days and guidelines cannot solve problems," he says.
"I'm not against guidelines - you need them - but they're usually badly written and the whole spirit of a guideline is that it should be used as the base and you should aim to do better. Yet so many young people today just follow the guideline."
Off the shelf solutions
For those who do want to "do better" and have the capacity to think outside the box, the good news is that there are plenty of ready made packaging options out there for companies to explore thanks to the efforts of packaging manufacturers that have been taking this issue seriously for a number of years.
"As part of our commitment to ensuring openability is woven into our design process, we collaborate with expert organisations, such as the Swedish Rheumatism Association, to make sure our packs are easy to use for those with reduced hand strength, including children, the elderly and those suffering from rheumatics or injury," says Mike Jarvis, cluster portfolio manager for Tetra Pak UK & Ireland. "Openability has been on the agenda for some years and as an industry we have made great strides in developing more efficient, easy-to-use and open packaging."
"Inclusive is challenging, as no consumer must be excluded: one solution must fit all"

Pierre-Etienne Hannecart, Nestlé
This is evidenced by the innovations listed above and the good news is that while they can sometimes require significant investment, easy-open solutions don't always have to carry a price premium, says Clive Jackson, director of Macfarlane Labels.
"It can take time to develop alternative options, but in many applications that we've been involved in, we have helped the brand owner to redesign the pack format and save money on the packaging, reducing packaging waste and giving the consumer an easier pack to open," says Jackson.
First, though, the brand owner needs to get on board. What is frustrating for many in the packaging industry is that when consumer surveys are published showing how difficult consumers are finding it to open packs, the packaging companies themselves are often vilified. Yet they have developed a raft of innovations specifically to address this problem - it's just a case of convincing the food and drink industry to use them, says Stephen Dawson, CEO of Bapco Closures.
"Innovation in the packaging industry has led to many win-wins over the years," he says. "For example, it's now possible to invest in packaging that is easy to open but does not compromise tamper evidence. It is also possible to use lightweight packaging in which the enclosed product still remains completely protected. There's real innovation in food and drink packaging, and retailers, consumers, the industry and environment can benefit from ensuring it reaches the market."
Cautious approach
And therein lies the rub. Food and drink companies not only often fail to take a sufficiently proactive approach to openability, they don't even reactively introduce the myriad off-the-shelf solutions already on the market. This conservative approach could have serious consequences, warns Joe Schurtz, executive vice president of Perception Research Services.
"The risk that they take by doing nothing is the potential vulnerability to innovation," he says. "If a competitor comes up with a packaging solution that solves a need, it could take the rival company anywhere from 18 months to two years to catch up. I personally feel that when the issue of openability starts to hit companies in their wallets, they will be as reactive as they need to be to protect their business."
"If a competitor comes up with a solution, it could take the rival company anywhere from 18 months to two years to catch up"

Joe Schurtz, Perception Research Services
Against a backdrop of the rapidly ageing UK population, there's a danger that more shoppers may start voting with their wallets sooner than people think if their concerns continue to be ignored, adds Jarvis. "We know that consumers with reduced hand strength can make up as much as 30% of the population in some markets so the consequences of not meeting their needs can be very serious indeed," he warns.
The most serious outcome, of course, is if a consumer who struggles to open a piece of packaging decides to switch to another company whose packs they are able to access easily, notes Benjamin Punchard, senior global packaging analyst at Mintel.
"Consumers are very good at learning to ignore areas of the retail store that don't apply to them," he says. "There is so much on the shelf that the consumer learns to block out what is not relevant and focus on what is. Imagine consumers who are ageing and beginning to find that lug closures are becoming difficult to open.
"They will learn to ignore glass jars in the store and if that is what your brand is packaged in then you will simply move into the 'ignored zone'. That is why brand owners need to move quickly to solve these issues before this happens, with the baby boomer generation really being the one to keep up with."
In short, the time to act is now. What is surprising is that food and drink companies know how important ease of opening is to consumers and that it can affect their purchasing decisions, yet few seem prepared to roll the dice.
Yes, there may be costs entailed, but as the likes of Jackson point out, they are not always as significant as retailers and suppliers believe - and the cost of failing to adopt a more open minded attitude towards openability could end up being far higher.
Some suppliers have spent a lot of time and money revising their packs to make them easier to open. So who are the industry heroes and what cutting-edge packaging solutions are they using?
Packaging heroes…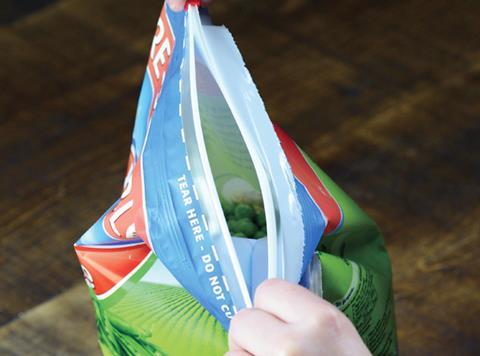 Birds Eye
Initially introduced to help retain the freshness of peas and prevent frozen peas spilling out of the bag and lining the bottom of consumers' freezers, Birds Eye's zip-lock resealable bag proved so successful following its launch in 2010 that in December 2013 it expanded the zip-lock to more of its garden peas and petits pois. Birds Eye's packaging development manager Radka Martinez says it is investing more every year in packaging R&D.
Duerr's
One of the worst repeat offenders when it comes to difficult-to-open packaging is hot-filled products such as jam because of the vacuum formed when the product is placed into the jar. The solution the company hit upon was to use the Orbit closure created by Crown (see right). In a Sheffield Hallam University study of men aged 20-80 who were capable of opening a normal jar and a jar featuring the Orbit closure, 100% said they preferred the latter.
Nestlé
Nestlé set up a partnership with Cambridge University in 2009 to implement 'inclusive design' (ID) thinking across its entire product portfolio. ID has been used in After Eight Collection and Black Magic, the latter with the cellophane tear-off clearly marked and found on the top of the box, along with much clearer copy and layout for the product description. Nestlé says more work is underway to implement ID across its brands.
Weetabix
The company decided to introduce a brand new paper wrapper for its cereal to address the frustrations its consumers were experiencing with the old plastic film wrapper. After extensive consumer research and trials, Weetabix hit on the "simple yet innovative" idea of switching from a plastic to a paper wrapper, which was "brilliant for its packaging," according to Stuart Chapman, associate director at The Big Picture.
… and the packaging solutions they're turning to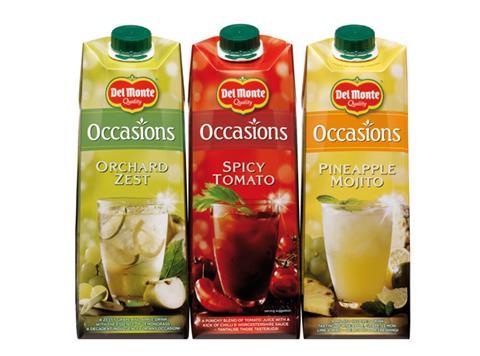 CombiSwift
Manufactured by SIG Combibloc, this easy-open screwcap is used on long-life juices from the likes of Ocean Spray and features a closure over a laminated hole. Malcolm Allum, SIG Combibloc MD, says: "Its single action twist-off cap guarantees easy and convenient opening and a smooth pouring action." Use of combiSwift is "growing steadily in the UK", says Allum, with retailers such as Tesco moving to this easy-open alternative.
High-viscosity mist sprayers
According to Global-One Pak (GOP) director Clive Broadbent the company's high-viscosity mist sprayers for food oil can be operated with one hand and require 18% less force than rival products, which "helps with ease of use and repeated spraying". GOP has recently completed development of a mist spray and micro trigger spray for cooking and salad oils for a "leading European supermarket", says Broadbent.
Infini
Older consumers need all the help they can get with items from the fridge, which need to be easy to pick up, easy to open and, in the case of a milk bottle, easy to pour. In response to these demands, Nampak Plastics created Infini, which has an ergonomic, contoured handle that sits at a five degree angle. "An independent survey of 65 to 82-year-olds showed that more people preferred the Infini bottle to a standard milk bottle shape," says Nampak.
Bag-in-Box
Taking a corkscrew out of a wine bottle is a process that challenges even the most dextrous individual. Even screwcap wines can be tough. That's where Smurfit Kappa's easy-to-use Bag-in-Box comes in. "Bag-in-Box has been developed to provide a simple, one-stop opening process negating the need for a corkscrew, reducing the risk of injury or damage to the packaging and preventing spilling," says Smurfit's Bag-in-Box manager UK & Ireland Kevin Heath.
Orbit
Launched in 2011, the Orbit closure used by Duerr's consists of a central panel sealed to the jar by vacuum and an outer ring screwed in place to provide protection. The two-stage opening process releases the vacuum, significantly reducing the torque required to remove the closure. "This creates a more convenient, easy-open packaging solution," says Ana Neale, marketing director at Crown Food Europe, which developed Orbit.