91 (137) Gran Familia
Sales: £23.8m Growth: 108.2%
Tesco rolled out new mid-tier varieties under the Gran Familia brand last spring. Since then, boosted by steady price promo activity, it has been creeping up the list, helped by Spanish wine's overall growth.
92 (79) Smirnoff Ice
Sales: £23.7m Growth: -16.8%
The price per litre went up 4% and volumes fell off a cliff (though at least this year's fall wasn't as bad as the previous year's). Smirnoff Ice is suffering from the general alcopops malaise. Time for a rethink?
93 (96) Veuve Clicquot
Sales: £23.1m Growth: 2.2%
Re-entering the top 100, the widow has seen off retailer exclusives and managed to hang on to her position as a top three Champagne, despite only marginal value growth and no movement on volume.
94 (78) Boddingtons Draught
Sales: £23.1m Growth: -19.3%
The revolution sweeping the craft ale sector has not had a halo effect on some of the more traditional ale brands such as Boddies. Volume sales fell by more than a quarter as drinkers favoured trendy micro-brewers.
95 (101) Jameson
Sales: £22.9m Growth: 7.5%
The world's bestselling Irish whiskey, Jameson is a strategic premium brand for Pernod Ricard, now exceeding four million cases a year. Gift packs feature strongly in current off-trade marketing.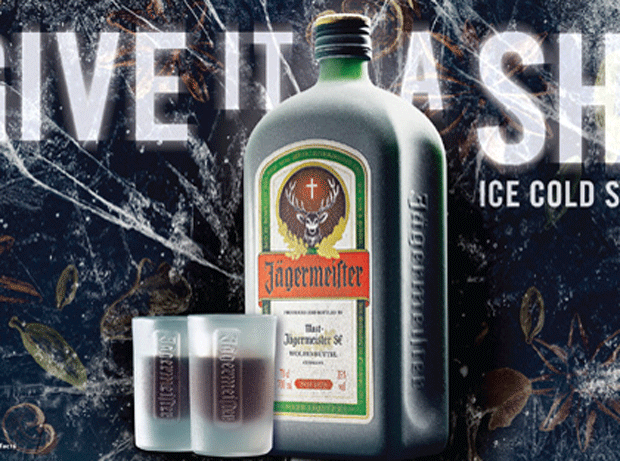 96 (112) Jägermeister
Sales: £22.6m Growth: 23.5%
Launched in the UK in 2005. another year of concerted sales growth sees Jägermeister join the ranks of the off-trade's top 100 alcohol brands.
Off the back of a strong presence for the German liqueur on the UK festival circuit last summer, distributor Cellar Trends launched the brand's biggest-ever campaign in November 2012, built around the strapline 'It Runs Deep', with a second burst of activity in February and March this year.
UK group marketing manager Nicole Goodwin says 'It Runs Deep' "represents Jägermeister's role as a drink that brings true friends together. It is no cheap shot for shallow friends … but a toast to bonds that are deep, meaningful and true."
Marketing activity also includes the Jägermeister Music Programme, which supports signed and unsigned British bands touring venues throughout the UK.
The brand remains strongest in the on-trade, where it has been pushing to expand its appeal beyond the popular 'bomb' serve (which sees a shot glass of Jägermeister dropped into a glass of energy drink). This has included a drive to promote an ice cold shot as a signature serve, with a bespoke Jägermeister Tap Machine dispensing a shot at minus 18C.
97 (106) Westons
Sales: £22.1m Growth: 10.5%
Family-owned Westons' best-selling cider is Henry Westons Vintage, which sponsors the Cheltenham Jazz and Literature Festivals. A pack redesign for Organic Wyld Wood has improved rate of sale.
98 (91) Holsten Pils
Sales: £21.8m Growth: -11.7%
Owned by Carlsberg UK, Holsten Pils emphasises its Hamburg heritage. Marketing support focuses on the 4% abv Holsten Vier, sponsor of the Lakeside World Professional Darts Championships.
99 (65) Stowells
Sales: £21.8m Growth: -33.6%
Number one in the on-trade, Stowells' stock fell for a second year in retail - with volumes down 41% - but new low-alcohol variants rose 143.6% by value and 193% by volume. It's now focusing on indies.
100 (93) Wines from France
Sales: £21.6m Growth: -10.4%
Time has now been called on Tesco's exclusive French house range - according to Tesco, the range of classic varietals has been "run down" prior to being removed from shelves at the end of July.